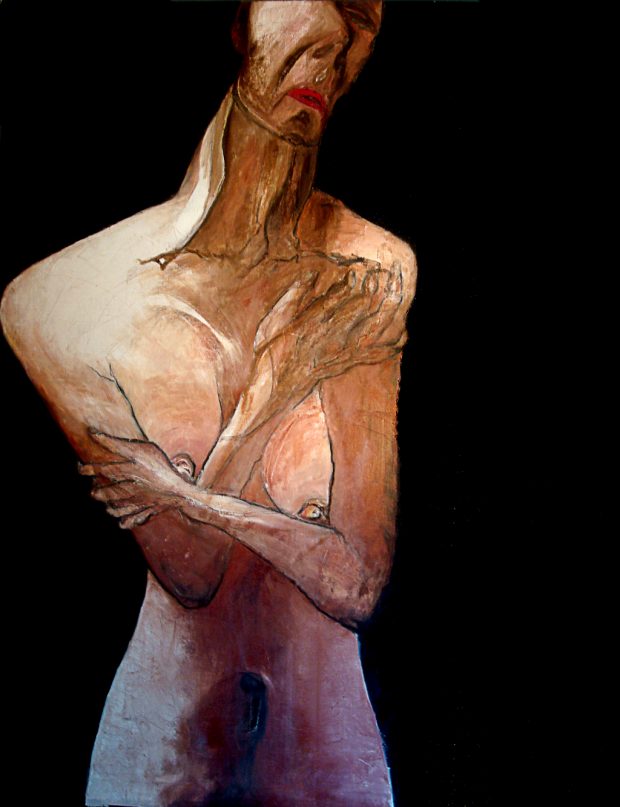 Italian artist AGATINO RACITI sits down for an exclusive DESIGN SCENE Magazine interview with SAV LIOTTA to talk about his beginnings, architecture and art, as well as current and upcoming projects.
In some of your last works there is a tribute to male anatomy, bodies that flex, contortions, body-to-body combat, perfect male architecture. How much has your architecture study influenced your art?
In architecture there are aesthetic and harmony principles that are literally incarnated at the anatomical level in the structure of the male body, and Greek culture is the most classic example in temples and buildings as well as in mighty statues to which I partly inspire . In my works, I also try to recreate those fluid and dynamic thrusts that are typical of more contemporary expressions of architecture. My training as an architect is a fundamental foundation of my art even in the composition of my figures.
What were your first experiences? When did you start painting?
Early experiences already date back to my childhood when drawing was the most natural and instinctive thing for me. Painting has always been natural and instinctive for me. Painting has always been an obsession, a daily necessity. I started to paint very early, as a child in elementary schools they already called me a small teacher. An uphill and absolutely non-academic path until I joined the art institute but with architecture and furnishings. Let's say I learned from me the various pictorial techniques and remember I liked going to see the inaugurations of the exhibitions. I was a teenager and a monk. My first works I made at home came from my own memory I used only acrylics, colors that I now hate with everything I prefer to the oil ones. The first paintings were a clear reference to Salvador Dali I was fascinated by that strange man. Immediately afterwards other work was born and with them the awareness of the research that prompted me to continue without stopping except in short but sometimes long periods of reflection and self-taught study.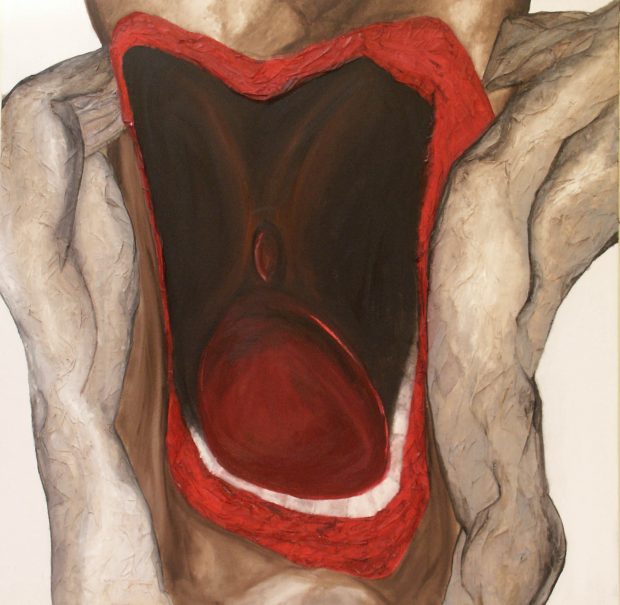 Technically how do you start with your art do you have a precise method?
I do not like to unveil my secrets, surely I have a technique that I call banally mixed technique and is increasingly accentuated especially in the latest productions. Intuition and reasoning are the primary ingredients. I do not like to rely on technology I prefer to do everything on my own, I remember when I was assistant to architectural design courses I always scolded those who carried sketches and sketches made to the computer but were in the late nineties. Today we are in the 3d age, I think the task of painting is to investigate the two-dimensional relationship. I will never stop drawing on a sheet of white paper, everything needs to be resolved inside, to represent on a flat surface allows us to describe, and the drawing is for me as the writing, vital to the representation.
When would you say art approached you?
I think art has approached me from elementary schools and I just did not want to welcome it, I remember my teacher encouraged me to draw on sheets of paper that then attached onto the classroom walls so everyone can take the lead. Then in high school, I was in love with the art history professor so much that in a poll that made me in the classroom I chose class leaders from an escalation of interests that tied me to Art world in a hectic way. Then I chose the university of architecture but I always preferred to paint that build. In any of my travels I can not go to see everything that art offers in the city I am, I like to miss the museums in full days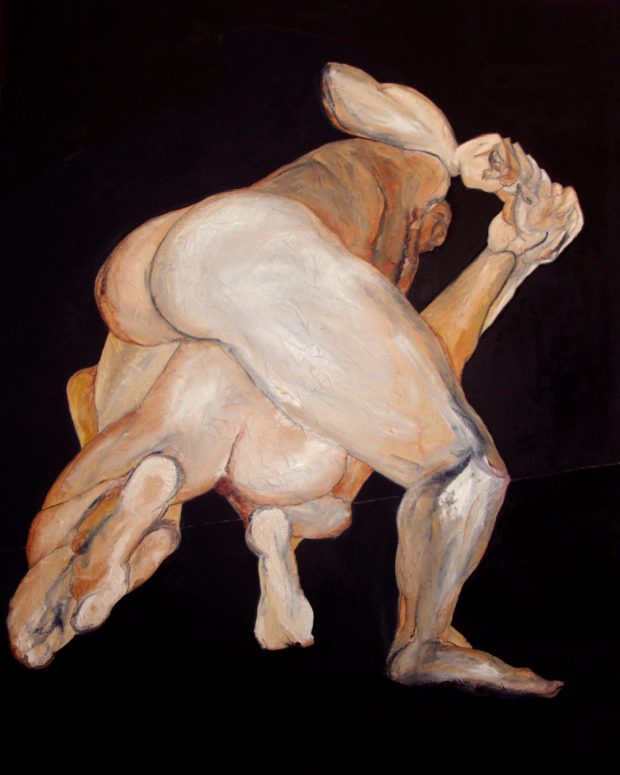 Tell me about "VIOLENCE OF LIFE " your first solo exhibition.
It was the year 2000 I'll never forget you decide to publicly expose myself by organizing an exhibition that would collect what had hitherto kept secret in my studio. A huge purple cage containing a paper mache figure excelled in the entrance hall of the former carpenters in the convent of san Placido. The rooms were huge, complex and tortuous original environments without the smell of the Earth made it inquietante floors and charming. Background music in "carnage visors" entrusted the Cure in the loop at all times. Seventeen years later in the same rooms the last solo in chronological order "Immortal Zugzwang" an indescribable feeling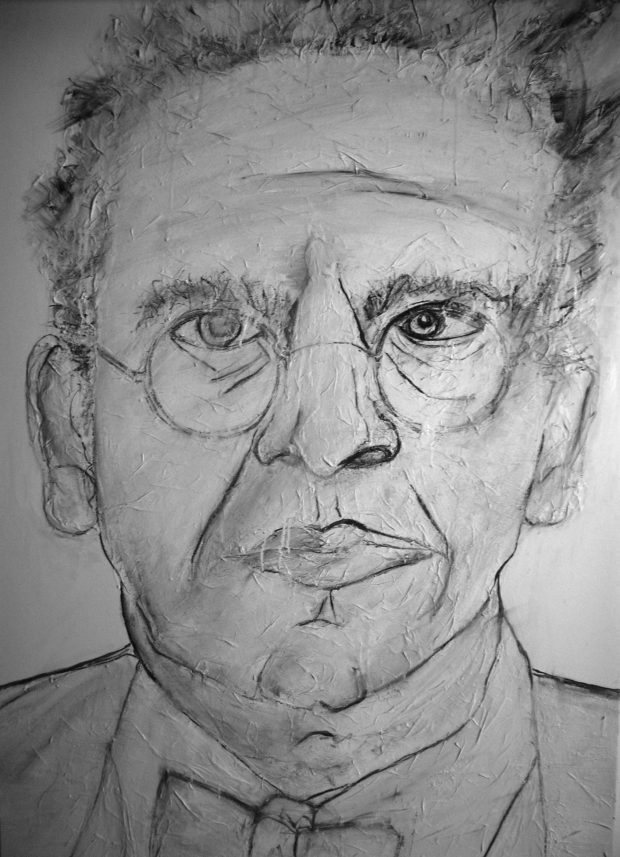 If one day you could go out with anyone, dead or alive, who would it be and why?
The world is dead now, the art world first died.AGATINO Definitely Andy Warhol for what it failed to do in the late 60 and influenced artists like Bowie and Iggy Pop. I'd like to ask him some things in front of a mulberry granita for example I would spend a few weeks at the Chelsea Hotel in the years 70, true crossroads of artists and shared space in which reigned creativity, where you could have as neighbours Patti Smith and Robert Mapplethorpe or pay the rent with artwork.
Tell me about your last exhibition ALL ABOUT RED in Ragusa. Why the color red?
Red as emotion, representative of both of Eros to Thanatos, red lava flow that brings energy but also destruction, red blood flowing within us and is our essence. The exhibition staged these intense and conflicting impulses, some works rationalizing them through letters that refer to a verbal and logic, in other anarchist and passionate with an explosion of pure color.
In addition to recurring color remains black in almost every work almost like an avatar who wants to Excel on everything. Red is the colour that can move more rapidly while holding tied him the look you can't help but notice you must dwell necessarily. Since ancient times this color was the subject of discussion on various levels from that of religion to science by the sexual one at that astrological.  His strength  evocative derives from the link with the color of blood and fire two important elements for old men and that, even in us, evoke by Association of ideas, strong sensations, in fact fire was used to ward off the spirits and the demons of darkness, being a bearer of light and warmth of life and in primitive societies each night creating a ring of fire around the camps and a man kept watch to keep the fire burning to defend against attacks of wild animals, real demons for those times because the fear to come sleep in darkness and surprised tored was strong. Red as synonymous with life in short.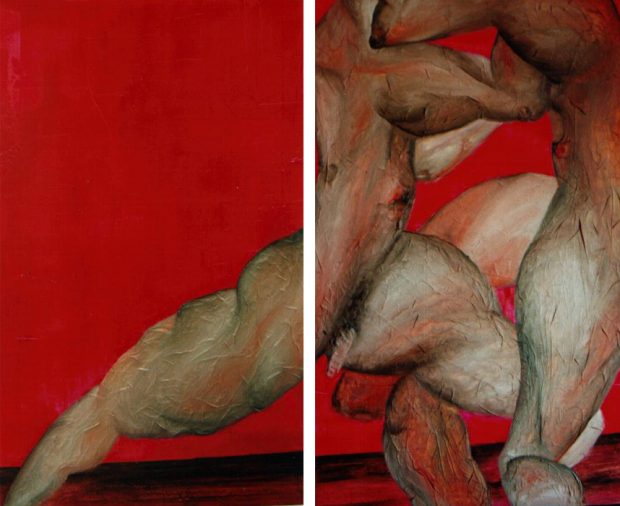 Which of your works you wouldn t sell even for a million dollars?
Each work has a value that is independent of the listing economy, there are works that I donated to charity auctions (see one made at the Albertina Museum in Vienna in 2011 for the tsunami in Japan) and I sold donated or even destroyed, for me as an artist each work is destined to meet someone who can appreciate it and feel a direct and personal connection. A work to which I was really tied up that I'd like to have is one of my earliest self-portraits I think it was the year 1999 had on violet background will never forget it. It was donated to a rogue patron of New York as an exchange for an exhibition in his study but obviously then he disappeared and I never heard anymore.

Upcoming projects?
Travel and enriching my experiences with new emotions, planning to find and follow other avenues to be explored individually and then also artistically, while always remaining in that path that is my primary inspiration or the psychological instincts.
Keep up with Agatino Raciti @tomoperahouse on Instagram.
Originally published in DESIGN SCENE Issue 018, available now in print & digital.