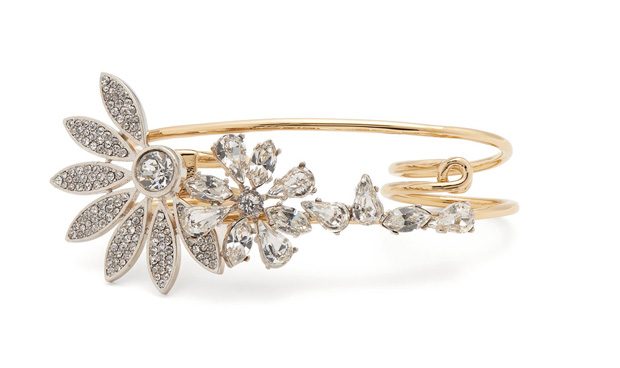 While choosing engagement rings, there are so many options available to pick from leaving you flustered and confused.There are a lot of factors that you must keep in mind while shopping for an engagement ring, like the type of ring to buy, how to stay in the budget, and how to not get tricked into buying fake stones. In the modern era, many people are moving away from the norms and choosing unconventional rings for their weddings which are unique and stand out from the crowd. Ring above comes from the latest Burberry collection – with this double ring you are truly going unconventional – the daisy and crystal-embellished double ring from Burberry is to cost you 472 USD.
While diamond rings are an all-time favourite choice for engagement rings, people of today's generation are experimenting with different choices and opting for rings that are eccentric yet stunning. Here are a few reasons why you should choose unconventional rings.
1. Colourful gemstones.
Precious stones other than diamonds are a great hit in this modern era. You could buy a striking ruby or sapphire engagement ring to celebrate your togetherness. Gemstones not only look amazing but also carry different meanings, like opal symbolises love and passion, while ruby symbolises friendship and happiness. You could buy a ring which has your partner's and your birthstones to strengthen the bond between you two.
Brides who wish to try something new while not completely going off the traditional diamond ring could surround their gemstone with diamonds to give it a more elegant and classy look. The colourful gemstone ring above from the renowned designer Irene Neuwirth, won't come cheep – with prices starting from 2,500 USD, nevertheless this investment piece is an 18kt gold and tourmaline ring.
2. A knot to symbolise eternal love.
A knot-styled ring is something that is far from conventional and yet meaningful and filled with love. Buying a knot-styled engagement ring symbolises the promise of forever. It shows that you consider your partner as "the one" and that you are willing to spend the rest of your life with them through happiness and sorrow. A much more profound symbol than the diamond ring, the knot represents eternal and undying love.
Ring above is a great display of a knot variation and can be deconstructed in a few smaller rings, however this is a truly expensive piece coming from jewelry design house Spinelli Kilcollin. The Lehmus diamond & yellow-gold ring comes at a price of whooping 14,850 USD!
3. Cost cutting.
A wedding is a costly affair; we end up spending a fortune on catering, venue, and invitations, and so on. Buying a pure gold engagement ring or an engagement ring with gemstones instead of precious diamonds can help save a considerable amount of money. A golden ring or a gemstone ring would convey the same emotions and love that you would convey with a diamond ring. At the end of the day, what is important is who you love unconditionally and who you are willing to spend the rest of your life with.
The Noor Fares ring on the photo above is a stunning example of a classic engagement rings for all times. For the displayed craftsmanship the lanet Spiral 18kt gold, diamond & moonstone ring comes at a bargain price of 3,000 USD.
RELATED: BROWSE DESIGN SCENE MAG's BRIDAL PAGES
Choosing an engagement ring is a big decision before a wedding and you need to make sure what kind of ring you want and how much you are willing to spend on it. You could always choose an unconventional engagement ring in contrast with a diamond ring and stand out from the crown. A gemstone could illustrate what you prioritize in your relationship while a knot would symbolise eternal love. Whichever ring you choose, make sure it makes you happy and it means something meaningful to you.