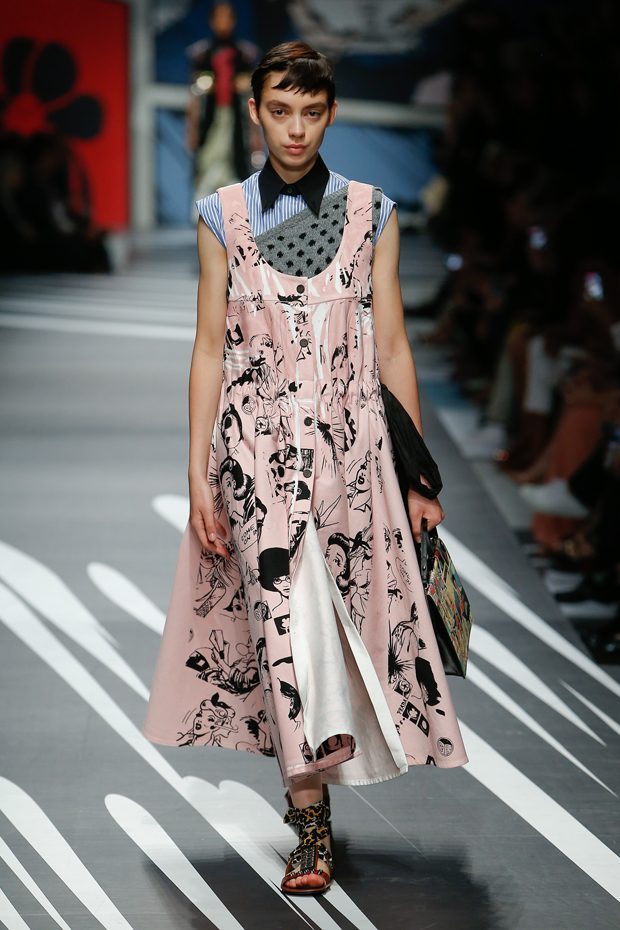 Do you remember the last time you opened your closet, went for a dress and said "You are the masterpiece"? The summer 2018 season is a witness of a stunning collaboration between art and fashion. Versace, Coach, Christian Dior, Calvin Klein and Prada have all flirted with the art scene while creating this summer's most coveted looks. [Image ©Prada]
The runways morphed into a head turning display of graphics and prints inspired by the gallery all time favourites, while  the dress, shirt and coat turned into a true canvas. Thus your body became a contemporary walking gallery. No doubt this mix of art and fashion happened in some of the previous cycles in the ever turning fashion wheel, yet art got it's dominating spotlight once again in this 2018 turn.
MILAN'S GREATEST CELEBRATING ART
One of our favourites Miuccia Prada has never shied away from finding inspiration in art, architecture and design. This season Miccuia was inspired by June Tope Mills a contemporary artist from the 1950s who is the mother of the first female superhero. In addition to June Prada Summer 2018 collection is also soaking in moves by various manga artists and illustrators. This resulted in an empowering womenswear collection dominating the Milanese runway and shaping the trends to come.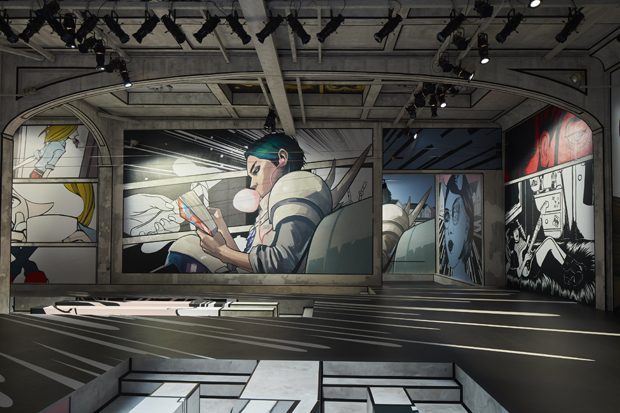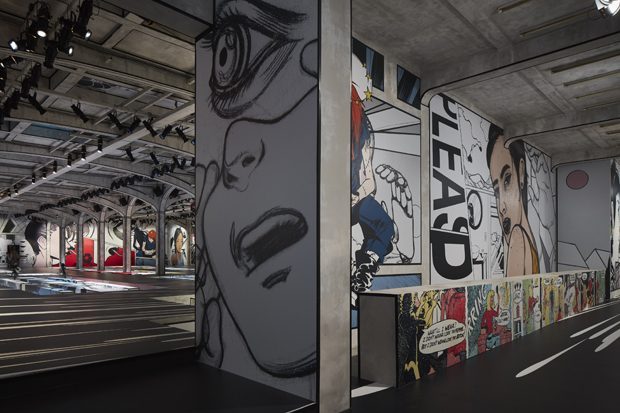 Set design at PRADA Spring Summer 2018 collection in Via Fogazzaro – image courtesy of PRADA
Not far from Miccuia's headquarters in Milan's Via Fogazzaro, another grand dame of the Italian Fashion Industry found her inspiration in the art world. While giving tribute to her late brother Gianni Versace, the ever inspiring Donatella Versace has created the Warholia Collection.  Versace's summer 2018 collection is dominated by the high boots and showstopping mini dresses. These daring looks have for a reason turned into some of the most photographed street style looks of the season. Another legendary Italian house found itself inspired by art and their masterpieces – it's quite clear the latest Marni prints are directly inspired by the paintings of artist David Salles. Where the sophisticated art wonderfully transformed in that effortlessly chic Marni sentiment. As if wearing a Marni pieces could ever feel like not wearing a true work of art!
AMERICAN HORROR AND AMERICAN BEAUTY
On the other side of the Atlantic, Raf Simons who is now indeed feeling at home on the helm of Calvin Klein had his very own run with Andy Warhol. The artist's 'Death and Disaster' artworks are used as prints for the Calvin Klein dresses and shirts. No doubt in this digital age Simons found an Instagram worthy moment reproducing this bold artworks. While Warhol's original series documenting death and accidents is no light matter, the designer took a risk implementing such motifs to the runway collection. Simons shared with the press on a few occasions the intentional use of this particular series as a true critique of the "American horror and American beauty". No doubt in this ever turning fashion trends cycle, Warhol will find it's spot again, perhaps not in a season, but you never know who's next to take Andy's ever inspiring creations to life.
From Calvin Klein Spring Summer 2018 – Image ©Calvin Klein
Flirtation with art did not stop on the ready to wear, in fact where it feels most at home – at the Paris Haute Couture week was easy to spot the artful inspiration in the Christian Dior collection. Designer Maria Grazia Chiuri took on a raod of surrealism for her couture designs implementing pieces of feminist artist Leonor Fini. Chiuri used the artists work to continue her story of her girl power battle. It would be easy to continue here listing quite a few more summer 2018 collections with strong art world references, yet I am under pressure you got the idea.
Strolling a long a museum of contemporary art on a weekend is ever inspiring however the top designers, and those taking notes from them, are giving you a chance to wear your own masterpiece this Summer. The question on my mind is why is art playing such an important role this season's collections?
art's implication of longevity
Besides ready to wear, as we can see in the stores art has found its moments in the relentlessly paced machine of the fast fashion industry as well. Seems the designers on both sides have recognized art's implication of longevity, the staying power and naturally craftsmanship. When it comes to fast fashion it is no doubt there to mask the six months shelf life of their pieces, while desperately trying to get an impulse purchase out of you even from the fast approaching sale racks. Nevertheless this use of art in the collections is also a great commentary on the current world we are a part of, but also the way we chose to move through it.
However this moment in time is easily defined as the age of Instagram, where from politics to fashion everything is an instagrammable moment. Art's unique boldness and head turning shareability are what every fashion house CEO and marketing executive is looking for. Clearly social media plays an important part in this trend, with anything graphic trending to photograph well is certain to create more online impressions and no doubt get a reaction.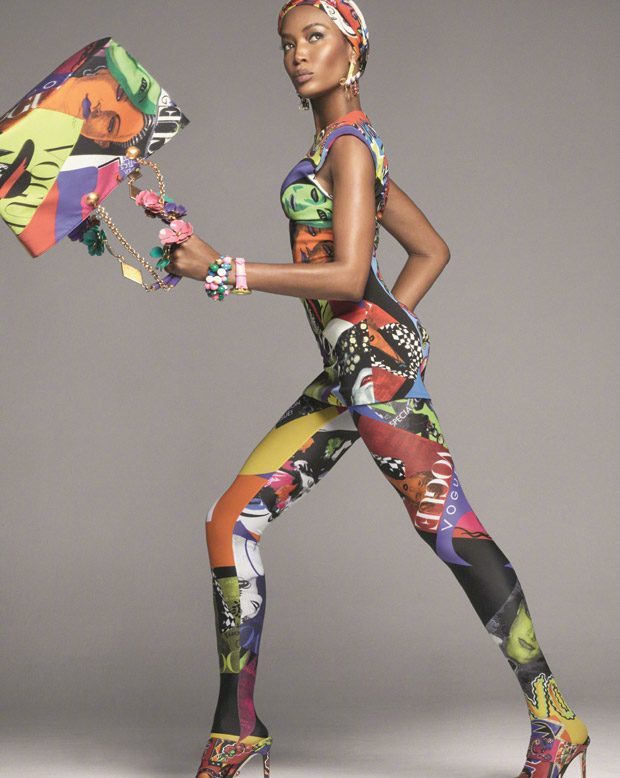 Naomi Campbell in the Warhol piece from Versace Spring Summer 2018 photographed for the official campaign by Steven Meisel.
Still to wear such a Warholian piece whether from Donatella Versace or Raf Simons' CK agenda is a statement in its own right. Stylists are to agree you should style them with more simple basic monochrome pieces such as simple white shirts or dark denim trousers. Clearly while wearing such a statement piece no additional color pops are needed. Still if you are bold enough to be a Versace woman you can always wear it head to toe!
Words by D'SCENE Publishing Fashion Features Director Katarina Djoric.
Photography by Suraj Nongmaithem
Stylist Nixy Ning
Makeup Artist Kolii Jancso
Models Bernadett and Esther Hofman at Body London
Originally published in DESIGN SCENE Magazine July August 2018 Issue – preview the issue.