Jewelry design plays an important role on today's fashion scene, and unlike any other it is a space for new brands and designers to develop. Such is a story of MIANSAI a brand known for its impeccable design and contemporary aesthetic, established internationally in only a 10 years since it was founded. For the latest issue of DESIGN SCENE magazine our Fashion Features Director KATARINA DJORIC sits down for an exclusive interview with MICHAEL SAIGER, the Founder and Creative Director of the Miami based accessories label.
Michael talks with Katarina about the beginnings of Miansai, his design process and upcoming jewelry design trends.
What first led you in the direction of making jewelry?
I started designing jewelry while I was a student at the University of Miami. My first piece was actually conceptualized out of frustration, as I kept searching for the perfect bracelet for myself and wasn't finding anything. Because I loved collecting things and always had various findings from antique shows and markets, one day I decided to start using them to design different accessories. Without knowing it, that was the start of the brand.
How has your work evolved since you began your own label 10 years ago?
When I started Miansai, I was designing simple and nautical inspired jewelry and accessories for men. Now in our 10th year, we have expanded and have a successful women's collection, including a fine collection with diamonds and white sapphires. We also create watches, leather goods, candles journals, and other objects.
What would you say is your strongest skill?
Creative thinking has allowed me to see ordinary objects in a different way. I am not afraid to push boundaries and create something new. I have always been a creative. Since a young age I always caught myself thinking outside the box. Starting Miansai, I realized that is my greatest asset.
Does your work reflect your personal fashion taste?
Yes, 100 percent. I have always been drawn to a more minimalistic style that is classic yet modern. That same aesthetic is seen in all of our pieces. I like to create things you don't have to take off; something that's easy to wear and an essential part of your everyday lifestyle.
Tell us about your design process?
I'm always inspired while traveling. I'm continuously documenting things along the way that could be interesting for Miansai to explore during our design process. When we start designing new collections, I use those notes and ideas to set themes for each collection and build on them. This way we can create pieces that have an interesting story behind them. We have in-house 3D renders and a full working artisanal shop, which we use to visualize and sample pieces. I like to do everything in house because it's the only way we can have control of the exact design and quality of the product.
What are you currently fascinated by and how is it feeding into your designs?
Right now I am really building out our new nostalgia collection at Miansai. Memories and experiences make up so much of your life and it is interesting to reflect on them, and be able to wear them in a modern way. Our new Penny Necklaces are a manifestation of that idea. The necklaces are keepsakes that everyone can relate to from childhood, like going to a museum or zoo. Each penny we designed symbolizes an iconic place that I have traveled to.
I'm sure you have come across moments of struggle, maybe lack of inspiration. How do you overcome these times; especially if you have a deadline?
For me, I avoid a lack of inspiration by always working on new projects. For the past seven years I have been expanding our mobile retail fleet, which includes two Airstreams, two Piaggios, one Fiat and one Lambretta. I personally renovate and customize each vintage vehicle to coincide with the Miansai aesthetic, such as creating walnut wood displays with glass overlay, as well as custom paint and canvases. We stock each one with Miansai products and take the vehicles to destinations such as Coachella, Soho House, Malibu Pier, 1 Hotel and Navy Beach, to name a few.
What are upcoming trends in the jewelry design industry?
I have seen a huge amount of interest in necklaces recently. They have become very popular in the past year. Because of that, we have been expanding that category with our just released Penny Necklaces, as well as a few new pieces like the Palm Necklace and Wise Lock Necklace. Right now, our two best selling necklaces for men are our Dove and Saints Necklace.
Who are your favorite designers?
Whether I'm dressed up or dressed down, I like to wear the same minimal, relaxed clothes. I really like ACNE Studios and AMI for their pants, shoes and shirts. When I am feeling more casual I love a classic Levis 511 pair of jeans and a white Industry of All Nations tee.
What is your favorite piece you've ever created – and what made it so special?
One of my favorite pieces has always been our iconic Screw Cuff because it became a conversation piece and a staple after we launched it. This is something people see and instantly think of as quintessentially Miansai. People were drawn to the utilitarian aspect of the piece, and the fact that it really works for any occasion and anyone's personal style.
What advice would you give to someone interested in getting into the jewelry design business?
Be prepared to work really hard. You have to have a goal and always stick to it. It's also extremely important to be passionate about what you are doing.
Where do you see the brand and yourself going in the future?
We've been putting a lot of focus into expanding our product range and collaborations. Right now we're working on a home goods collection, and we're working with 1Hotels on exclusive products. Also, we've been working on collaboration projects with Public Hotel, Fila and Club Monaco, so stay tuned!
Keep up with Miansai on the official Instagram page @miansai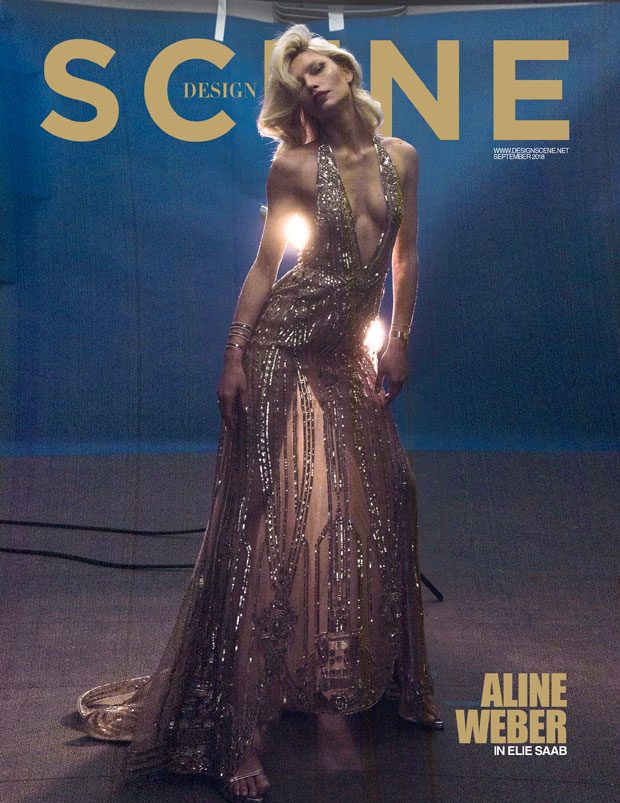 Originally published in DESIGN SCENE Issue 025 – available now in print & digital