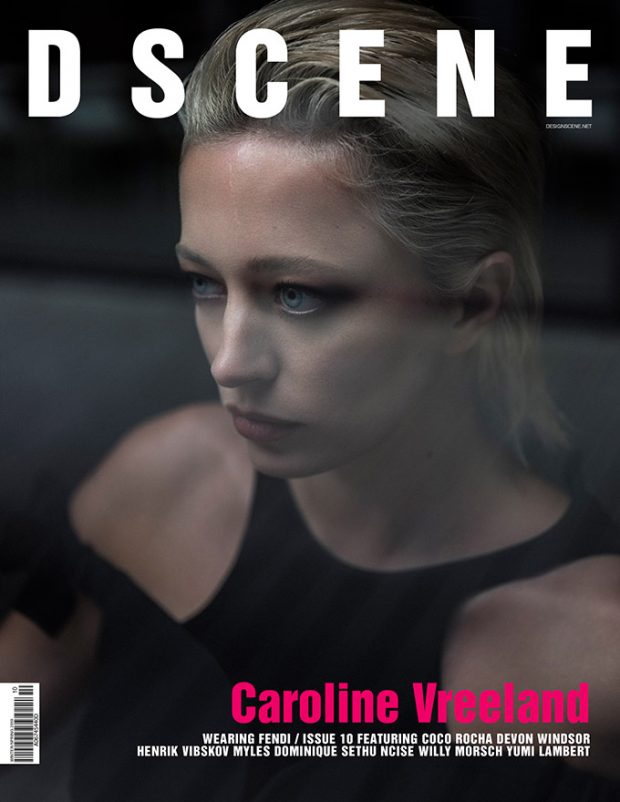 CAROLINE VREELAND sits down for an exclusive interview with our Editor ANA MARKOVIC to talk for DSCENE Magazine about her writing process and passion for music but also pasta, wine and fashion.
OWN DSCENE WITH CAROLINE IN PRINT OR DIGITAL
Read the interview and discover more the cover story after the jump: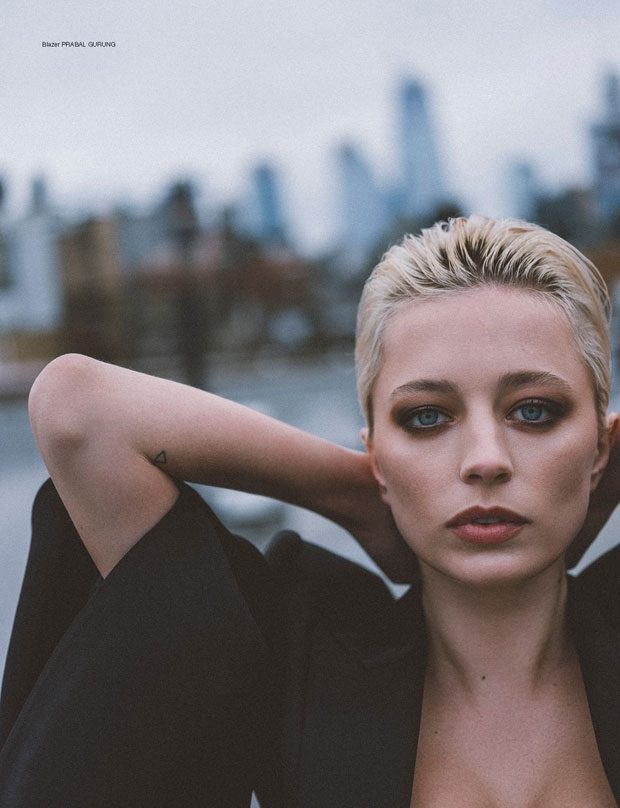 Singer, actress, model, influencer, and now column writer for CR Fashion Book. How do you find the time to do it all? And what are you most passionate about right now?
My life has been a beautiful chaos. I've always been my own boss, even though I never know where I'm going until the day right before. Now with the column I have a weekly deadline. I think this will introduce a much-needed structure into my life that won't add stress, it will in fact mellow me out. I have a huge support system from my sister, with whom I speak to at least once a day and she keeps me very grounded. I'm able to balance it all because of her and my wonderful boyfriend, who always has my back no matter what. Even when it comes to setting up a music studio in our bedroom so I can work on new tracks from my bed, where I believe my voice sounds best! I finally have a manager I really trust and value. This is almost impossible to find in any industry, so that helps me a lot too.
Right now, I'm mostly focused on the new music I'm making and the column for CR. You should see the emails I'm getting from people wanting to speak openly with me about sex and about their relationships! It's really inspiring. Over the past few years I've done a lot of incredible work on myself and for myself. Now, with this column, I get to do some work that helps other people feel more confident and less alone. That's extremely rewarding.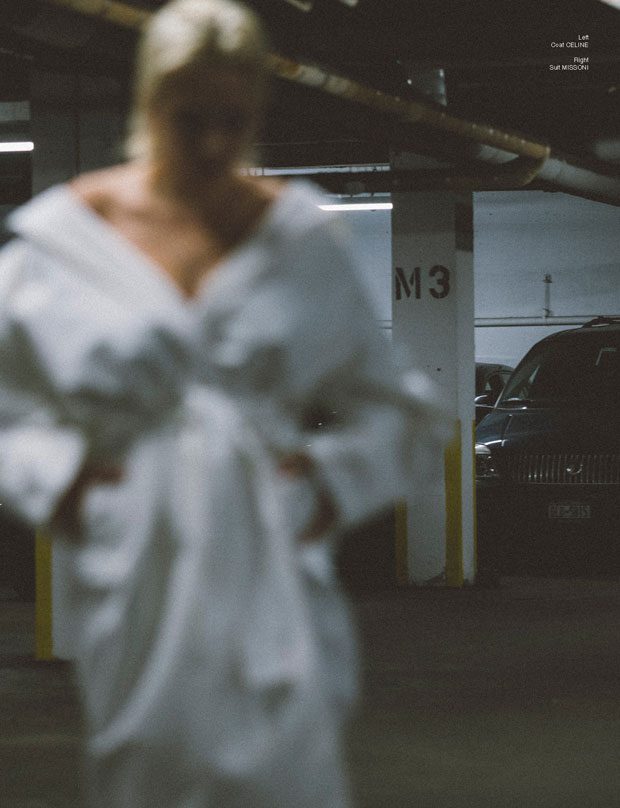 Tell us about your music. Do you write your own songs? What's your music writing process?
I describe my music as having a "doomed magic" quality. I've written my own songs my whole life; in fact, I've been awfully stubborn about letting other people collaborate or influence my work. These days, as I'm older and (somewhat) wiser, I see the value in collaboration. As a young, headstrong artist I had a tendency to get in my own way a lot. Once I started to accept help with writing, production, and general advice on my music, many more doors started opening. This is the lifelong lesson of the artist: to learn how to accept help in a way that doesn't compromise who you really are inside. An artist's work is their truest naked core, and this is a delicate thing to handle. Next week I'm headed back to LA to get into the studio for two weeks, bunkering down to create some of this new music that's been bubbling up inside me. There will be a lot of tears, a lot of wine, and a lot of late nights. This process is very cathartic for me. Music has always been the heartbeat of my life, but interestingly enough, it ebbs and flows. Sometimes it's my only focus, and sometimes I have a million other things going on that take precedence. I'm heading back into my music hibernation this summer and I can't wait. I've let go of thinking I can design my journey and now I let the universe work its mysterious magic.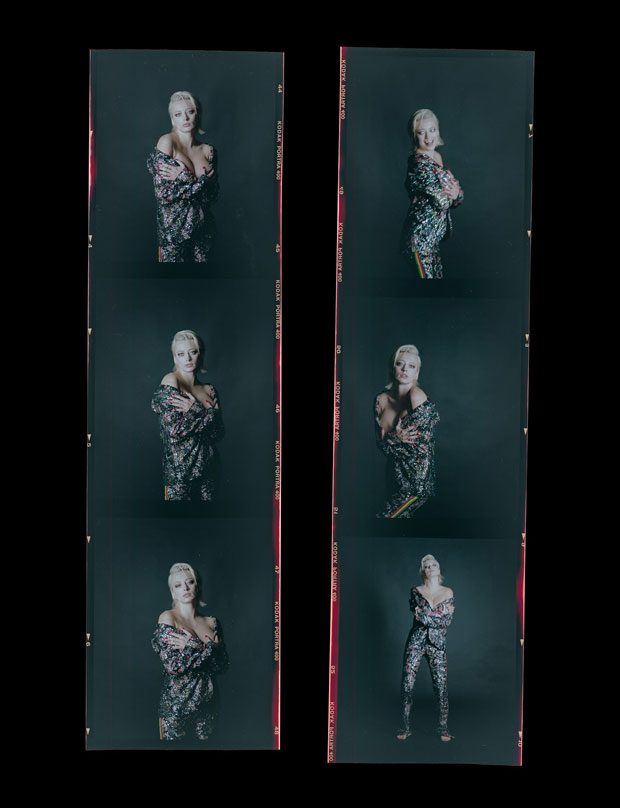 You were part of TV series Star, tell us how that happened? And what did you learn from that experience?
I was hiding away with my music producer on a magical mountain near LA called Idyllwild. We decided to get out of the city and rent this amazing house shaped like a dome while we recorded our song "Persephone." We had just cracked open a bottle of wine when I got a call from a number I didn't recognize. "Caroline? This is Lee Daniels calling. Do you know who I am?" The voice boomed. I almost freaked out. Of course, I knew who this was. Empire! Precious! Monster's Ball! How did he get my number?! I tried to act casual and asked what he was calling about. Turns out, his boyfriend and I have some mutual friends and a video I posted on Instagram of me laying in my bed singing Fiona Apple had gotten in front of Lee. He asked me to come in and audition for his new show, Star. They loved my voice but wanted to see a bit more in terms of my acting chops. This man, quite possibly the busiest man in Hollywood, spent an hour each day for the next week on FaceTime with me to help with my lines and with developing my character. I couldn't believe how hands-on he was-and still is-with the actors on his show. I went into the audition, sang Summertime, and nailed my scenes. We started shooting the following week.

Do you plan on pursuing acting career?
I'm really excited to announce that my first feature film, entitled Sazarac where I play the female lead, comes out next year. I've been acting since high school and it's always been something I've loved doing. I'll never stop wanting to dive into another character's psyche and live as them, feeling their pain, knowing their truths…
How did you decide to start writing column for CR Fashion Book?
I've been proud to be a CR girl for a few years now. When they came to me about the column I didn't think twice. Carine took me under her wing right when I started in fashion; she is the closest modern thing to Diana Vreeland because she embraces youth and change and isn't afraid to take risks. I would be proud to be involved in anything with her name on it. Of course, I consider myself outspoken and sexy but I don't think that's why CR chose me for this column. I believe that in picking me they knew they would get a very honest and loving approach to sex where nothing is off limits and all sides of the conversation are considered.
So, what can we expect to read in "Going to bed with Caroline Vreeland"?
I want to dive deep. In terms of what you can expect from this column, yes, I want to explore non-monogamous relationships, group sex, and fetishes, but I also want to discuss dark personal habits, relationship triggers, and the human psyche. Like I say in my first piece, "sex to me isn't just the act. It's everything before, everything during, and everything after." Whatever topics come up, mild or wild, I mostly hope to create a safe space where people can talk freely about sex and feel empowered about it rather than shamed by it. Sex is a natural, healthy, important part of the human experience and if I can create an open-minded dialogue about sex with this column then I'll be very happy.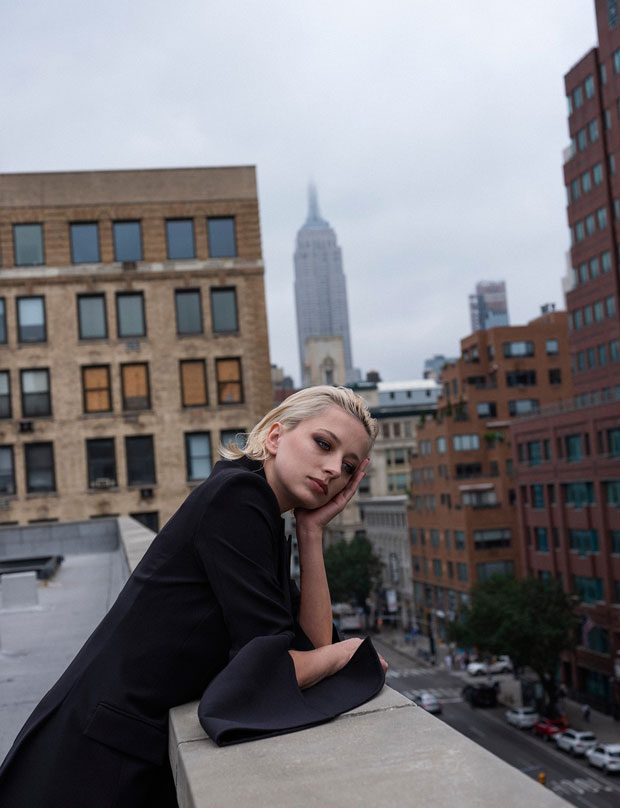 We have to notice that your great grandmother Diana Vreeland also started as column writer. Do you see yourself as an editor in the future?
I've really taken to this column, the act of writing it has been much more rewarding than I ever imagined. I would love to expand on my writing in the future, so…never say never.
Speaking of your great grandmother, the most original person fashion world ever encountered, what's the most important thing you learned from her?
The most poignant thing I've learned from my great-grandmother is the importance of embracing one's flaws as the most unique and beautiful thing about them. When she saw Barbra Streisand's nose she knew the cover image had to be her profile. Much like Michael Jackson's glove becoming his signature accessory; it was born out of a desire to hide the skin he didn't like on his hand. I love when beauty is created from a dark place this way. I practice this every day, I naturally find something beautiful in everyone, and I encourage imperfections and flaws.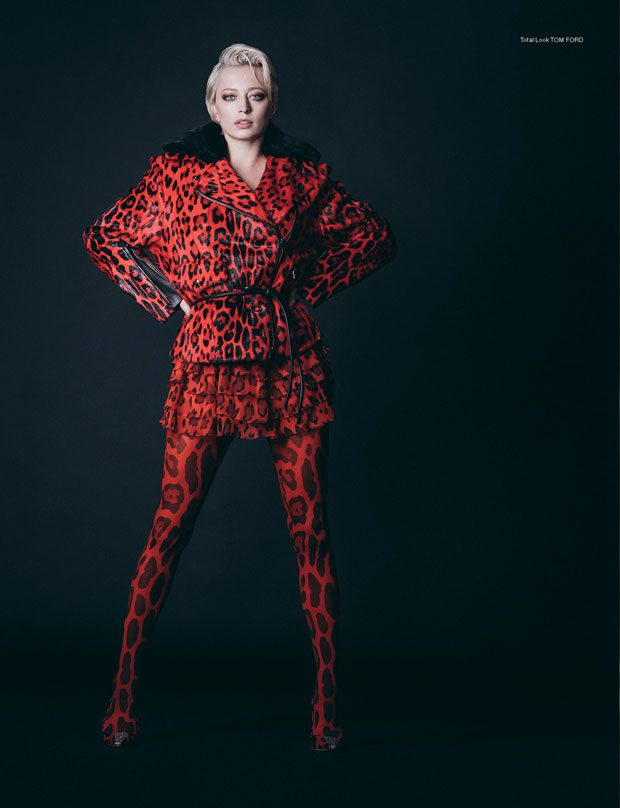 On your Instagram, you often share pictures that are capturing raw emotions. Do you think that realness got forgotten nowadays? And what is the message you try to send to your followers?
Realness is completely forgotten these days! This is why I am constantly showing my "bad" or "ugly" sides. Zits, scars, sick days, I make sure to show as much of this as I can to remind people that everyone goes through it. Social media these days is all edited, filtered, and fake. I pride myself on showing all sides of real life. This is way sexier to me.

You seem to enjoy good food and wine, tell us how do you stay in a healthy relationship with food?
My relationship with food is unique. I love to eat. The joy I get from opening a bottle of wine amongst friends and sharing good quality food is attributed to my health because I think the joy derived from such ceremonies is instrumental to overall well-being. I eat more carbs than the average person because it's delicious and it brings me happiness. If I get a little bit of a tummy now and again so be it. I like my tummy. As I now turn 30 though, I know I need to start introducing some cardio into my life to keep things even. I always make sure I'm eating high quality ingredients, even if they're carb heavy or high in fat. I don't drink soda, eat fast food, or candy, and I'm not into sweets like cakes or desserts. (I get enough sugar from my wine!) I cut meat out of my diet about a year ago, maybe I'll have a bite of chicken once every other month, but not eating meat for every single meal, multiple times a day has really made me feel better. I'm doing way more veggies and fish now. I say all this as it is my own preference, but I think everyone is different and not one diet fits every person.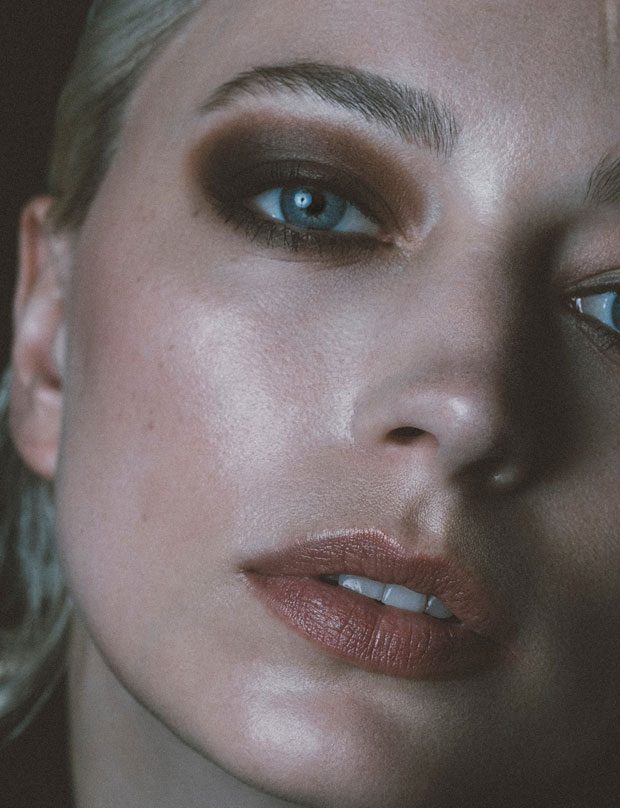 How would you describe your personal style? What styling rules you always follow?
My personal style is all over the place and I'm really just still learning. Since my tastes can waver from classic to eclectic, and from modern to vintage, I would say the common thread throughout is that I have the confidence to take risks. If I wear something that isn't chic, so what? Style is innate and has very little to do with clothes, even less so with designer clothes. As Alber Elbaz said "a great dress disappears when a woman wears it."
What's your best advice for handling criticism?
My advice for handling criticism is screw them all. If you're kind and honest about who you are, any negative comments that follow are misplaced jealousy and projected ignorance. Keep your head held high and never compromise who you are at your core, even if you accept help along the way, which, as I said, is very important to do.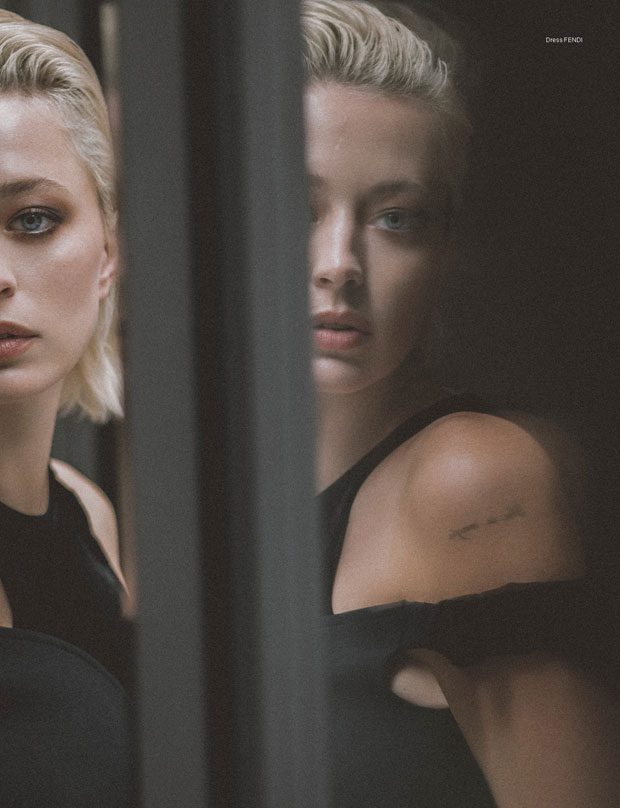 What is the best advice you've been given?
The best advice I've been given is to treat others the way I want to be treated. And to ALWAYS wear sunscreen.
What inspires you?
I'm inspired by the juxtaposition between fantasy and mundane, everyday life as featured in writings of Haruki Murakami. I'm inspired by a girl in the lane next to mine, crying in her car. I'm inspired by Mayakovsky, Sedaris, and Baudelaire. I'm inspired by RuPaul, who, through his work in the LGBT community is my only living hero. I'm inspired by my boyfriend and his family, for having hugely differing backgrounds and political views than me, while still being some of the most amazing people I've ever met. I'm inspired when someone unexpectedly causes me to change my perception through kindness and love.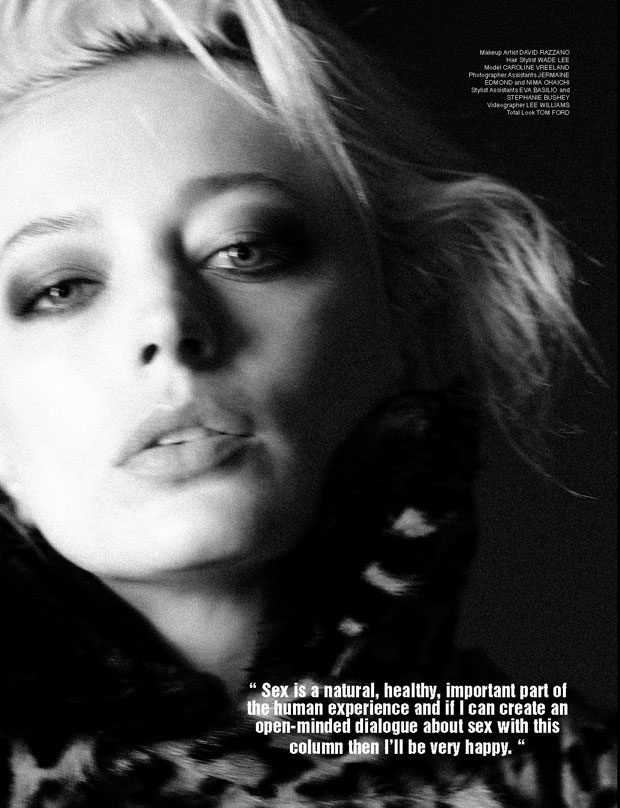 What makes you happy?
I'm happiest when seeing my loved ones succeed.
Photographer JUANKR – www.juankr.com
Stylist Odile Iturraspe – @odileiturraspe
Makeup Artist David Razzano
Hair Stylist Wade Lee
Model Caroline Vreeland at No Affiliation
Photographer Assistant Jermaine Edmond and Nima Chaichi
Stylist Assistant Eva Basilio and Stephanie Bushey
Videographer LEE WILLIAMS
Keep up with Carline on her Instagram @carolinevreeland – Caroline's EP "Like A Woman, Like a Drunkard, Like An Animal" is now available for streaming internationally. 
FIND DSCENE ISSUE 10 COVERS STARRING COCO ROCHA, YUMI LAMBERT AND DEVON WINDSOR IN  DSCENE SHOP