Actress and the GOOP CEO Gwyneth Paltrow takes the cover story of WSJ. Magazine's December 2018 – January 2019 edition captured by fashion photographer Lachlan Bailey. In charge of styling was George Cortina, who for the session selected pieces from top brands such as Miu Miu, Jacquemus, Araks, Prada, Solid & Striped, and Marc Jacobs. Set design is work of Heath Mattioli, with beauty from hair stylist Lorenzo Martin, makeup artist Mark Carrasquillo, and manicurist Miwa Kobayashi.
"It's fantastic. I feel like we are probably better equipped to choose our life partner when we are halfway through life. But generally, we have to pick our spouses a lot earlier because of the whole procreation piece…. For me it has been more of a process, and so I feel really lucky to have met this person who is an incredible, true partner." – Paltrow on marriage.
For more images + story continue bellow: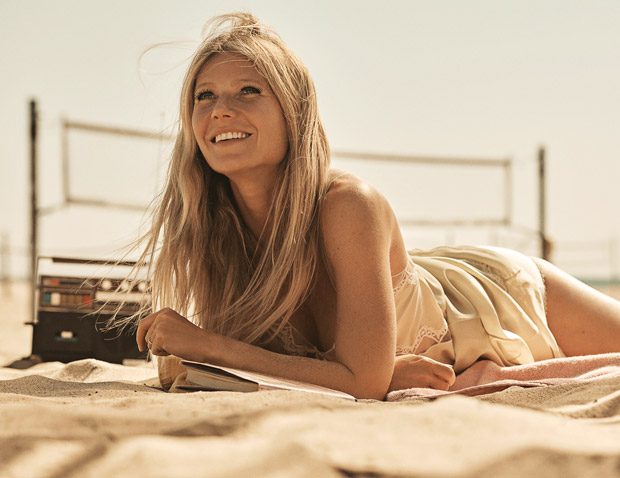 photo: Lachlan Bailey for WSJ. Magazine
On GOOP's lure:
It's "contextual commerce." "We sort of made it up. It's the why of why you're buying something," says Paltrow, 46. "It's really about finding things that we love, whether it's a restaurant down the street here or a face product or whatever, and we write about why we love it, and then it converts really well."
"How can the brand stand on its own two feet so that it's genuinely scalable and I'm a good asset?" she asks herself. Her goal, she says, is to have what she calls a global "heritage" lifestyle brand.
"Part of me thinks it's good for Goop that I also am still Gwyneth Paltrow, you know?" she says. She's a spokesmodel for the beauty products, since, as she points out, she has been hired to do the same for other brands. "Over time, it would be great if somebody else could do that, especially since, you know, I'm not like a 20-year-old."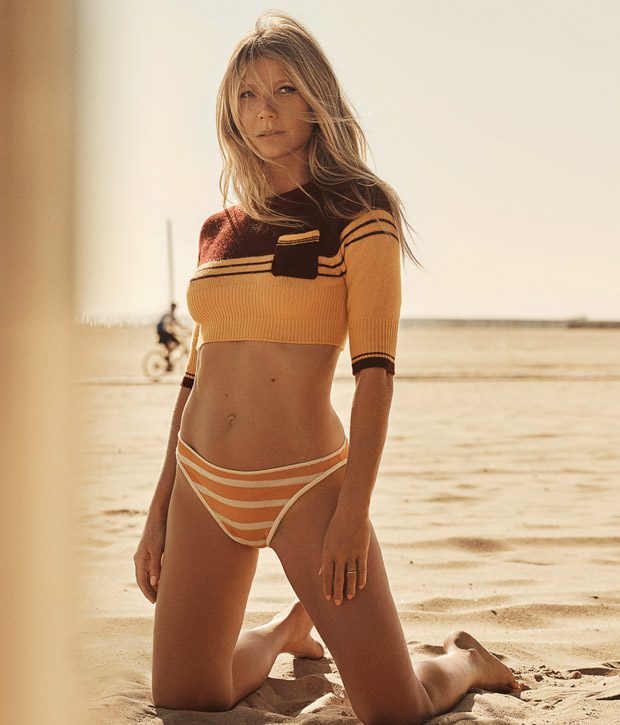 photo: Lachlan Bailey for WSJ. Magazine
GP on how her obsession with wellness stemmed from her father's illness:
From the start, Goop's focus included wellness, a lifestyle that had called to Paltrow since her father, director Bruce Paltrow, was diagnosed with throat cancer in 1998. (He died four years later, at 58, when Paltrow was 30.) "He's the reason I got into this whole thing. I just remember the surgery was so brutal, and then I thought, Wow. What else can we do?" Paltrow began reading up on macrobiotics and seeking answers to the potential causes of his disease—an imbalance, environmental toxins, HPV virus, smoking. "I was trying to take control of his life because he wouldn't," she says. He died suddenly, when they were traveling together in Italy for her birthday. Facing mortality head-on was a shock: "I don't think I'll ever be whole again, on some level," she says now.
"That was the beginning of people thinking I was a crackpot. Like, 'What do you mean food can affect your health, you f—ing psycho?'" she says. "I remember when I started doing yoga and people were like, 'What is yoga? She's a witch. She's a freak.'''
"Forgive me if this comes out wrong," Paltrow continues, "but I went to do a yoga class in L.A. recently and the 22-year-old girl behind the counter was like, 'Have you ever done yoga before?' And literally I turned to my friend, and I was like, 'You have this job because I've done yoga before.'"

photo: Lachlan Bailey for WSJ. Magazine
GP on GOOP's controversial product endorsements like crystal yoni eggs:
"We're trailblazers. We're going to write about shit that people haven't heard of," says Paltrow. "It's often women's sexual health that is the most triggering."
Goop paid $145,000 in civil penalties and offered refunds for the products. The company says it recognizes that the forum it provides to describe experiences with its products may be subject to the same legal requirements as advertising and expressed gratitude for the guidance it has received as it "moves from a pioneer in this space to an established wellness authority."
"I'm so happy to suffer those slings and arrows, because if you look at the culture from then to now, people are so curious," Paltrow says. "It's so beautiful to see people feeling empowered by natural solutions or ancient modalities alongside science and medicine.
GP on her business mentors:
Her "break- glass-in-case-of-emergency" mentor is Disney's Bob Iger. Getting to Oprah is no problem, but there is one person she can't reach: Amazon founder Jeff Bezos. "I've emailed him," she says. "He won't email back." (A spokesperson for Bezos declined to comment.)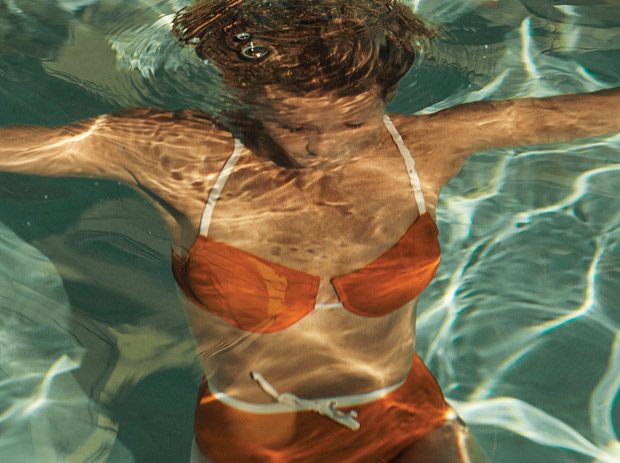 photo: Lachlan Bailey for WSJ. Magazine
GP on negativity surrounding her controversial "conscious uncoupling":
"It's like the week that I was People's most beautiful woman and Star's most hated celebrity," in 2013, she says. "It's a lesson that I learned when we did the 'conscious uncoupling' thing." The term went viral, and the reaction was "so vitriolic," she says. "I was so raw. It was so hard to be getting a divorce and letting go of this dream, and the public stuff was super painful. I wanted to see if we could check our pain and egos at the door and remember what we love about each other and be a family for these kids. What I didn't understand at the time was, I think there's a message in that, which is, 'If you don't do it this way, you're hurting your kids.'
"I think people take that as: 'She thinks she is better than me,'" Paltrow says. She imagines everyone thinking: "Wait till she gets into it. It's going to be hell."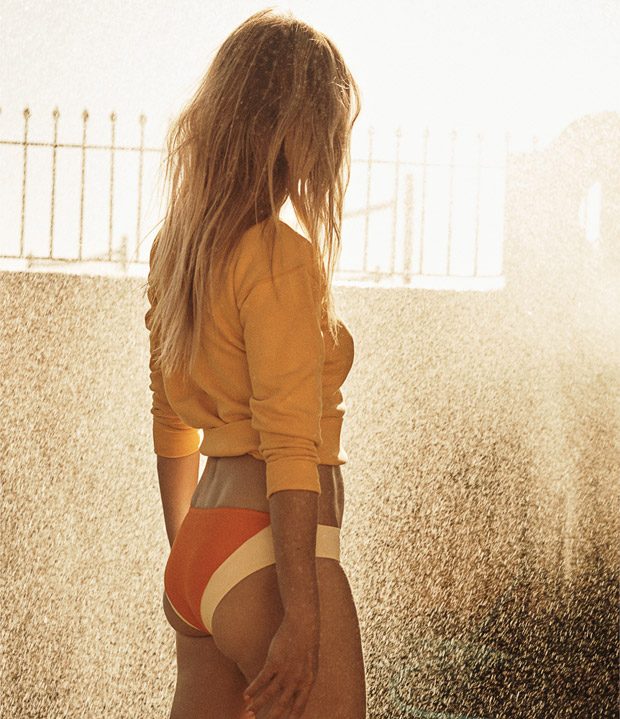 photo: Lachlan Bailey for WSJ. Magazine
GP on post marriage "coupling" and step motherhood:
Thus far, she and Falchuk, who also has two teenage children, haven't merged households and are taking it slow, even post- marriage. "We are still doing it in our own way. With teenage kids, you've got to tread lightly. It's pretty intense, the teenage thing," she says. "I've never been a stepmother before. I don't know how to do it."
GP on her drive – and enjoying the ride:
"In one way you think, Oh, my God. I hit the freaking jackpot. I won the lottery. I get to be this person, and that served as a platform for me to start my business and to have all this incredible access to amazing people and artists and designers, and I've had such a fascinating life," she says. "And then on the other hand, you get old and a little grumpy and you just want to kind of be a hermit."
But Paltrow is not one to take her foot off the gas. "I'm here one f—ing time. I want an incredible life," she says. "I used to be in my trailer, smoking a cigarette and waiting for Ethan Hawke to open the door. Now look at me."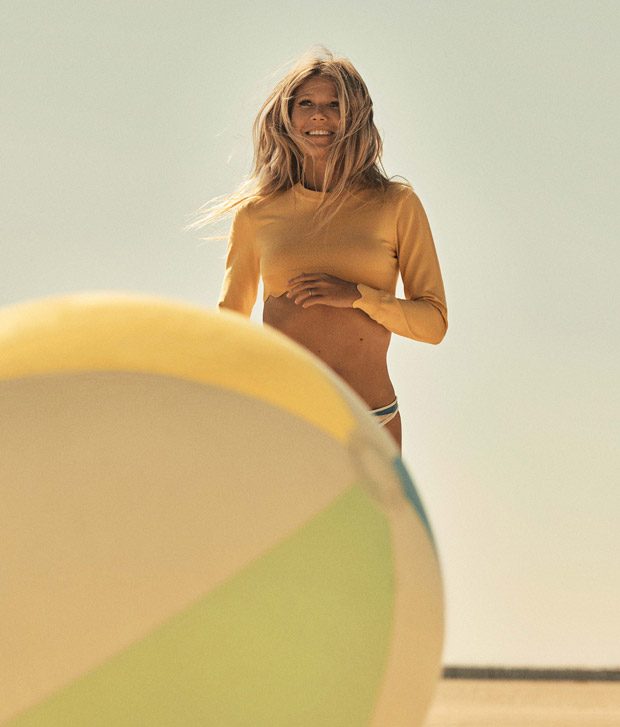 photo: Lachlan Bailey for WSJ. Magazine
GP on her early fame:
"Cameron Diaz and I talk about this all the time. We're like, 'Thank God in the early '90s there were [so few] paparazzi. Thank God.' We cry in gratitude that no one was following us around and seeing what we were doing," she says. "I remember when Brad Pitt and I broke up, it was on the cover of the New York Post and there was no one outside my house. That would never happen today."
Photo credits: Lachlan Bailey for WSJ. Magazine
WSJ. Magazine's December / January Issue is available on newsstands Saturday, December 15th – www.wsj.com