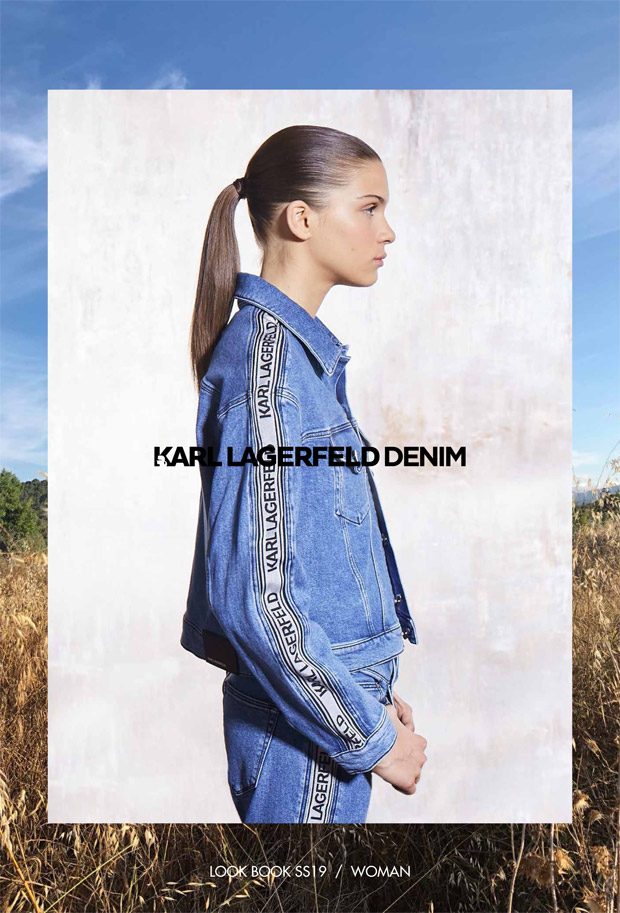 Exciting news from KARL LAGERFELD, the eponymous brand of fashion icon Karl Lagerfeld: for Spring/ Summer 2019, its first denim line is launched. The styles stay true to the brands' significant DNA, and thus, its denim aesthetics can be interpreted as rock-chic, sporty yet timeless in an endlessly elegant way. The men-, and womenswear looks of this compelling collection are greatly wearable yet stylish, with just the right amount of each. They are your perfect everyday darlings. The use of the brands' logo plays a central role in this collection: the most outfits contain logo embellishments, ribbons and patches, glossy zips, thick embroideries and linings. The logos are, most of the time, presented in a very visible way that immediately catches your attention.
Continue below to read full review by our Germany Contributor SUSSAN ZECK: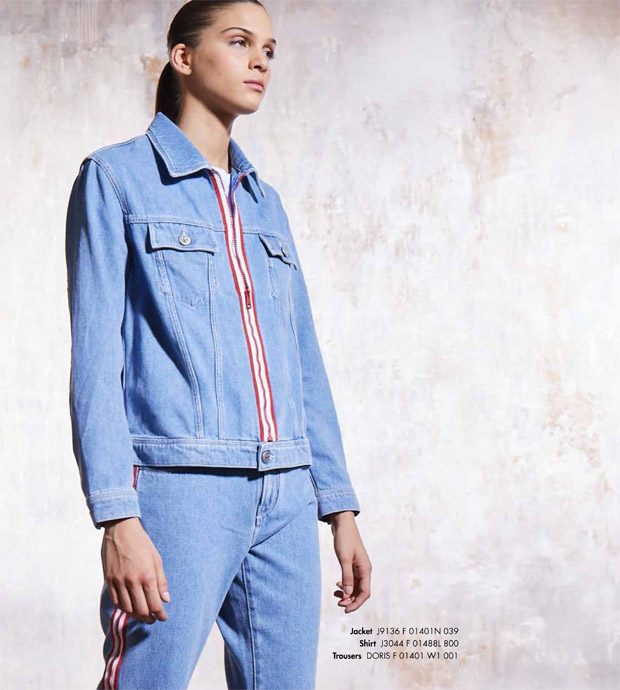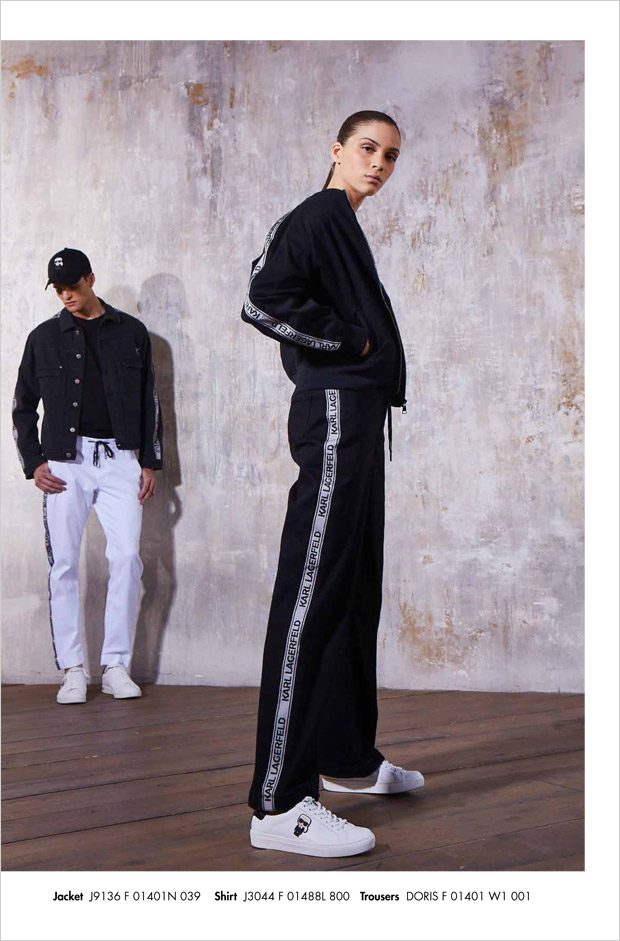 The cuts of the womenswear line imply a wide range of different styles: they are ranging from skinny, straight, boyfriend, boyfriend, flare to jogger fits. Therefore you can pick your favourite cut, depending your own style preference. One of our favourite pieces of this line is a womenswear denim suit that is seductively shining. That effect underlines the sophisticated approach of this piece. Sophisticated. smooth. Slightly sporty. The flare cut of the trousers gives the outfit its unique approach. When injecting this piece into your business wardrobe, you will certainly add a model that is one of a kind. However it can still be worn for severe occasions, such as business meetings. For those of you who prefer it rather classier, there is a dark wash denim suit that teams up with a tailored trousers and a matching blazer. Apart of that, the range of garments for leisure time activities is a wide one: denim jackets, cool shirts and shorts, moto-inspired biker jackets- to name only a few of our favourite picks.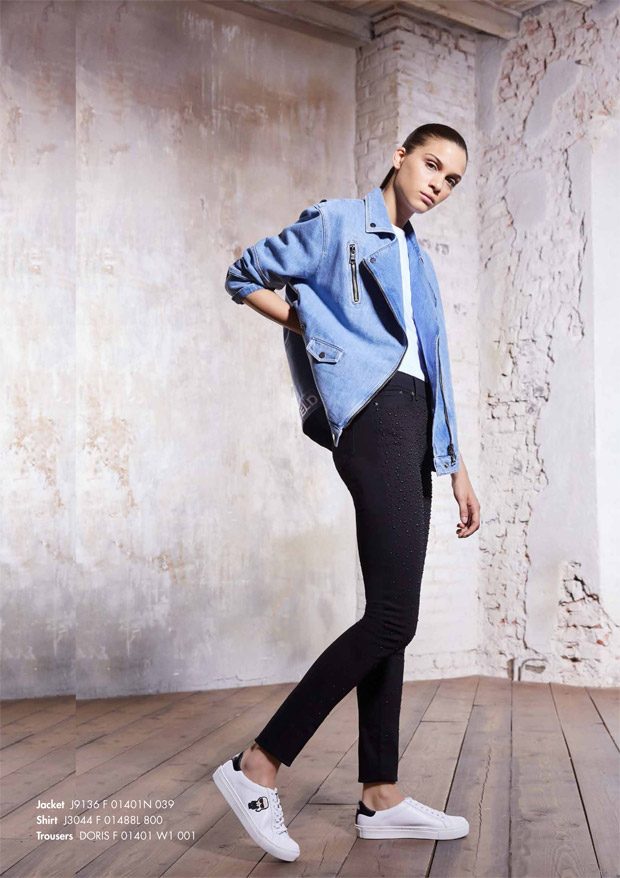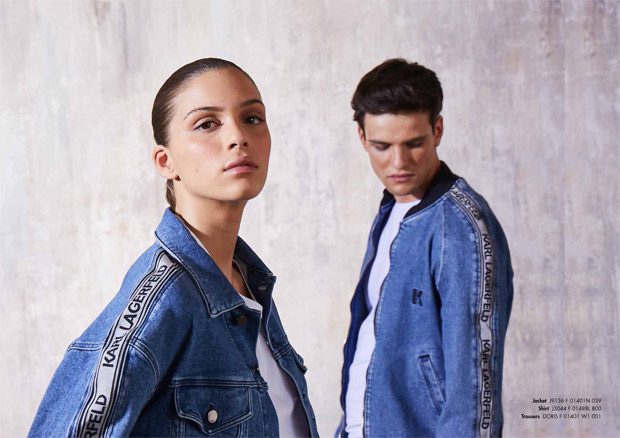 The colour choice comprises, matching the collections' theme, a lot of denim- inspired hues. However also a bunch of other nuances are repeatedly applied, for example scarlet, lime green, sheer white, pewter and night black. The eye- popping, fluorescent stitchings appear in pink, green, orange and yellow. Worth of mentioning is the detail-awareness of this collection: for example the "ikonik" Karl cartoon application out from the black pocket is inspiring to observe and makes these looks incredibly unique.
The favourite menswear picks contain of jeans, outerwear and shirts. For your contemporary business look, there is a tailored jean jacket with a matching skinny jeans introduced. Both creations are kept in a silvery dark wash. Furthermore also a plenty of leisure time looks, such as jeans and bomber jackets with over- sized logo branding, can be noticed in this collection.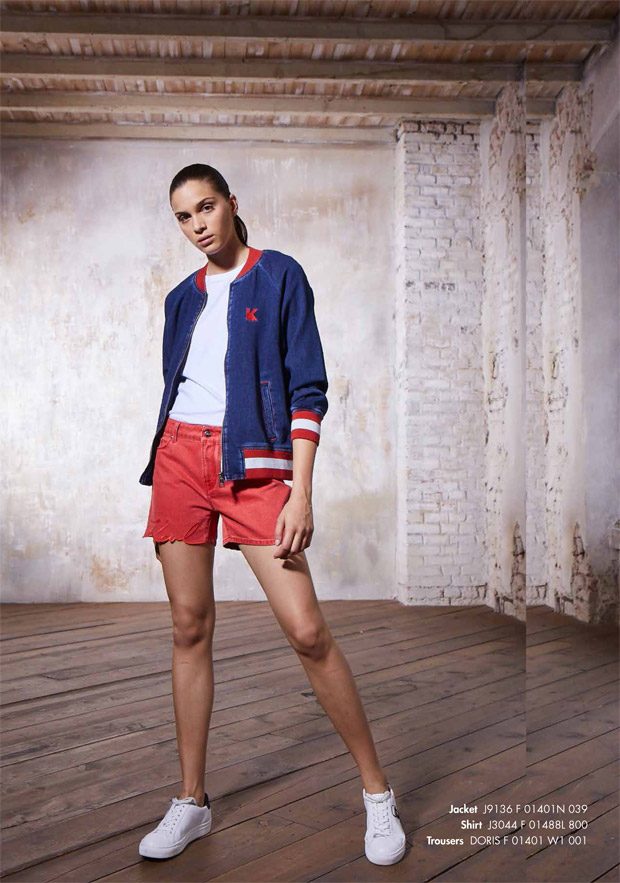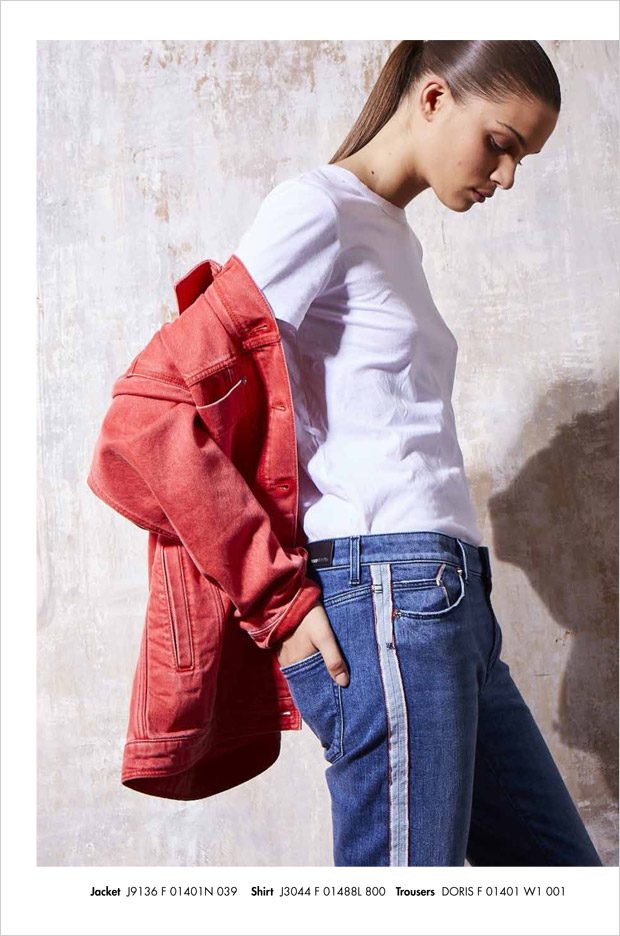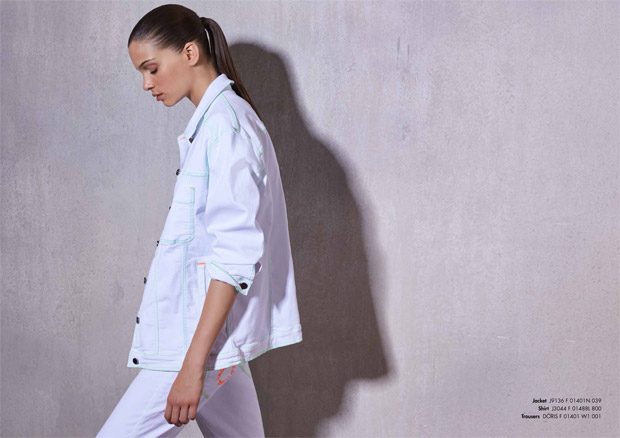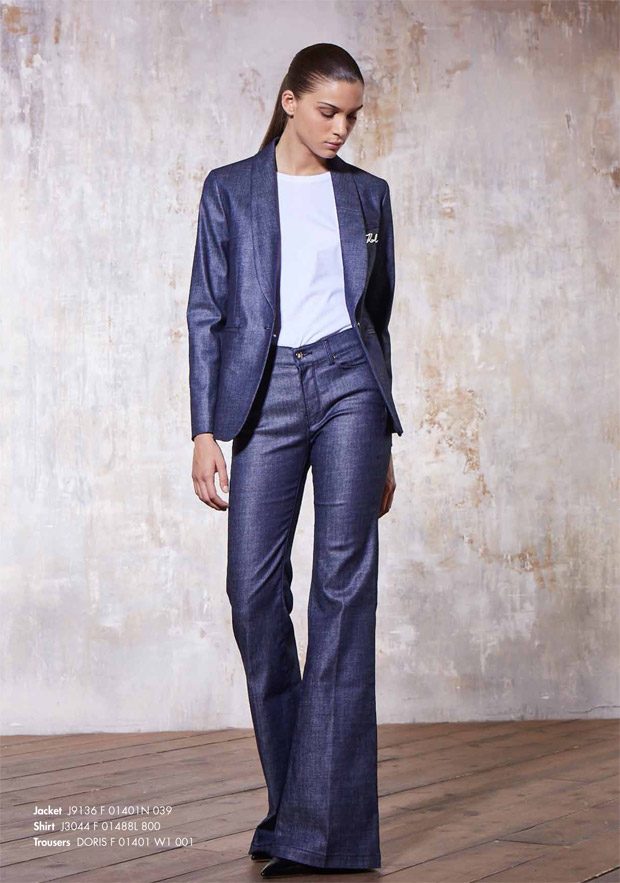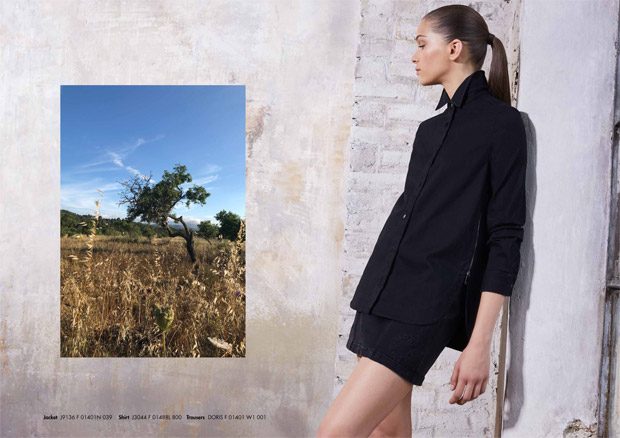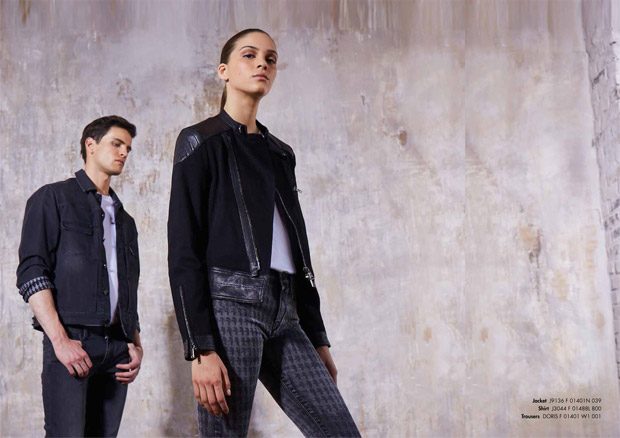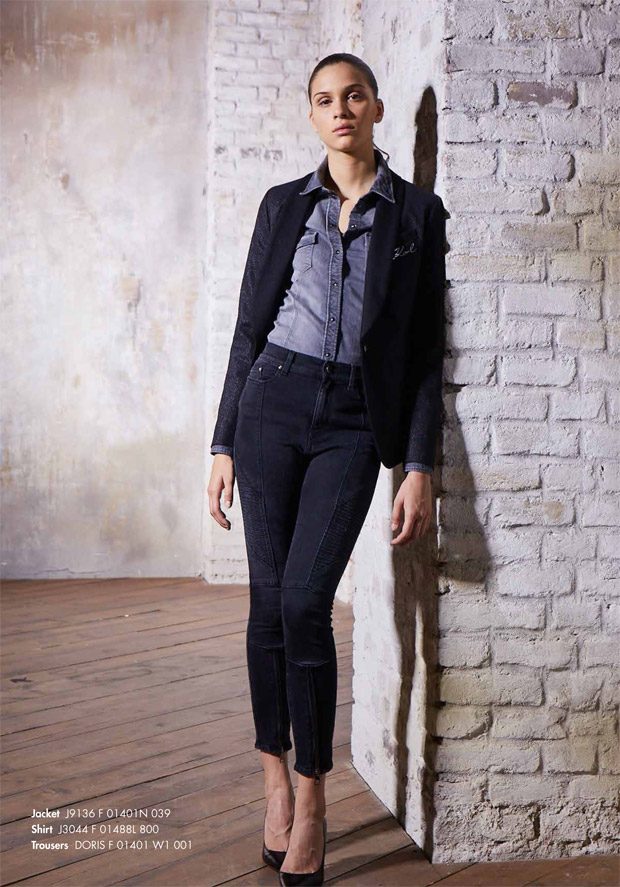 KARL LAGERFELD DENIM can be purchased in KARL LAGERFELD stores, online at KARL.COM and via a premium distribution network of wholesale partners, from the end of February on.
Review by Sussan Zeck for D'SCENE Magazine