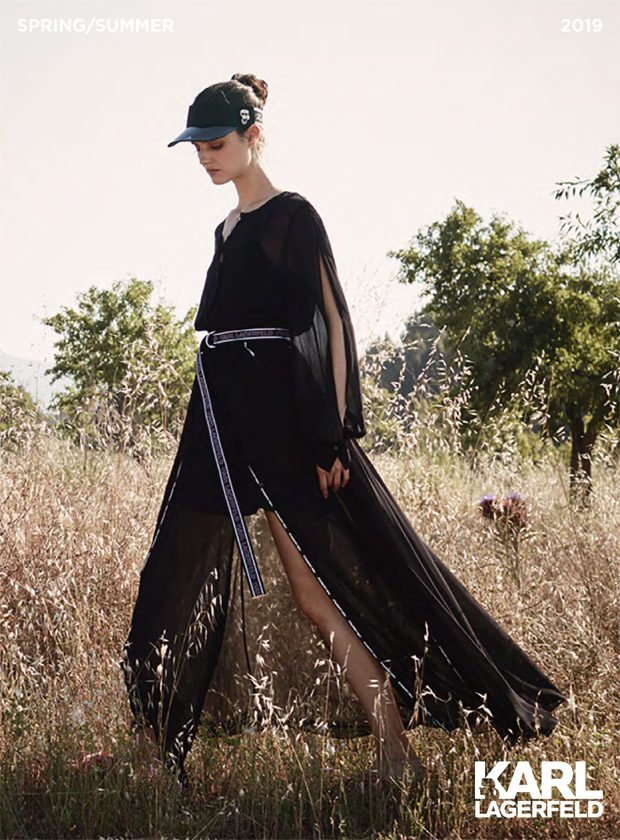 For his Spring Summer 2019 collection, German star designer Karl Lagerfeld took his inspiration from his favourite travel destination, Argentina. Influences from the cultural variety of this Latin- American country clearly shine through: its renowned architecture, the infamous polo matches and the passionate tango dances are depicted in form of vivid and expressive pieces. Being significant for this charming collection are its fluid silhouettes, the strong colour combinations and endlessly elegant, feminine details.
Continue below to read full review of Karl Lagerfeld's SS19  Collection by our Germany Contributor SUSSAN ZECK:
Ready-to-wear
In his Ready-to-wear line, impressions from Buenos Aires are captured: they take their inspirations from the light of the megapolis, from polo matches that are played during the day, to street festivals at night. Like a cocktail of multifarious impressions, these influences are creatively blurred. The both masculine and feminine elements of tango dancing play a central role. They appear in form of an edgy, unique leather jacket with stud details, a highly sophisticated layered georgette maxi skirt, plus a black punto dress with a detachable collar. One of our favourite pieces from the outdoor wardrobe is a long, structured jacket in scarlet red. Another piece that immediately caught our attention and let our hearts beat some seconds faster is a long, black dress that is provided with ruffles in the typical tango style. Sensual. sophisticated. smooth.
Another highlight worth mentioning are the urban- chic daywear pieces that are inspired by Buenos Aires' Recoleta borough, one of the most elegant and wealthy areas of the city. For a walk through that neighbourhood, Karl Lagerfeld pairs a tailored leather shorts pair with cosy, comfortable bouclé knit cardigans or a hybrid shirt- sweatshirt. In these compelling combinations, KARL'S iconic DNA clearly comes to light, for instance there is a contrast stitch jumpsuit and a trenchcoat that can transform into a pleated dress. Expect the unexpected!
However worth of mentioning is also the incredibly creative wide range of high summer pieces that are revealed in eye- popping green, red and yellow. The floating fabrics are airy and leightweight, with graceful floral print dresses and wide- leg pants made of silk georgette and viskose, the perfect addition on a hot summer day. Layering is another big topic in this collection and it is fun to watch: for example this collection contains a cashmere- blend knit sweater and matching cardigan, plus a satin-back-crepe jacket with KARL LAGERFELD embroidery on the chest.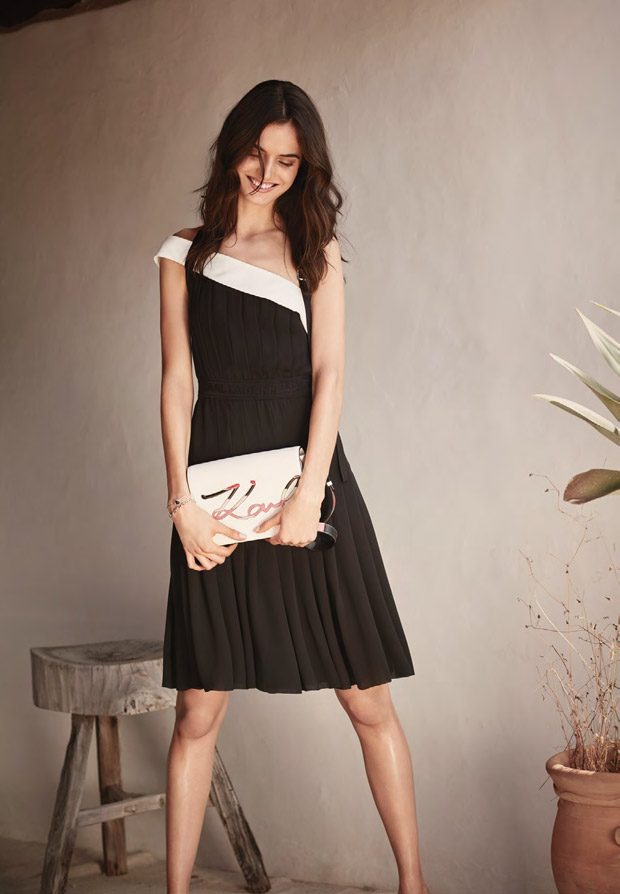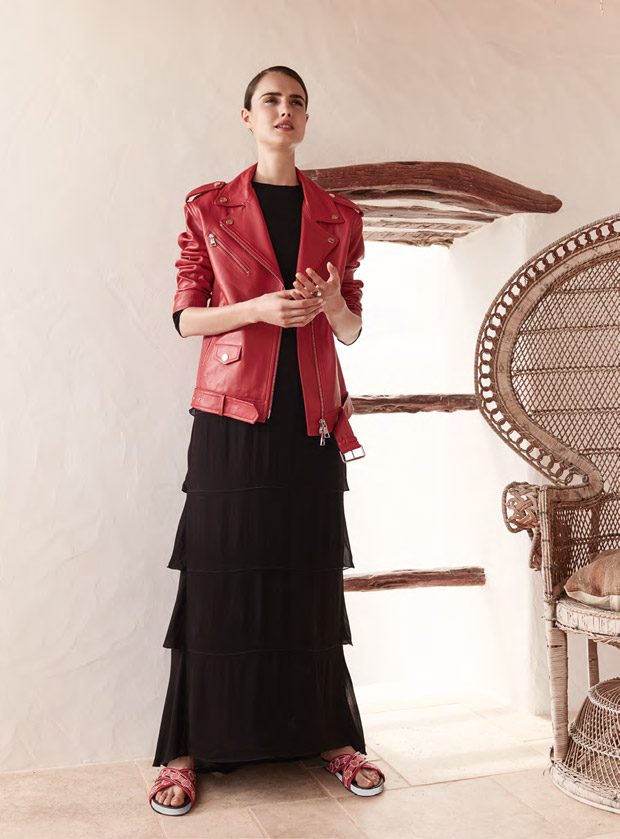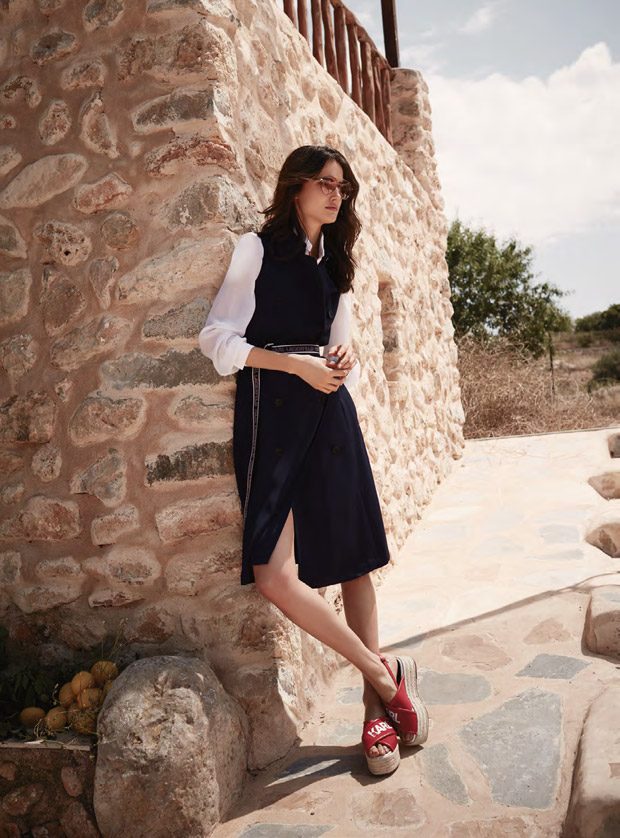 Accessories
In this collections' accessories line, jacquard fabrics, pop colours, calf leathers, and a new circular KARL LAGERFELD motif have a key role. Furthermore, colour blocking is a big theme for Spring/ Summer 2019: red, green, black and yellow- we name it, this collection creatively mixes and matches them all. On the other hand the bum bag remains a key shape; one design even doubles a bum bag and a cross-body bag in one. Incredibly interesting!
Additionally, this collection introduces a new K/ Signature Quilted group with geometrical calf leather quilting, new shapes and triple chain details.The highly popular K/ Signature style is presented with metallic- coated raffia, multicoloured enamel or with edgy black hardware.
For the travel fans among you, there is a new, customisable K/ logo Stripe that names your favourite travel destinations, such as Paris, New York, Tokyo and London. Key K/ logo styles contain a weekender or a backpack made from an exclusive new nylon fabric.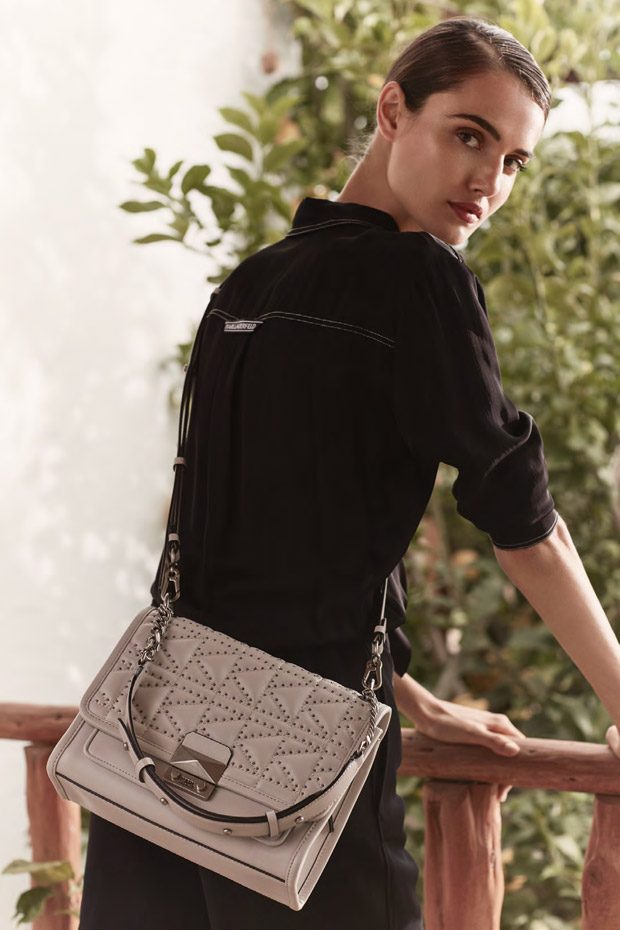 Karl Iconic
Karl Iconic is full of innovative surprises: This line contains bright, eye- popping highlights in red, pink and blue. For next season, a transparent pouch, a travel pillow, a small backpack, a drawstring shopper and some other travel essentials are added. Bucket and shoulder bags are provided with metal lock closures. Furthermore they are made of sophisticated, smooth leather.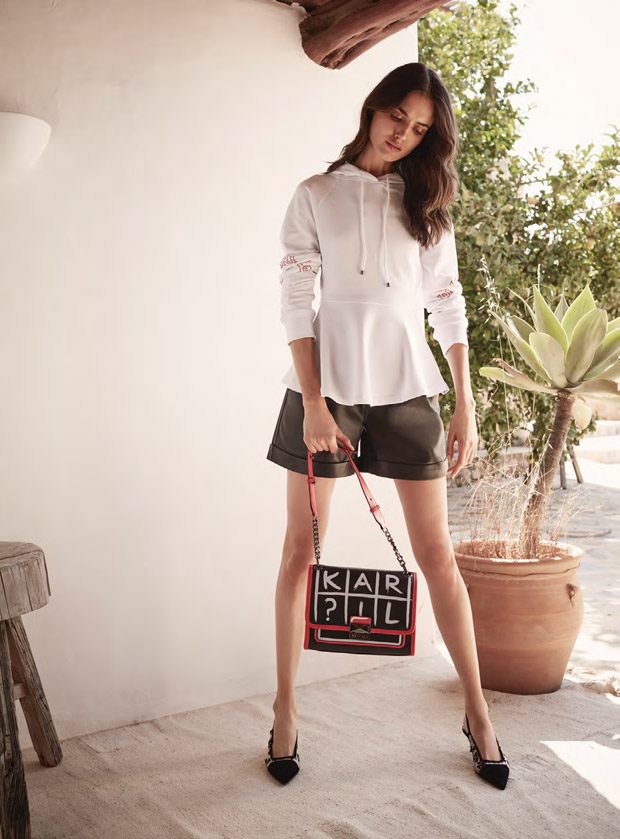 Neon Lights
Fluorescent pops of neon colours make these accessories simply irresistible. Even on the T-Shirts of this collection the iconic "Karl" signature and round logos appear in neon hues. Moreover some leggings, denim, jackets and cardigans are provided with neon accents. Accessories, including bum bags, a cap, carry-all-bags and small leather bags are topped with neon trims and embossed logo patches.
This compelling collection deserves devotion because of the incredibly interesting interpretation of cultural influences. But also its innovative ideas and strong, eye- popping accents certainly stay in mind.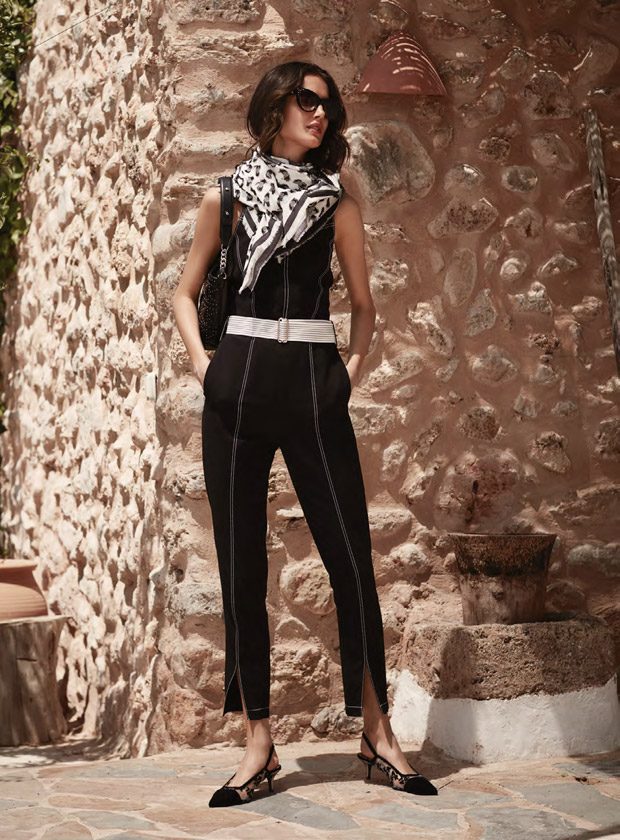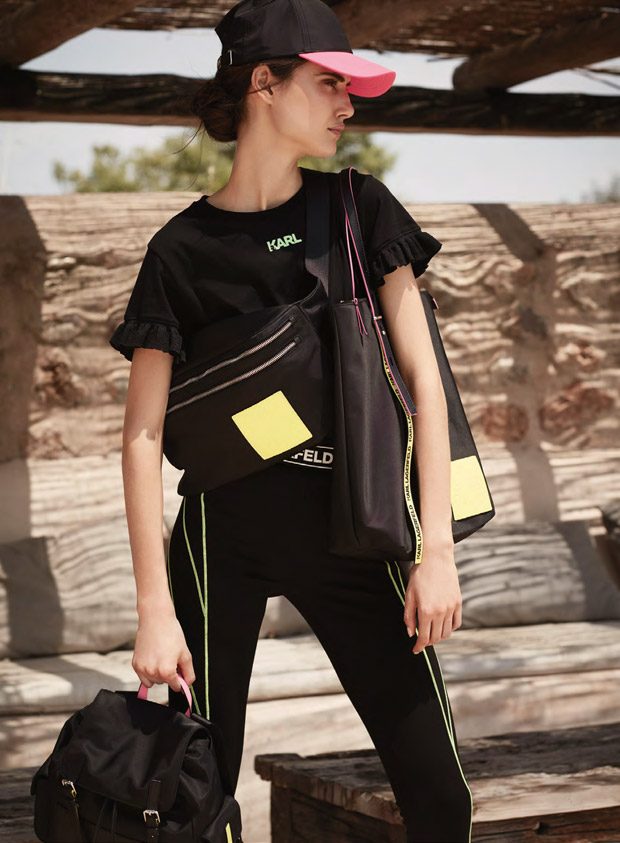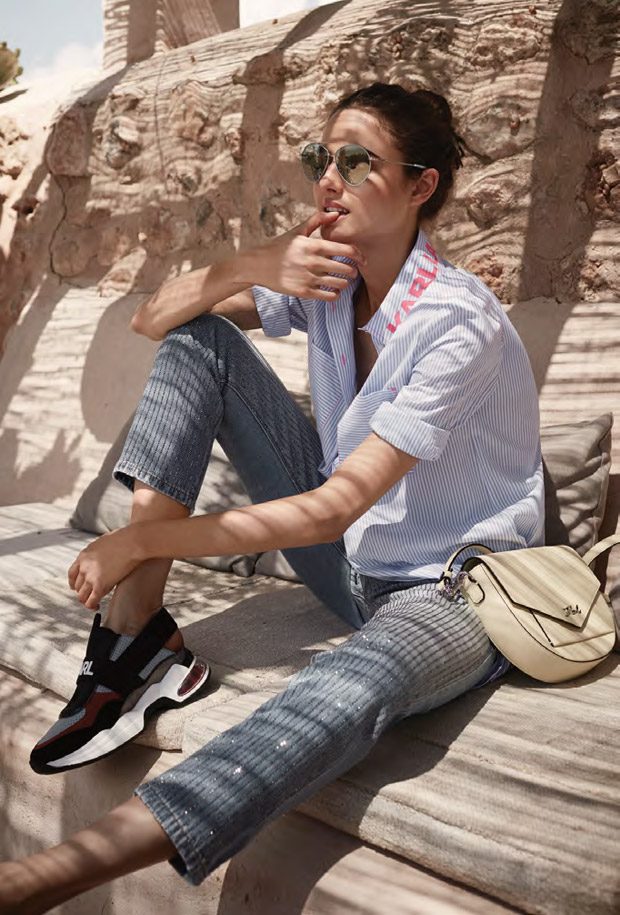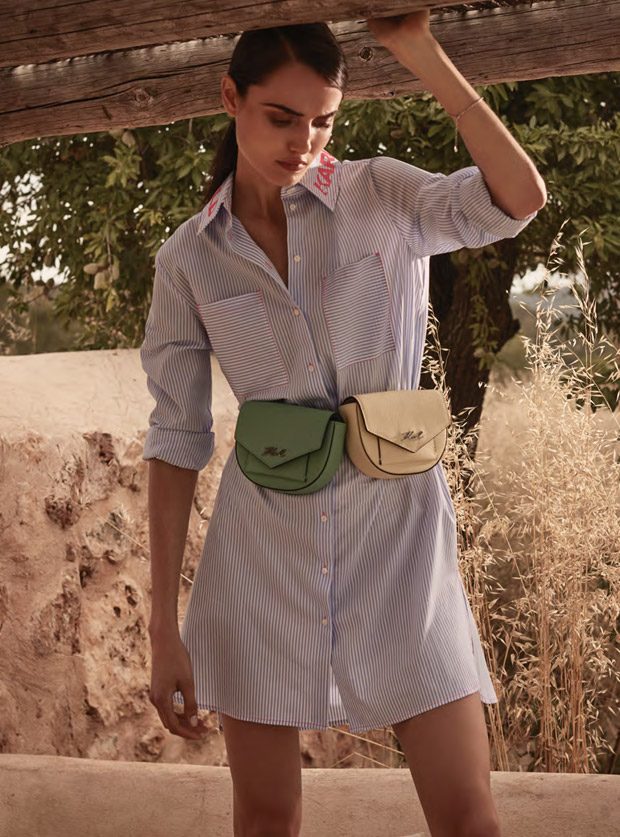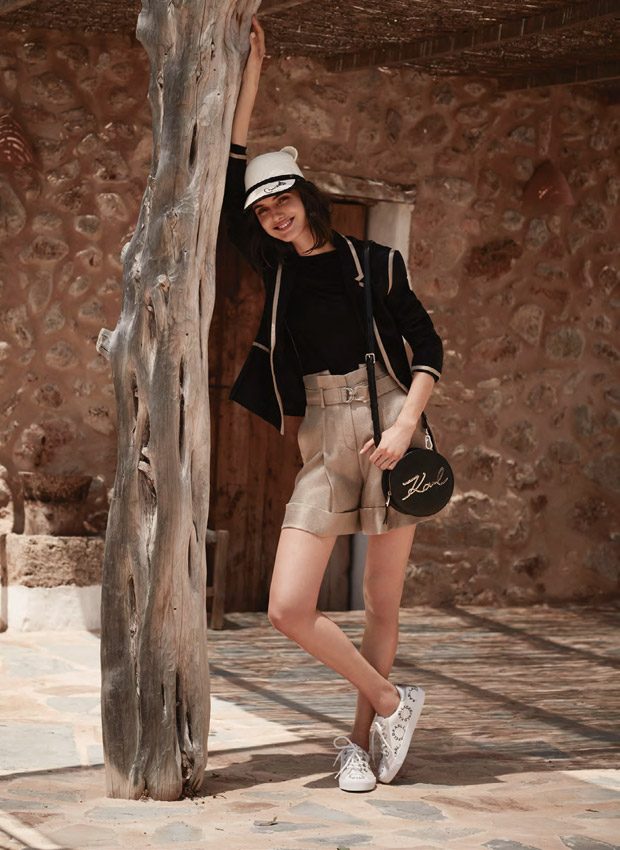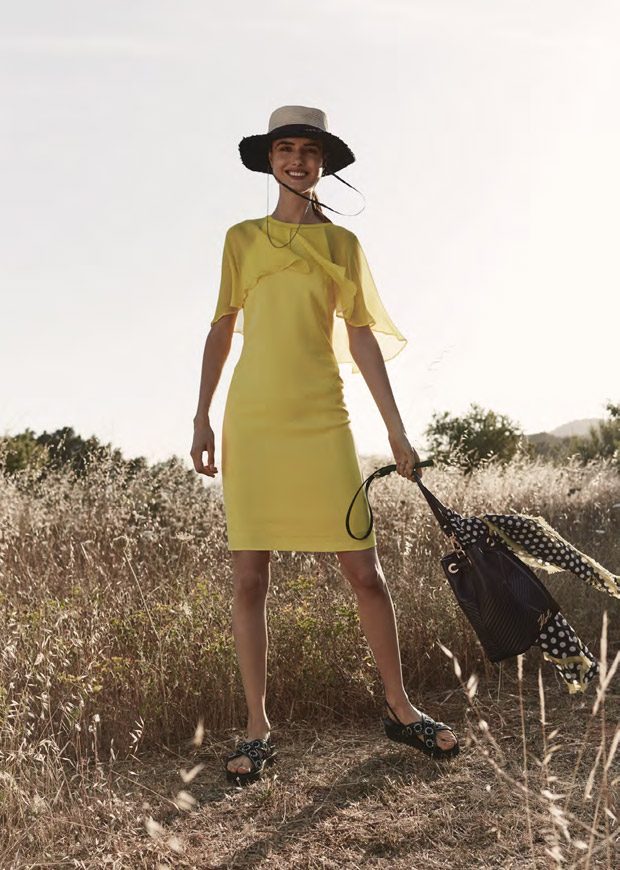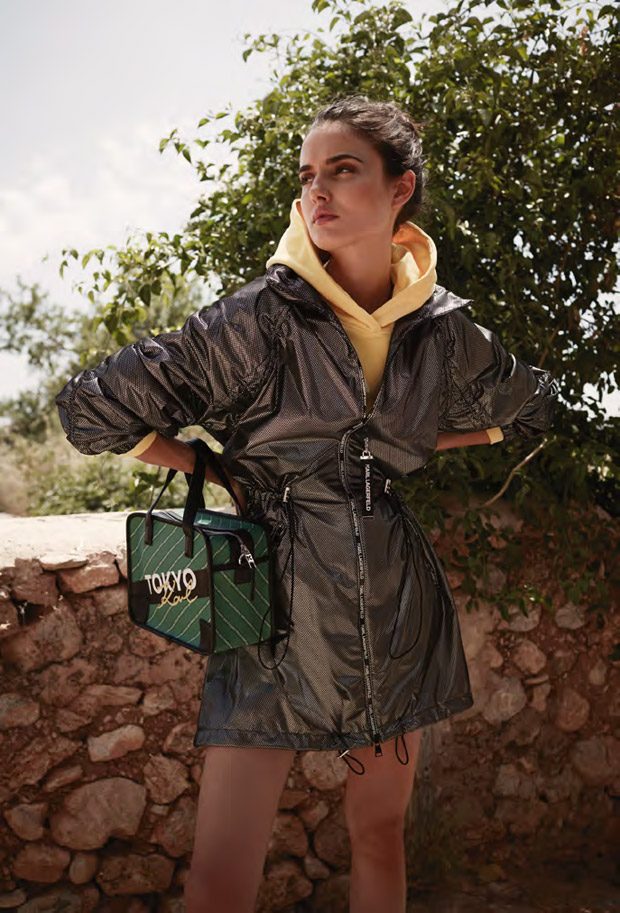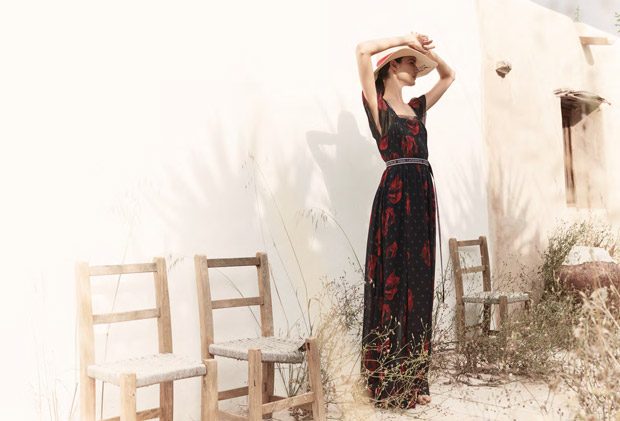 Review and by Sussan Zeck for D'SCENE Magazine