Modern office designs are geared towards the user experience. Every day, we see new trends and styles incorporated into workspaces, with everyone hoping that they can make the working day feel more enjoyable and relaxing. Looking for a new place to call your working home can be stressful, but the internet can help you quickly narrow down your options with Miami's office space listings, you can find offices that are located right in the heart of where everyone goes shopping. Having an intriguing interior that can help customers feel invited inside can be just as important as having an exterior that can catch someone's attention to encourage them to take a closer look.
With the heightened awareness of protecting the health and wellbeing of employees whilst maintaining efficiency and productivity in a fast-paced world, office designers are challenged to create solutions designed to meet the objectives of both employers and employees.
If you get excited about office design, you're going to love the key trends in 2019.
Read more after the jump: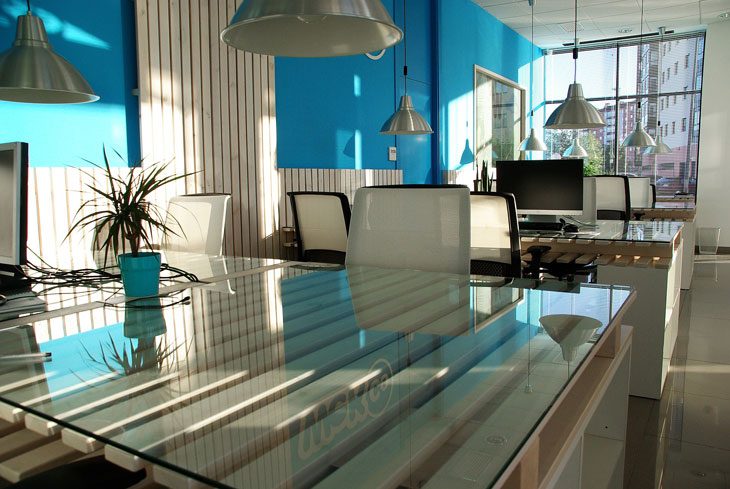 Experience-Driven Spaces
One of the fastest growing trends this year is office designs that are tailored towards how employees interact with the workplace. With a focus on optimising space, the goal is to prioritise how employees work without distraction or feeling over-stressed.
Design elements such as meditation areas, holistic therapy spaces, rock climbing walls, games rooms, mini golf courses attempt to cultivate wellbeing, boost morale and nurture a company culture.
Flexible Office Space
Businesses are increasingly looking for ways to get the best out of their employees without overexerting them. Flexible office spaces provide an ideal solution by creating spaces that are designed for specific activities.
Cloud computing makes it possible for employees to connect to internets and intranets from anywhere. With the ability to access files from multiple devices and locations, flexible offices provide employees with unorthodox spaces that are specifically geared towards working in peace and quiet, collaborating in groups without disturbing others or working beside their team members.
Relaxation Spaces
Modern companies recognize the need to give employees a break so they can relax and recharge their brain power. Relaxation spaces encourage employees to rest and improve employee satisfaction levels.
Relaxation spaces are a popular trend among office managers because they provide multiple benefits but are not expensive to create. Bean bags, lounge chairs and hammocks create a quiet space where employees can read quietly or share ideas as part of a group discussion.

Biophilic Designs
Studies show that employees working in environments that feature natural elements have better mental health and positive attitudes about their job and employer.
Also known as the "Second Nature Trend", biophilic office designs incorporate plants, trees, natural lighting ventilation systems that promote better air quality.
Some innovative trends we have seen include walls covered in moss and climbing plants, hanging baskets that make the best use of space, thermal variability, electronic switchable privacy glass, large windows to let in natural light, and water features that enhance mood and tranquillity.
The introduction of natural elements into the workplace has been linked to a 15% reduction in absenteeism together with an increase in productivity and a boost in the general mood and wellbeing of workers.
Handcrafted Decorations and Customised Pieces
With a focus on the sharing economy and sustainability, companies are encouraged to reach out to the wider community and support local artisans. Subsequently, there is a growing trend of unique artwork, decor and apparatus replacing mass-produced materials in office spaces.
A rise in custom pieces made by skilled craftsman mixed with a combination of small-scale manufacturers creates unique focal points and helps to nurture the local community.
The interior office designs emerging in 2019 are centred around optimising office space whilst catering from the physical and psychological needs of employees. We expect to see a progression of these design concepts over the coming decade and beyond.