Fashion Designer MANISH ARORA sits down with DSCENE Magazine's Editor KATARINA DJORIC to talk about his Paris Fashion Week runway shows, the business side while designing, and craftsmanship in India.
GET YOUR COPY IN PRINT $26.60 AND DIGITAL 4.90
Read more after the jump:
After all this years of designing you seem to be still having fun. Where does that energy come from? – Of course I am having fun! This is the kind of person I am and believe that fashion is to be enjoyed. My mantra is Happiness, Joy and Celebration and follow the motto 'Life is beautiful'.
The thing I love about your design is that you were never playing it safe. Were there moments when you thought you should do it differently? – There is always a scope of improvement, and I am happy with the way things improve with each collection.

As a designer, how do you feel about being different and having your own style in a world of fast fashion? – My designs are the extension of my personality and reflect my moods. With the industry constantly changing due to customer demands, having your own style carves a niche in the market.
Do you ever think about business side when designing? – I indeed have to keep in mind various markets while planning and designing my collection, yet be careful to not loose my identity to commercialization.
Do you produce your collections in India? Since the Indian craftsmanship is famous for its exquisite embroideries and attention to detail. – My work is all about craftsmanship and what better place to get experienced craftsmen than India.
Manish Arora show is one of the things at PFW that always make me excited. Where do you get the ideas for your shows? Do you create them yourself? – The ideas of the shows come from various personal experiences. I have a great team which helps me to create the collection, but yes the initial inspiration and guidance comes from me.

I would say we live in a very strange time for fashion, especially because of the huge impact of social media. Did social media change your world? – The world has changed a lot since the onset of social media. I definitely have to keep social media in mind to reach out to the younger generation and it has now become a medium to make your presence felt.
When working on a new collection are you hard on yourself? Are there people whose opinion matters to you? – I immerse myself completely while working on a new collection. It does certainly take a toll on the physical health, but knowing the outcome of hard work that goes in, nothing matters. I believe in few people when it comes to taking opinions and Suzy Menkes is one of them.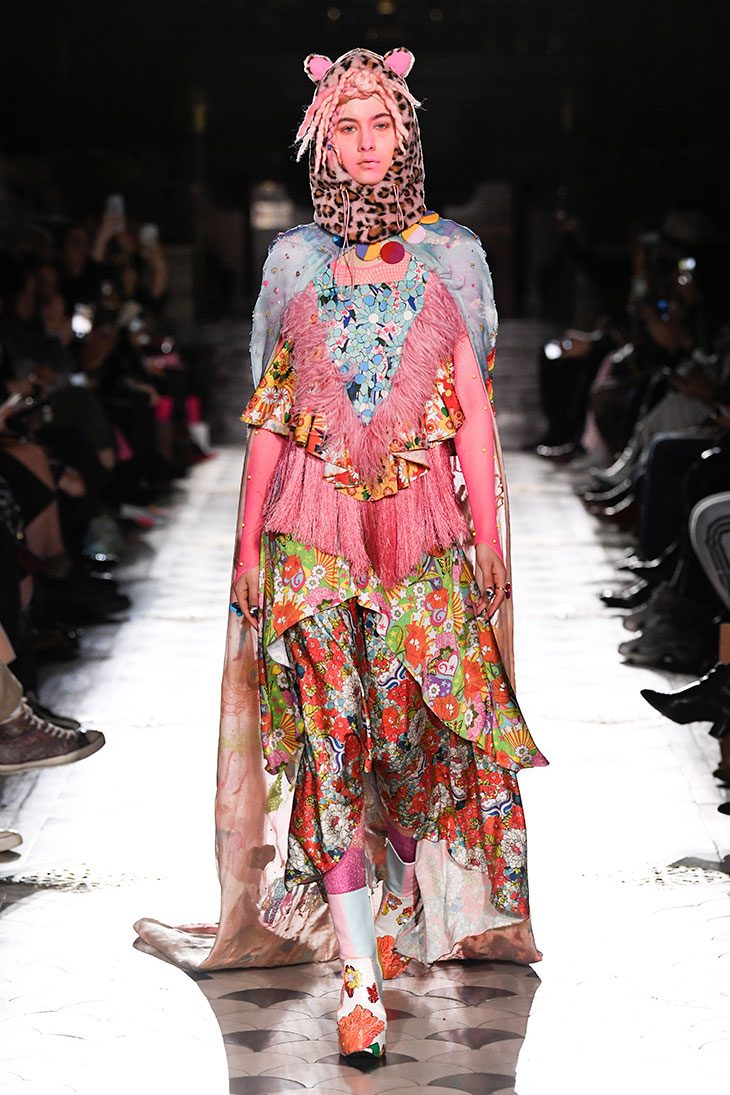 You've done so many collaborations so far. Who would you like to collaborate with next? – I would like to go beyond the territory of Fashion and collaborate with maybe designing costumes for a theater or interiors of a car.
If you were twenty today what would you be doing? – I would have adapted my work for the new age with social media and technology than I did when I was actually twenty.

What's your opinion on celebrity culture? Who would you like to see wearing your design? – I am not up for the celebrity culture yet believe that when a celebrity like Katy Perry wears your clothes, it seems that they have been made for her. It shouldn't come across that a celebrity is just wearing your creations, their energies must resonate with each other.
Who is your muse? – My muse are characters from fantasy, that keep on changing over time.
What's next for you? – I am working on my next collection and there are some exciting collaborations coming with it.
Keep up with the latest from Manish Arora on Instagram @manisharorafashion