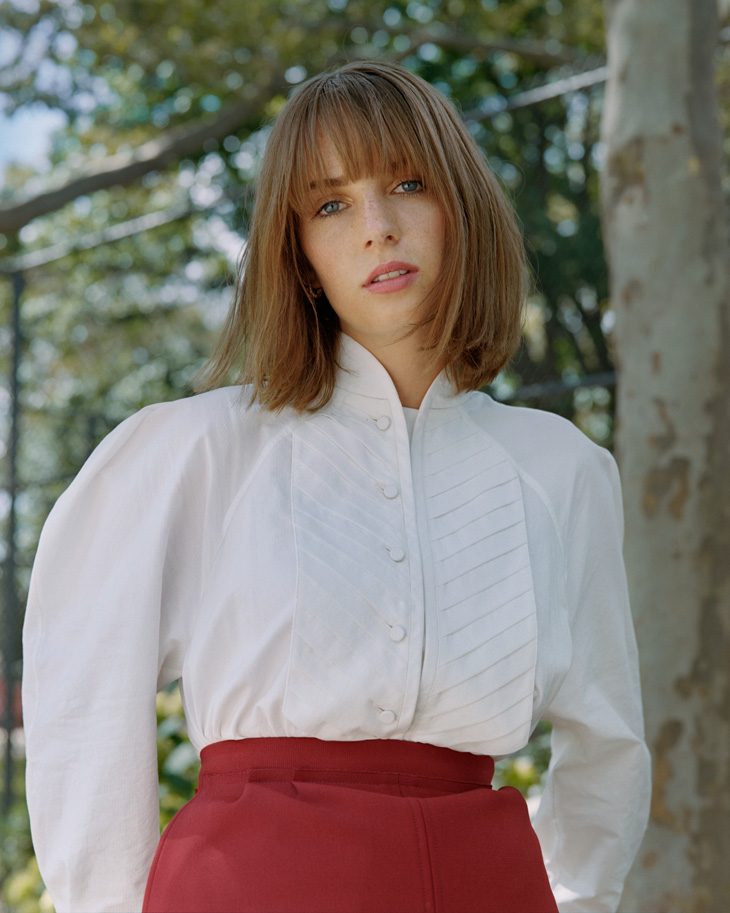 Stranger Things' star Maya Hawke (and the daughter of Uma Thurman and Ethan Hawke) teams up with fashion photographer Miranda Barnes for the pages of WSJ. Magazine's latest edition. In charge OF styling was Laura Stoloff, with beauty from makeup artist Gianpaolo Ceciliato, and hair stylist Peter Butler.
"I have more money, so I don't have to ask my parents for it anymore. That's amazing. Yeah, let me go back in time and not sound like I just saw that in print and wanted to throw up. Let's put it this way: I have a lot more independence and freedom. And I really think that nothing improves your relationships more than independence. The less you need from anyone, the more you can really see them and get along and love each other. And so, that's been the biggest change probably — is that freedom creates possibilities." – Hawke on her independence.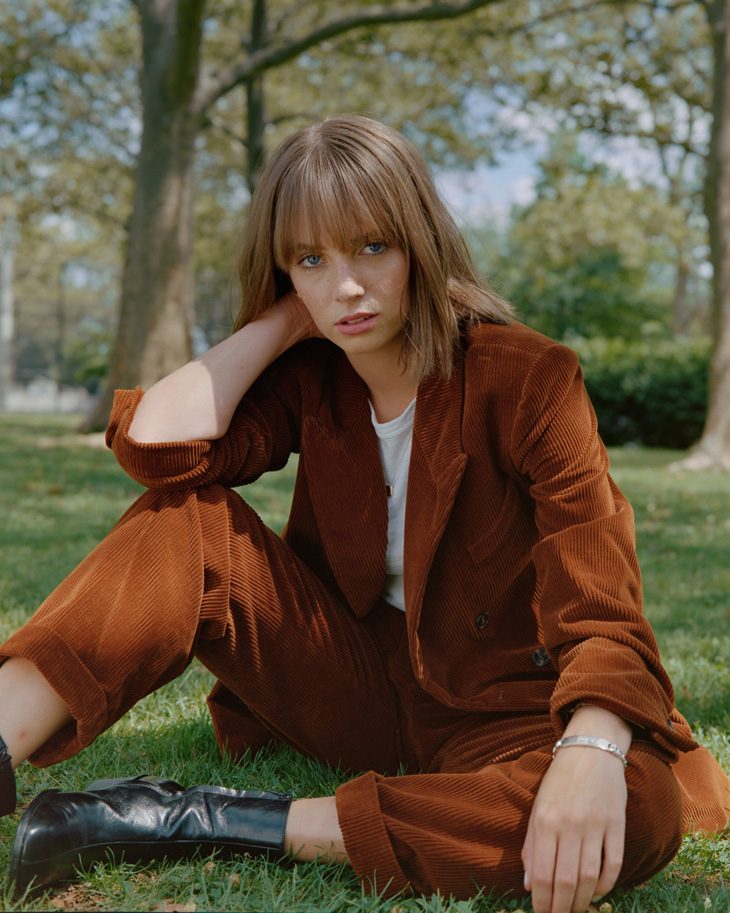 On getting the role of Robin in 'Stranger Things:'
Even though Maya Hawke couldn't read a full script for the third season of Stranger Things before accepting the role of Robin, she knew she wanted it. The story was still being written when she auditioned, but she liked that Robin seemed independent, strong-willed and above all else, funny. Though 21-year-old Hawke has acted for almost her whole life, she'd never really gotten to play a funny character, she says—not even in school plays.
Maya Hawke's Fanbase:
In addition to critical praise for her portrayal of cool, smart Robin, she received many appreciative tweets for playing a queer character on screen, while a BuzzFeed story pointed out how closely she resembles both of her famous parents, Uma Thurman and Ethan Hawke. Last week, she made her big screen debut in Quentin Tarantino's Once Upon a Time…in Hollywood, playing a drifting '60s flower child. Her own fanbase has appeared virtually overnight—from five hundred thousand Instagram followers ahead of the July 4th premiere of Stranger Things to, currently, over two million.
On her 'Stranger Things' character coming out:
For much of the season, it seemed like Steve had finally found a romantic interest in Robin, who could both handily make fun of him and translate Russian communications with impressive speed. But when he tries to tell her as much, she surprises him by coming out. "Throughout filming, we started to feel like she and Joe shouldn't get together, and that she's gay," says Hawke. "Even when I go back and watch earlier episodes, it just seems like the most obvious decision ever."
On celebrating her 21st birthday:
For someone spending her 21st birthday cooped up in an interview, Hawke is cheerily untroubled—and barefoot, having unbuckled her white patent sandals and curled her feet under her, chatting about how she's already celebrated while swiveling around in an office chair. "I was in upstate New York, which is where I grew up [spending] weekends, and I had six or seven friends out at my house out there with my mom," she says. "We just cooked dinner from food we grow out in the garden."
On working with Quentin Tarantino:
Her slight flower-child persona is in evidence at work, too; she walked into the premiere of Once Upon a Time…in Hollywood last week in a full gilded flower crown, having played a hippie-ish Charles Manson follower who's having a moral reckoning. The film is a retelling of the 1969 murders through the eyes of Sharon Tate's fictitious neighbor, a Hollywood has-been played by Leonardo DiCaprio, and his stunt double/handler/friend (Brad Pitt). "No one gets to make a movie the way Quentin gets to," Hawke says. "We did the scenes a hundred times in different ways and shot it from every possible angle and it was really freeing and fun and playful and we pulled [four] all-nighters or something exhausting like that." Her voice drops to an almost-growl when she describes working with the famously challenging director, who's known her since she was two years old. "To me, the way he pushes just feels like joy and love of the movie business and relishing in the opportunity to get another take. He loves the movies so much, and he wants you to be so good in it," she says. "And if you do something he likes, he fucking loves it, you know?"
On her famous parents:
Hawke says she's close with both of her famous parents. "I'm always running decisions by them," she says. "They both have similar levels of success but really different experiences within the business. I think that's the biggest advantage [I have], that I have information about the pitfalls and the good things. Hopefully it'll keep me from making some mistakes that young actors can make."
On dropping out of Julliard:
After performing in school plays and summer camps while growing up, Hawke realized she wanted to go into acting professionally during her junior year of high school. Applying to college made her really unhappy, the opposite of how she felt doing school plays. She started applying to acting conservatories, got into Julliard and attended for a year before dropping out to play Jo March in the BBC's three-part Little Women series… "I've loved Little Women since I was a little girl. I always struggled with reading and writing but I loved storytelling," she says, "and Jo's storytelling drive was inspiring to me, and her work ethic was inspiring to me, and I loved her. I fell in love with her. I've always wanted to play her. And now it seems like they make fricking Little Women every other year, but I didn't know that that opportunity would ever come around again, and I had to take it."
Still, the decision to leave Juilliard wasn't completely straightforward. "The most drastic thing about dropping out, or even deciding to go to an acting conservatory, is that you're losing touch with your generation," she says. "People in your generation are going to college, and you're not. And so, how do you stay connected to your generation? How do you feel its heartbeat within you?"
How she stays connected to her generation:
To do that, she likes working on projects with friends, like writing music and lyrics and directing music videos. She loves doing her own writing, too, and reading, noting how important her self-education is to her. She says she feels lucky to come into acting at the same time as others she grew up with in the city who are "doing great right now," like her friends Lucas Hedges and Fred Hechinger, as well as those she didn't know like Timothée Chalamet and Ansel Elgort. "Even the people you don't know that well, it somehow makes you feel less alone," she says.
Photo credit: Miranda Barnes for WSJ. Magazine
Read more on WSJ. Magazine's official site 
– www.wsj.com