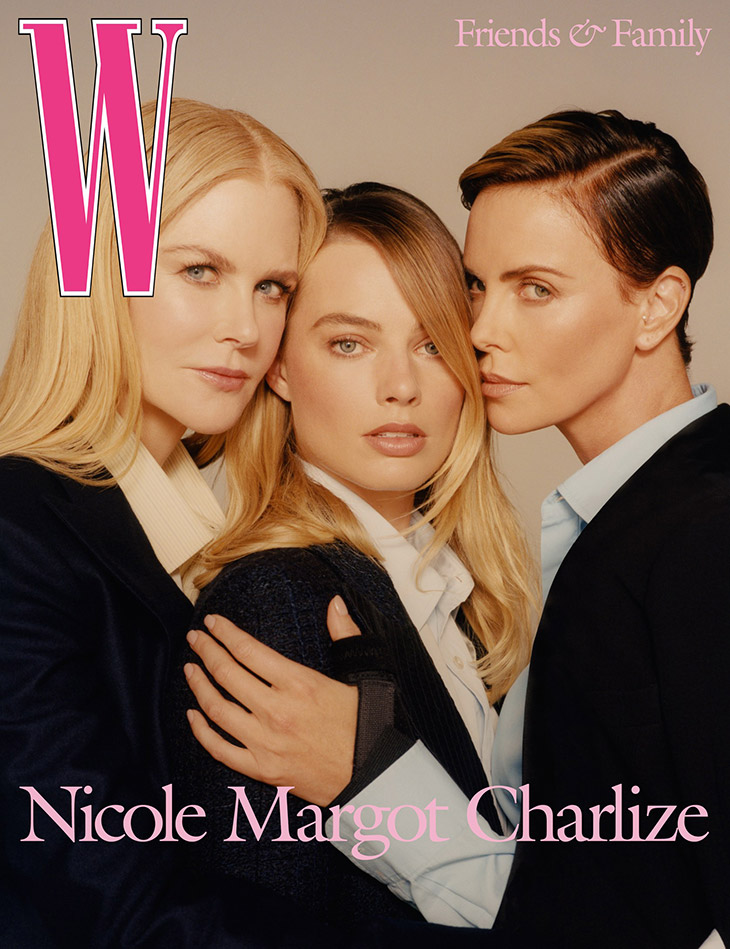 Bombshell stars Nicole Kidman, Margot Robbie, and Charlize Theron take the cover of W Magazine's Volume #8 edition captured by fashion photographer Colin Dodgson. In charge of styling was Sara Moonves.
For the cover Kidman is wearing Hermès jacket and Charvet shirt, Robbie is wearing Chanel Haute Couture jacket and Charvet shirt, and Theron is wearing Dior jacket and shirt.
"I liked that our story is a study of how women relate to a toxic environment. We want to tell complicated stories about women, and that's very difficult. The world likes clear-cut winners and losers, abusers and victims, but reality is not that simple. It's always a little dangerous to give a predator like Ailes any measure of humanity, but to get at the problem of harassment, you have to understand how someone like Ailes manipulated these women. And I must say, I liked putting on the Gretchen dresses. It was like wearing a suit of armor. I'm allowed to like hot pink!" – Kidman for W Magazine.
Stars: Nicole Kidman, Margot Robbie, Charlize Theron
Photographer Colin Dodgson – www.colindodgson.com
Stylist Sara Moonves
Nicole Kidman:
Hair by Lona Vigi at SWA
Makeup by Angela Levin for Neutrogena
Manicure by Betina R. Goldstein for Chanel
Margot Robbie:
Hair by Bryce Scarlett for Morrocanoil at the Wall Group
Makeup by Pati Dubroff for Chanel at Forward Artists
Manicure by Tom Bachik for Tweezerman
Charlize Theron:
Hair by Adir Abergel for Virtue Labs at SWA
Makeup by Kate Lee at the Wall Group
Manicure by Tom Bachik for Tweezerman.
Produced by Wes Olson at Connect the Dots
Production Manager: Jane Oh at Connect the Dots
Production Coordinator: Nikole Guzman at Connect the Dots
Tailors: Isa Kriegeskotte, Susie Kourinian
To see more images visit W Magazine's official website – www.wmagazine.com