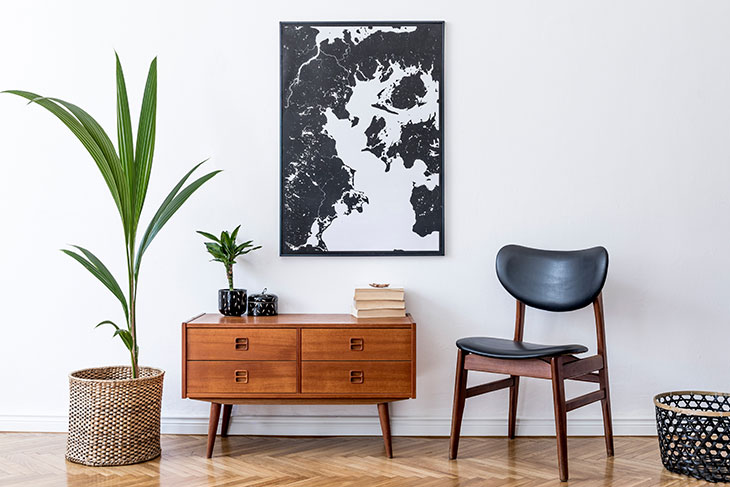 It's completely ok not to hire an interior designer if you are confident you can carry out the work yourself. Remember, it's your home so everything has to be according to you – an interior that depicts who you are.
Choosing the best designs to fit your home can be a tricky decision, as there are so many aspects to think about – from furniture and decor, to wall paint colour and curtains. Be brave with your design choices, but stay true to yourself and your vision.
Design for how you really live. People talk about one's home like it's a luxury good and it's not. It's absolutely critical to one's life. This is the place you go to seek refuge from what can be a crazy world. Your home should build you up and be a place for living and loving. – advises New York based interior designer and staging expert, Taylor Spellman.
Continue reading for more tips from DSCENE Interior Design contributing editors: 
Mix High and Low Price Points
Most of us can't afford to furnish our homes with pricey, unique pieces. That means you have to get creative with designing a space that looks sophisticated and comfortable while staying on a budget.
Upgrade your décor game by learning how to combine expensive and cheap décor, as the most unique pieces can go perfectly with inexpensive finds. Almost every interior designer would advice to spend on statement pieces, if your budget is limited. Invest in durable pieces, such as a sofa, bed or table, and then add touches of lower-priced décor like pillows, blankets, vases, or frames.
When sourcing big pieces, you might need a help with transporting the furniture. You can always hire a professional transporting company or check for a new forklifts for sale.
Mix textures and materials
Mixing materials, textures and colours can elevate any space and create a sense of cohesion in a well-put-together room. Mixing organic with geometric, dark with light, busy with simple will make every room interesting.
Use contrasting materials. Mix modern metal with rustic wood, combine a traditional finish with a modern color, or play with different patterns. It needs to be thought through, and sometimes repeated to create a theme and look balanced, so it doesn't look predictable and over-staged.
The perfect interior is one that has balance, scale and proportion. You can combine and mix just about anything as long as you get those things right. Take risks, flirt with going over the top but always stand just back from the edge. – says interior designer Daun Curry for Design SCENE.

Carefully Choose Colors
Many of us are afraid of using colour and really struggle when it comes to choosing the right shade. The truth is – selecting a color palette is not as hard as it seems.
The secret lays in layering. Start with a neutral backdrop and build on colour carefully by adding bolder colours through decor and art. Before buying any new piece, you should first consider its relationship with other colors, textures and materials in a room
If you're starting from scratch, you should choose bigger items first, such as a sofa, bed, curtains or flooring.
Accessorize
It's amazing how small decorative items can make a big impact on your interior space. They will complete your room, give it a character, vibrancy and create a sense of cohesiveness. It's also the most inexpensive way to freshen or add a new look to a room.
Resist the urge to buy a bunch of fashionable decorative pieces just to finish a room faster. Instead, try to collect accessories over time and concentrate on objects that speak to you.
When it comes to decor, less is usually more. One unique piece may work better in your interior space than loads of cheap objects that have no value beyond price.
The perfect interior is when you have the feeling all is in its right place… including yourself.  Then you know you have succeeded in creating a beautiful atmosphere. – said interior designer Linda Pinto in an exclusive interview for Design SCENE.

Decorate With Plants
There are so many good reasons to include plants in your home décor, including your actual health. Beyond their decorative value, plants in your home will reduce toxins in the air, and improve air quality. Some scientific studies have even proven that plants are also lowering the stress level.
Take a look around your home, when notice that you have an empty corner, and the space just doesn't feel complete, a floor plant could be the missing ingredient. It will complete the room and bring a new sense of freshness.