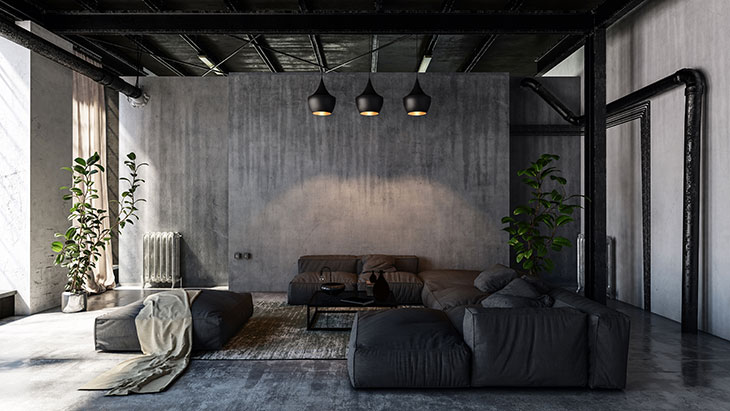 To say that 2020 has been full of ups and downs is an understatement, but this year has also helped many of us reconnect with our homes. Quarantine way of life has allowed us to begin the process of making our homes – no matter how expansive or sparse – a more functional and beautiful place that reflects our own stories, experiences, and design aesthetic. Fingers crossed that, at least in the second half of the year, we live in a post-pandemic world, but that doesn't mean COVID loses its impact on the way we live, dream and design.
From the growing importance of sustainable materials to sleek elements and a celebration of individuality and uniqueness, our 2021 trends issue will give you a curated look that will have your home entering the new year in a sensational style.
1. Mix modern and vintage in the bathroom
The experts at Victoria Plumb have observed that this modern and vintage mix is increasing in popularity as people move away from that sleek, contemporary monochromatic look that has been in vogue for decades. This look is more eclectic, more of a bathroom with a? living room. Hang ornate mirrors, add vintage chairs and choose bold colors. We love the mix of this contemporary freestanding tub with the more vintage elements of the room.
2. Rustic Vogue
This look is a crowd-pleaser, appealing to anyone who loves the comforts of their modern home but also wants to inject some character details into their living spaces. It works perfectly in homes that already have some interesting elements, such as exposed beams, original floors or panelled walls, but can also be recreated with a considered balance of old and new pieces that work together in harmony. Reclaimed wood is the main material that maintains this look – look for unique pieces that show lots of grain and texture, rather than perfectly finished items.
3. Nostalgia
In 2020, there was a natural rise of nostalgia in interior design as a way to make our homes more cozy and comforting, according to a report by virtual interior design platform Modsy. While mid-century modern style isn't out of the question, we can't wait to see more of the '80s style revival in design, shown in this home designed by Miles Redd in Greenwich, Connecticut. This also means we're anticipating a gravitational pull toward traditional trendy décor.
4. Handmade craftsmanship
In our view, we encourage handmade craftsmanship and heirlooms over fast-shipping, throwaway products with the next design trend. We foresee a continued increase in demand for the expertise of these skilled artisans and producers, often within an accessible driving radius, to beautify our homes and reflect the incredible talent in our communities and across the country. It's no silly to even apply for some payday loans online same day options to get some expensive handmade stuff that will make your heart jump up and down n your chest.
5. Cozy Cabin Styles
A cozy living space with a faux log backdrop, sheepskin-covered stool and hand-me-down furniture. Well, this definitely comes directly from our need to feel as cozy and comfortable in our homes as these…unprecedented times. We've always loved cabin-like interiors: fireplaces, sheepskin rugs, log piles, dreamy stuff. And hey, even if your home isn't technically a cabin, you can get inspired to bring some of those cabin decorating ideas into your home.
6. Interior trend predictions
It makes sense that in 2021 we will want to elevate our homes with spectacular touches of luxury. The ultra-glamorous trend brings a jolt of luxury to the home. Think about how opulence and cheerful prints elevate the mood of an interior and why this has become so important for this new decade. It's a sense of sumptuousness that redefines home with all the comforts and refinements of boutique hotels. The revival of glamour, which will be a major trend in 2021, was first noted when Pantone declared its Color of the Year as Classic Blue in 2020. The trend represents a return to premiumization with inspiration from hotel design, art deco, and Viennese modernism. With the growing desire to host elegant gatherings comes a love for geometric shapes, luxe velvets, monochromatic prints, and cashmere blankets.
7. Home offices
A study by US online interior design service Modsy has shown that working from home has already had a big impact on our décor and design. Limited private space to work was the number one frustration of Modsy's clients with their current, often makeshift, home office setup. That's why creating a private, formal workspace is more important than ever. Analyzing its own data, Modsy found that home office design requests had increased 40% in the past year. interior design trends (Image credit: Matt Clayton) Bottom line? Home offices are here to stay. As life gets back to normal, it's likely that many jobs will begin to allow for remote employment. The permanence of remote jobs means that people will design their home workspaces differently. As a result, we will see more dedicated and private home workspaces, as opposed to makeshift desks. This may mean people moving to larger homes in more remote areas for more space, or dedicating guest rooms as permanent home offices.
8. Lush, outdoor rooms
As we spend more time at home, we will be looking for more ways to create a luxurious experience in an outdoor setting. You can also see another theme emerging strongly in trend predictions for 2021: a strong desire to connect with nature. Follow this by creating a lush, comfortable outdoor space for a sweet retreat or entertaining.
9. Traditional glamour balanced with new technology
Shiny metals bring 1940s glamour to the living room, and tables and stools are made of cast and forged brass We're far enough into the digital age that many of us are disillusioned with the idea that the "home of the future" must be cold, metallic and glassy.
10. Warm Colours
This winter offers the perfect excuse to get cozy, and integrating warm colors into a room is a fantastic way to do this. Hot colors, however, can also feel very inviting in sunnier months, and we'll see a lot of burnt oranges and peacock blues mixed into the décor of people moving forward.
These are great colors that work well, but also add dimension to a room, with darker colors such as grey and navy. These colors are also excellent for this time of year, adding a playful color aspect that is very necessary during the colder winter months.
No matter what trend would actually pick up in the following year and what not we believe that this year will bring more changes to the home renovation and decoration than any other year pas decade.