If you're looking to build a sustainable or capsule wardrobe, the trick is to invest in designer items that will never go out of style. This way, you'll end up saving a lot of money on future purchases, without worrying about your current items going out of trend.
Unfortunately, this is easier said than done. To help, we're here to take you through some iconic fashion pieces that every single wardrobe needs. Slowly adding these items to your wardrobe will transform your image, while forever remaining on trend.
Burberry Trench Coat
Everybody should have a trench coat in their wardrobe. When it comes to finding a timeless option, look no further than Thomas Burberry trench coats. They have stood the test of time ever since they made their first appearance for military personnel in WW1.
The initial designs on Burberry trench coats were meant to keep the military personnel protected against the natural elements. But today, these coats are one of the most iconic designer items around, featuring slightly more aesthetically pleasing details yet still remaining practical.
Gucci Shoes and Bags
The debate surrounding whether Queen Elizabeth used to rock Gucci loafers still goes on. Whether this is the case or not, there's no denying that Gucci will forever be an iconic brand – particularly in the accessories department.
Gucci shoes are still a favorite fashion item if you can afford them. From easy to slip on Gucci loafers to dressing shoes, you can't go wrong with this designer item.
Gucci bags are also here to stay. Although the brand has become more common than it used to be, rocking a Gucci bag is still a fashion eye-catcher. For example, Gucci's quilted leather bag has been around for years, yet is still recognised as a fashion masterpiece.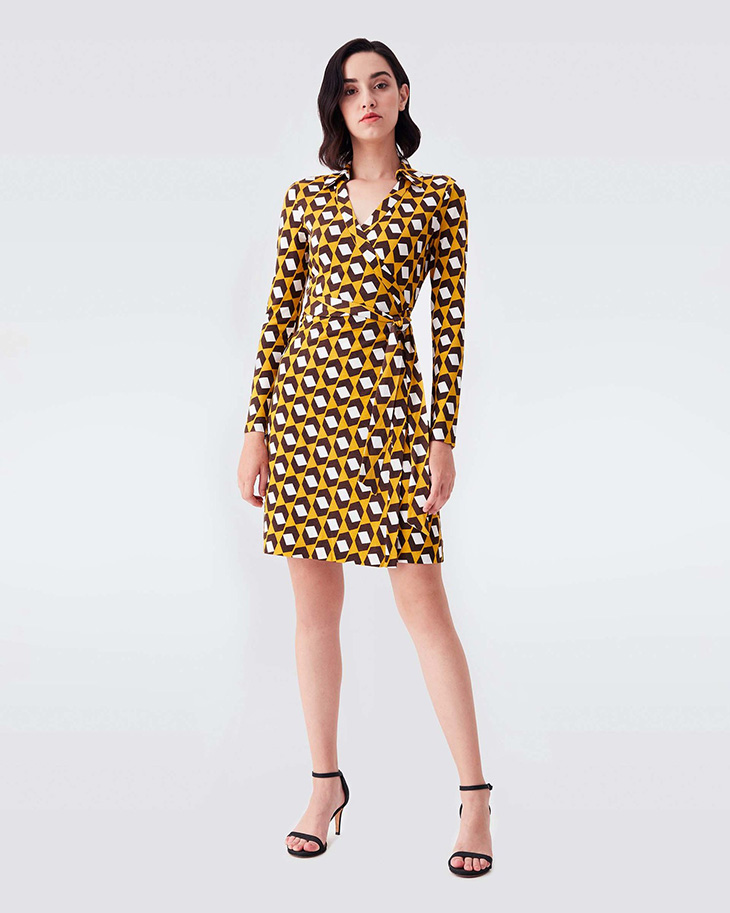 The Wrap Dress
Simply put, wrap dresses will never go out of style. From high-end designers to high street stores, you will find them wherever you look. You can thank legendary fashion designer Diane von Furstenberg for that. Ever since Diane von Furstenberg introduced her famous wrapped frock back in the 70s, the fashion landscape has welcomed it with open arms.
Available in hundreds of patterns, lengths and styles, wrap dresses are easy to tailor to your preferences and style. They are a must-have.
Chanel Quilted 2.55 Bags
Chanel is one of the most admired brands in the world of fashion. The company's quilted 2.55 bag is one of the few designer items that remains both ubiquitous and trendy even as the fashion landscape continues to change. In fact, according to experts, the bag has increased in value by about 70% over the previous six years. And there's no sign of this trend changing any time in the future. Furthermore, the Chanel quilted 2.55 bag easily matches with almost any outfit – you just need to fork out a hefty sum for it.
Balenciaga Leather Jacket
Leather jackets have been with us for as long as the modern fashion world can remember. They used to be associated mainly with motorbike riders, but today, anyone who still owns an iconic Balenciaga jacket is seen as an icon. From top-quality leather material to intricate design patterns, we don't see this item going out of style anytime soon.
Ray-Ban Sunglasses
Sunglasses come and go, driven by different waves of fashion trends. The fashion world has witnessed the smaller Matrix-style sunglasses, large cat-eye sunglasses and very colorful ones take the lead, too. But one designer pair of sunglasses that have weathered every fashion storm is the Ray-Ban sunglasses.
A Ray-Ban aviator can quickly transform any casual appearance into a chic one. If you look after them properly, they'll last a lifetime.
Investing in any one of these designer pieces will leave you looking on-trend for many years to come.