Emmy Award winning HBO drama series EUPHORIA is back for season 2, and it is already promising to be equally as amazing. Following the complex lives of a group of teenagers navigating love, identity, and drug addiction, the show has also a strong focus on costumes and beauty looks, which mirror each character's progression.
Costume designer Heidi Bivens, makeup artist Donni Davy, and nail artist Natalie Minervia have teamed up once again on the second season of the hit TV show, to serve us another round of stunning looks.
See some of our favorites below.
Maddy's '00s Inspired Look
Staying true to her signature '00s inspired aesthetic for the New Year party, Maddy Perez (played by Alexa Demie) wore a cutout dress from Akna paired with the over-the-elbow gloves and the extravagant crystal-embellished Amina Muaddi strappy sandals. To complete the look, she added an inevitable hoops and a nameplate necklace.
For her makeup look Maddy went heavy on the black winged eyeliner, combined with a silver eyeshadow. A Maddy wing is always THE sharpest wing. Sharp like a knife to cut through whatever stands in her way: Ex boyfriends, bathroom doors, etc. – said the makeup artist Donni Davy via Instagram. To complete the look, Davy added a touch of '90 with a brown lipstick and three shades darker lipliner. The markup artist revealed that Demie took the lead on her own makeup designs this season and we literally can't wait to see more. Her hair is slicked back with a stretch comb, adding an extra touch of '00s glamour.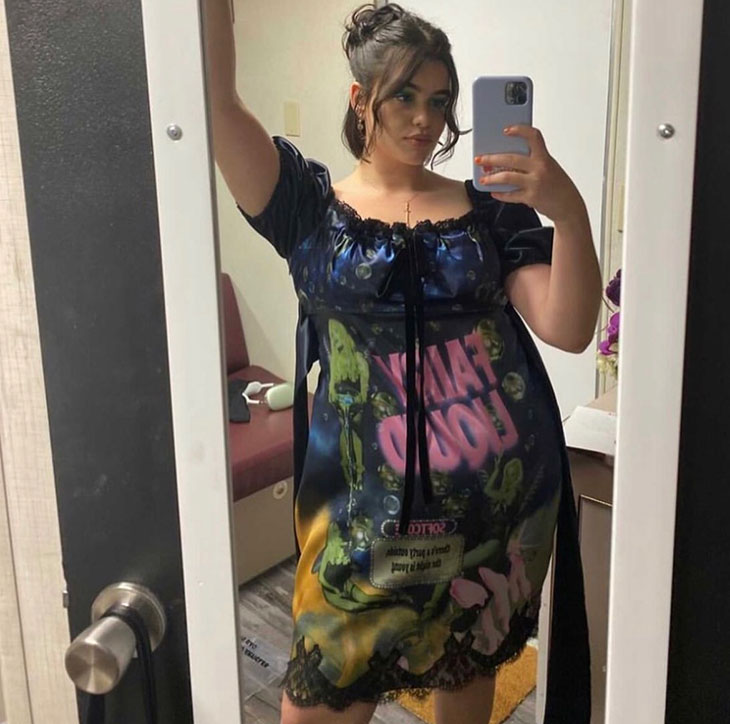 Kat's Off-The-Shoulder Mimi Wade Dress
Kat Hernandez, played by Barbie Ferreira, stunned in this fairy liquid baby doll dress by London-based designer Mimi Wade. She paired it with a Pamela Love dagger pendant, and went heavy on the eyeshadow in blue and green color palette. Manicurist Natalie Minerva decided to go with the flow, serving us with marbled French, embellished with a two-toned dichroic glitter circular lining in similar shades.
Jules' Surprising Take on the Graphic Eyeliner
In a first part of the episode, it looks like Jules wasn't even wearing any makeup, until she sees Rue, and her face is lit up by the fire from the fireplace. That's the moment we discover the unexpected design of her structural eyeliner, making a shape that draws us into her gaze. The subtle application of glitter on her lids, makes it more romantic and mysterious.
When makeup is not makeup-y. – said the makeup artist Donni Davy, describing the look. This look feels a million miles away from where we started with Jules in the beginning of Season 1! We picked up where we left off after Winter Formal at the end of last season, with inner eye corner accents. – she adds.
View this post on Instagram
For the party, Jules is wearing a sheer beaded top from Nihl with a lot of layers, that have become Jules's signature outfit statement. She completed the look with with an off-white, laced-up skirt from Orseund Iris, a sheer arm warmers, and layers of necklaces under her hoodie.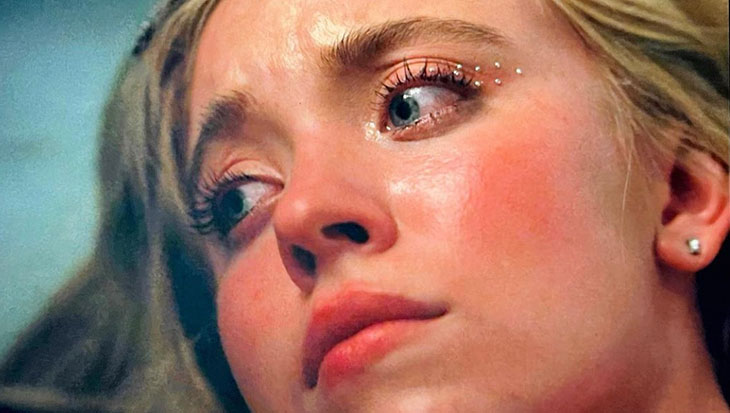 Cassie's Rhinestone Cat Eye
In episode one, we first see Cassie (Sydney Sweeney), in the scene where she, already drunk, is buying donuts and eating them on the curb, realizing this season's going to be rough for her. It's kind of fitting that her makeup looks a bit sloppy, but glam at the same time.
The makeup artist described how she wanted Cassie to look like she were making out or crying, or like she had been nervously biting her lip, and she achieved that by bringing her lip color out beyond her lips. As the night goes on, her anxiety-terrified-totally-freaked-out eyes are framed by this delicate, like innocent, twinkle. She wasn't really trying to do what she did…right?? I love how Cassie's look contrasted so much with Maddy's. – she said on her Instagram.
While hiding from her best friend with her ex-boyfriend in a bathroom, Cassie wore House of CB Ella sky blue printed ruched dress and the white Prada heels. Her hair is pinned back with crystal-covered barrettes.