When it comes to streetwear style, these days there are a lot of companies you can choose from. But nobody does it quite like them, from the collaborations, to the designs and their amazing campaign videos. London-based skateboarding and clothing brand PALACE is a known name in fashion industry, sported by many celebrities and fashion icons. As we said, the brand is known for their numerous collaboration with names like Jean-Charles de Castelbajac, Ralph Lauren, Salomon, Evisu, Moschino and more. One of the latest collaborations the brand has announced is with outdoor clothing and climbing gear brand ARC'TERYX. The North Vancouver-based brand is known for it's evolutionary innovation within the outdoor products industry. The designs range from their signature outdoor pieces to military and police Leaf (Law Enforcement and Armed Forces) line and business line called Veilance specializing in urban-style and tech-forward clothing.
At the end of December 2022, Palace and Arc'teryx teamed up for Canadian brand's first collaboration. The collection was designed as a bridge between skate and climibing culture presenting a transition between mountain and city environment. All the looks embody the signature styles of both brands, bringing warm pieces made for layering and enjoying both environments at it's best. The pieces range from insulated jackets, hoodies, puffers, tees, caps, bucket hats, fanny packs, and climbing pants. In the making of this menswear collection, the brands used the well-known GORE-TEX material, for a water and wind resistant expirience.
Climbing and skateboarding. Two perilous solo sports that hinge on the dichotomy of athlete versus environment. Two pursuits that center on conquering your environment. One vertical, one horizontal, yet both are about chasing unrepeatable lines for the sake of craft. – from GORE-TEX
DSCENE team prepared a list of the best and our favorite items from this highly-anticipated collection, in hopes of maybe getting a sequel of this collaboration.
Palace x Arc'teryx Hood 'Ochre'
Starting off with what Palace does best, a classic hoodie! This essential piece in every wardrobe is updated with a beautiful Ochre colorway featuring Arc'teryx's well-known logo on the front, which represents Archaeopteryx, one of the first birds and a transitional form between earlier dinosaurs and modern dinosaurs. The back of the hoodie is of course reserved for Palace's "Tri-Ferg Logo" consisting of Penrose triangle with the word 'Palace', designed by Fergus Purcell. Below Palace's logo is also the Arc'teryxd branding. Both brand's branding also appears on the top of the hood. Discover more apparel from Palace x Arc'teryx collection at GOAT.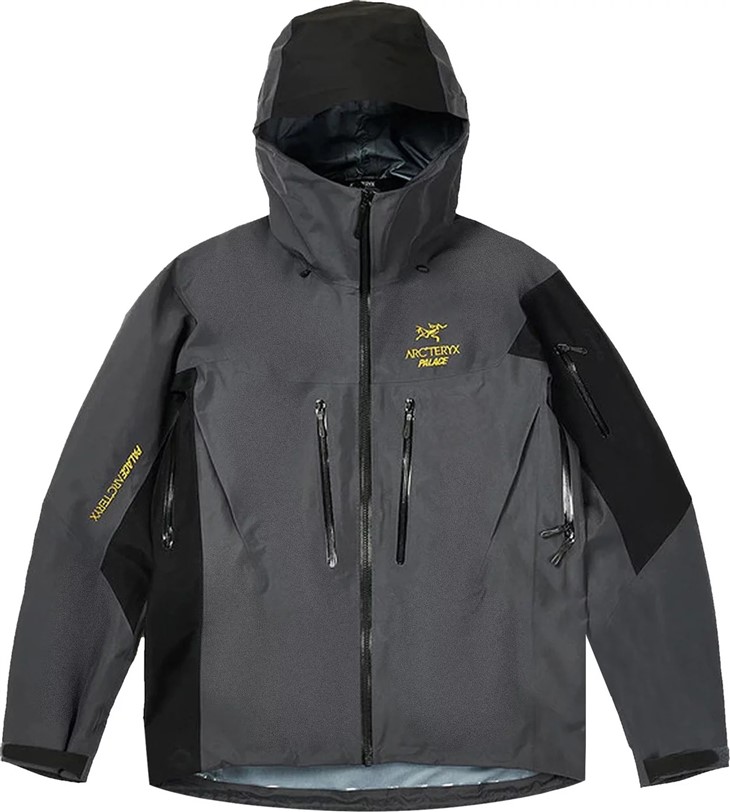 Palace x Arc'teryx Alpha SV Jacket 'Grey'
The highlight of this collection is definetly the Alpha SV Jacket in Grey. It is made with fully waterproof GORE-TEX Pro technology, making it more tough and scratch resistant. Arc'teryx's Alpha jackets are made specially from lightweight materials, made for climbing and alpinism, featuring the above mentioned GORE-TEX which provides windproof and breathable textiles that offer fully protective environmental shelter. The abbreviation SV means it is made for severe weather conditions. The jacket features high-set chest pockets, cropped front, branding on the right chest in yellow as well as on the sleeves and a contrast panel on the hood. For the collection, brands introduced this jacket in two colours featuring assymetrical color-blocking style, in this case a combination of gray and black. Get the Palace x Arc'teryx jacket here.
Palace x Arc'teryx Beanie 'Teal'
What is a good alpinistic outfit without a warm beanie? The colourway almost represents mountains and trees with this lime green color and ice glaciers on top of the mountains with teal colorway. Arc'teryx also became more popular when musician Frank Ocean sported one of their signature beanies while attending fashion week, so go ahead and buy your Palace x Arc'teryx before every person on the front row has one. Shop authentic Palace apparel here.