Luxury house LOUIS VUITTON unveiled their Spring Summer 2023 Menswear Collection, that celebrates imagination, creatorship, craftsmanship, and showmanship, on June 23rd, as part of the ongoing Paris Fashion Week. The brand's Studio Prêt-à-Porter Homme designed the collection that explores the way childlike fantasies come to life. The collection transforms the symbols of childhood through the the Maison's savoir-faire. It plays with the shrunken and oversized dimensions, inspired by the idea of a wardrobe grown-into or outgrown, and it also nods to the 1990s skater community's dress code. Iconography is native to the playground origami paper planes, building block beading, playdough textures and tones, cartoon prints, and sandbox tool embellishments.
SPRING SUMMER 2023 MENSWEAR COLLECTIONS
"A quintessential component in the genetics of Louis Vuitton, French romanticism fills the collection. Flower fields – the eternal image of harmony in diversity – grace garments through impressionist paintings transformed into tapestries and prints, while depictions of thistles appear in multiple fabric weaves, prints and embroideries. A symbol of resilience and healing folklorically used to overcome difficult situations, the prickly flower motifs also nod to the decor of Louis Vuitton's ancestral home in Asnières where thistles often appear in bouquets. The delicate floral paintings found in the ceilings of the same residence echo the cornices that define the palatial interiors of Parisian architecture. A manifestation of our childhood dreams – fairy tales, majesty, whimsy – these moulures ornament moulded leather tailoring and bags, and feature in delicate lace garments. As a tribute to Paris, a photo montage collaging elements from the city and the Maison – the Pont Neuf, the Damier pattern, the cornices of interiors – runs through the collection.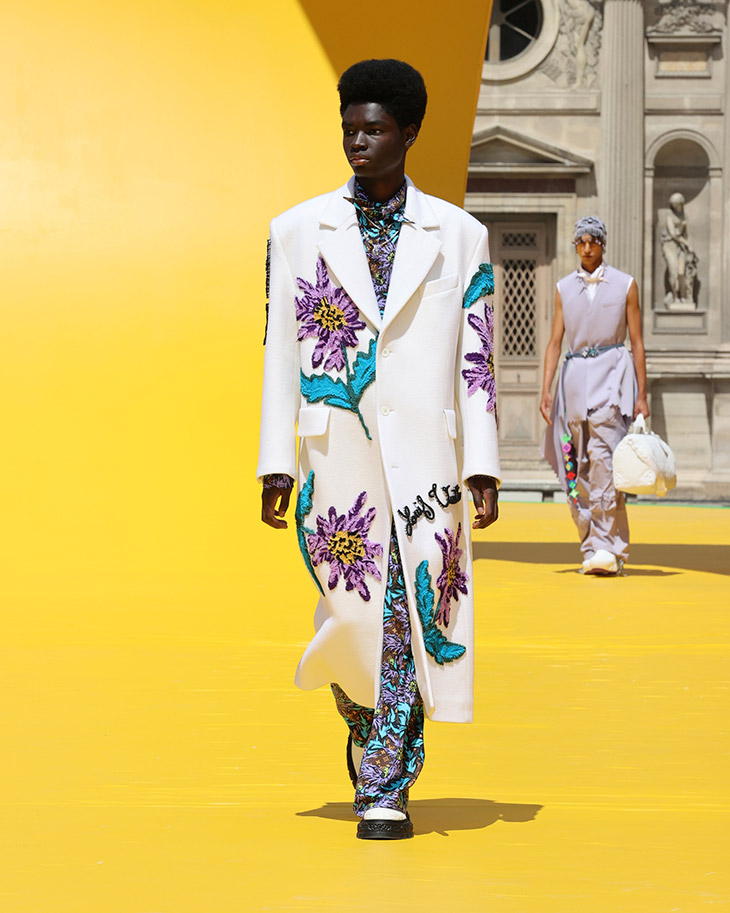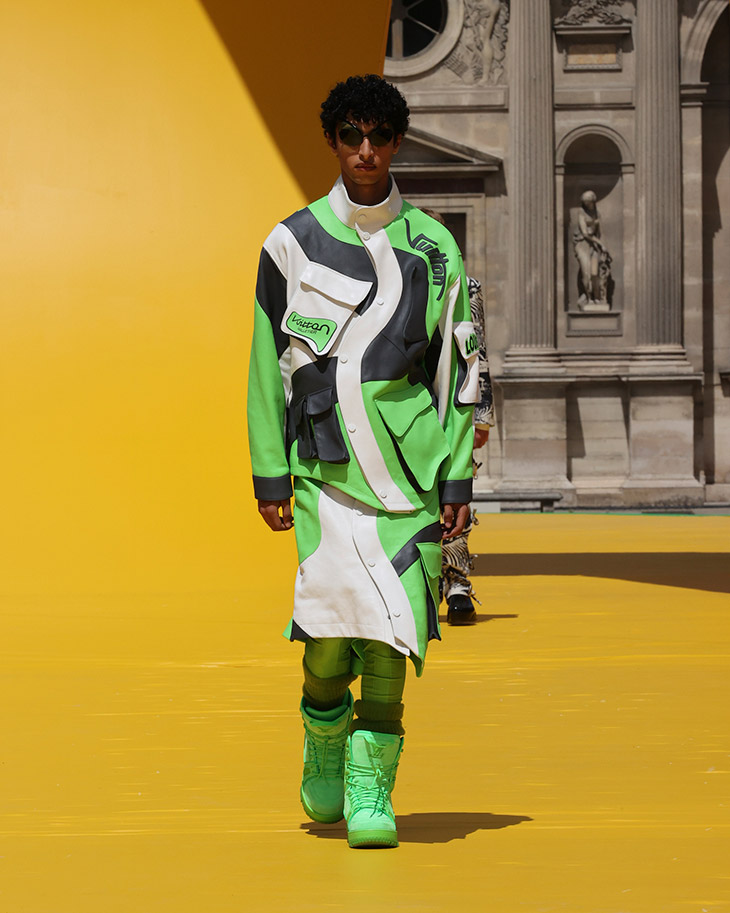 Accessomorphosis workwear is interpreted with oversized shearling multi-pockets in block colours. Aprons appear in bonded monogram canvas as takes on mid-layer pieces. Belts in monogram or monogram-embossed leather are adorned with strass and enamel LV buckles embellished with thistles, while belts in matte leather feature moulure metal buckles. Biker jackets appear graphically exaggerated as a nod to the tropes of 1980s' music videos. Cargo uniforms morph into garments foreign to their original function: as trouser transformed into floor-length workwear skirts, and a jumpsuit turned into a full-body dress in dyed canvas. Cartoon prints pay tribute to a classic childhood trope and feature in hand-painted form on a technical canvas windbreaker. Crackle-effect patent leather suits and coats are created from lacquered crust bases." from Louis Vuitton