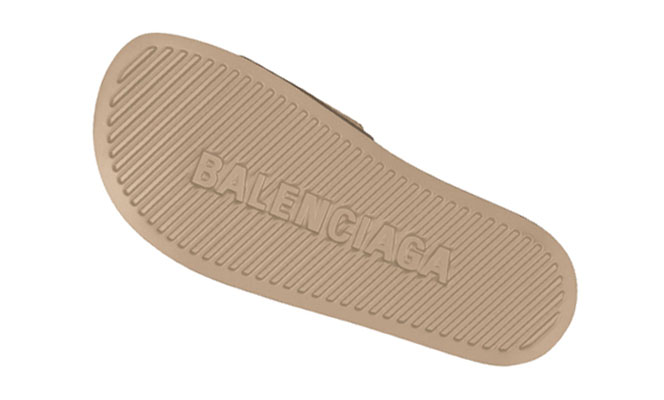 The summer has officially arrived two weeks ago, but the weather has been heating up for months. This is the perfect season to embrace a relaxed, effortless style. No matter if you're still in the city or you've already left for the seaside, the right pair of slides can perfectly match any outfit.
The best thing about slides – they have no laces, no straps, no heels. They are simple and comfy, and can be worn in almost any occasion. In search for a pair of slides? From Balenciaga's logo slides, to Fendi's monogram prints, take a look at the 5 best summer slides currently on the market.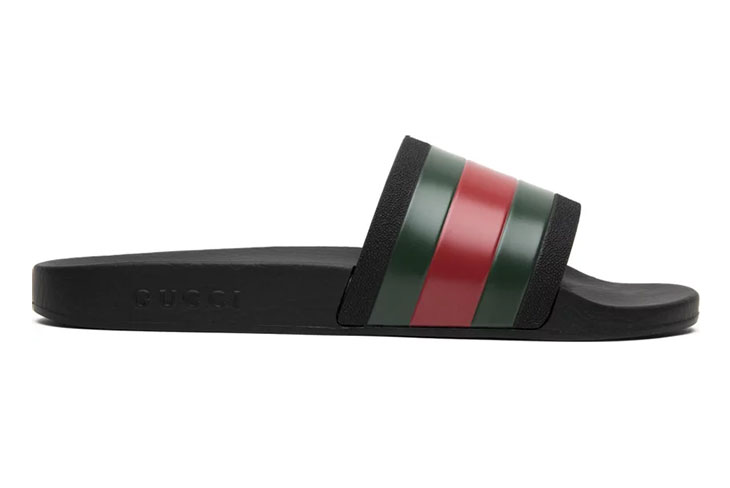 Courtesy of © GOAT
Gucci Pursuit '72 Rubber Slide 'Black'
One of the world's leading luxury fashion brands, Gucci, is a renowned for its creativity, innovation and Italian craftsmanship. Each season, the brand introduces four new collections, as well as a large number of collaborations and capsules. However, some of the pieces are a part of brand's permanent collection, with a small updates for each season. One of such pieces is Gucci Pursuit '72 Rubber Slide 'Black'. It features brand's signature web striping arches, first developed by Gucci in the 1950s. These classic model is molded with cushioned, supportive footbeds and logo-patterned soles. To round up the design, there is a Gucci logo embossed on the outer midsole.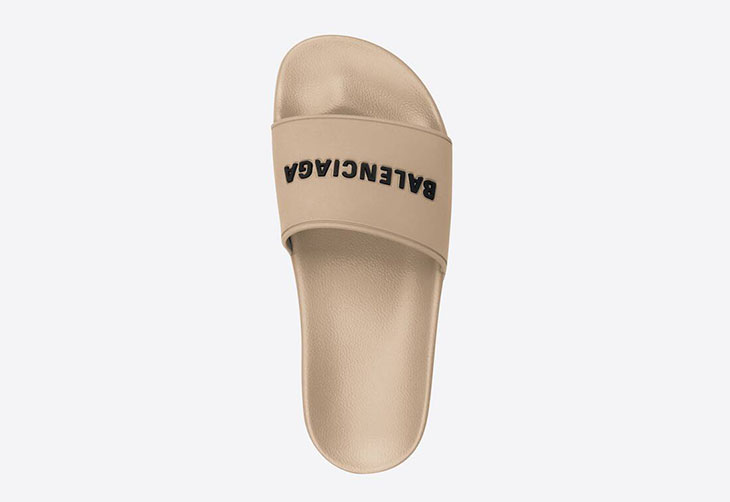 Balenciaga Wmns Pool Slides 'Beige'
One of the most-hyped luxury brands at the moment, Balenciaga, is synonymous with creative director Demna's distinct, streetwear-infused energy. Known for the exaggerated proportions, technical fabrics and minimalistic approach to fashion, the brand has the ability to turn even the classic pool slides into a highly coveted piece.
These beige rubber pool slides from Balenciaga have a slip-on design with the logo in contrasting black. A round open toe silhouette is made in Italy and comes with a molded footbed that adds a comfort.
Shop Balenciaga slides at GOAT.
Fendi Rubber Slides 'Embossed Diagonal FF Motif – Black'
For Spring Summer 2022 season, the Italian luxury fashion brand, Fendi, has introduced a new model of its rubber slides – the Fendi 'Embossed Diagonal FF Motif in black. Even though the brand is known for its fur accessories and leather goods, pieces like this are some of the Fendi's bestsellers.
The slides feature a high strap with an embossed FF diagonal motif in mixed textures. They are constructed with a flexible polyurethane footbed that is extremely lightweight. Non-slip rubber sole is another feature that make this model stand out.
Givenchy Chain Logo Slide 'Black White'
The appointment of the much-hyped 1017-ALYX-9SM's designer Matthew M. Williams has once again brought Givenchy to the spotlight of luxury fashion. Cleverly mixing his streetwear style with the house's elegant history, Williams stays unpredictable each season.
For Spring Summer 2022, the brand has introduced the Chain Logo Slide 'Black White'. They are constructed from a robust rubber, making them very durable and extremely comfortable to wear at the pool. They feature the contoured soles and the label's logo embossed in contrasting type.
Find additional Givenchy slides here.
Versace Palazzo Medusa Pool Slide 'Red'
A world-renowned Italian luxury brand, Versace continues to serve distinct aesthetic through Mediterranean inspired patterns and colorful prints. The brand's signature Medusa head logo appears on almost every single piece, from furniture to bathrobes.
Mixing the classic and contemporary style, these rubber slip-on pool slides in red, feature an open round toe, rubberized signature Medusa graphic and Greek key pattern at vamp. They are a perfect piece to upgrade your casual style and make a statement.
Discover more Versace slides here.
IN CASE YOU MISSED IT: Yeezy Day is coming on August 1st and 2nd!