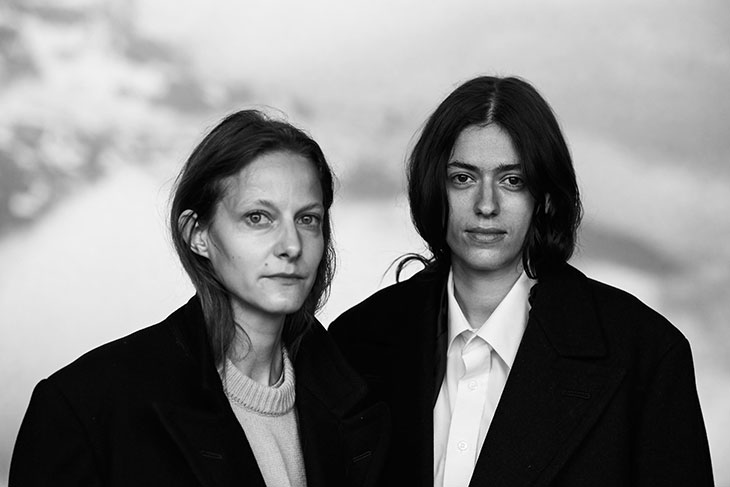 A collaboration between Swiss-born designers Christa Bösch and Cosima Gadient, Berlin-based label OTTOLINGER is known for its boundary-pushing designs. Mixing couture-inspired tailoring with deconstructed pieces, the brand's unorthodox approach to fashion is grounded in the appreciation of the unexpected.
Ottolinger founders Cosima Gradient and Christa Bösch sit down with DSCENE Magazine's Fashion Director Katarina Doric to talk about growing up in Switzerland, their view of environmental ethic and their two fashion homes, Berlin and Paris.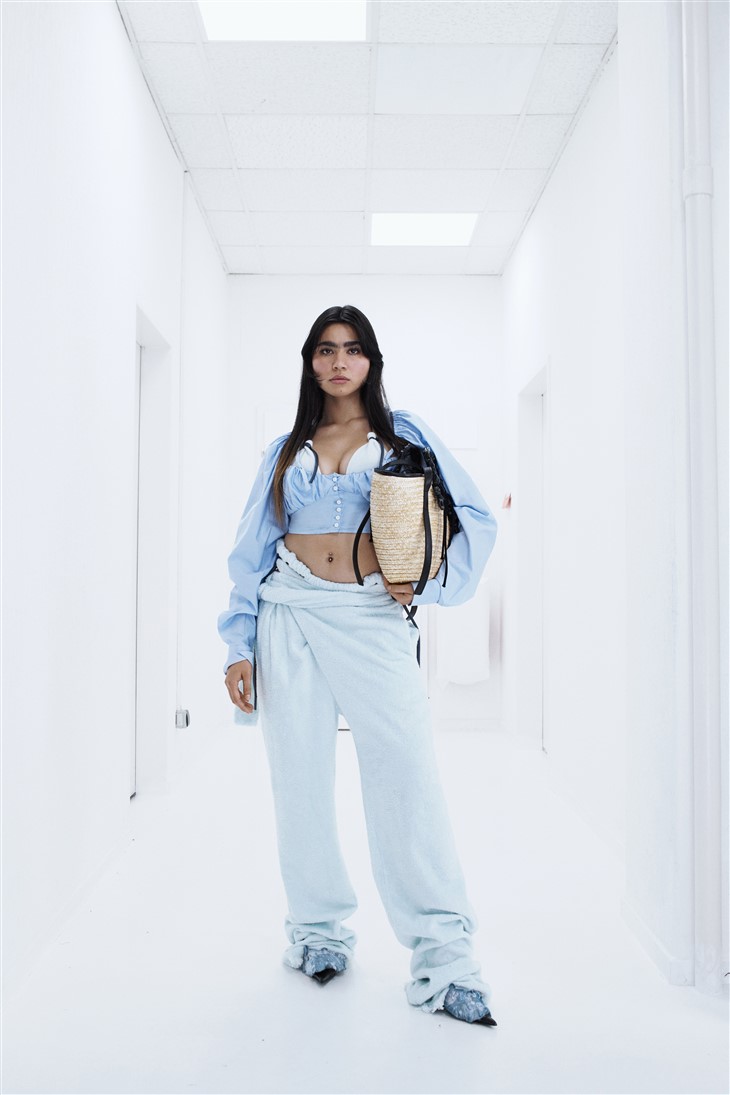 There's a funny story about choosing your brand's name. Can you tell us about it?
We started working in a super small studio in Berlin–the mailbox and the main power were shared with the family next door. Our mail always came addressed to their family name: Ottolinger. Once we moved out and started the brand, we kept the name.
What was it like growing up in a green country like Switzerland? Do you look to nature in your creative process?
Nature is beautiful, very peaceful. We only realize now how much time we spent in nature. Having had our own garden, we walked barefoot, helped on the farm, and built treehouses. How much energy nature gave us—until now. Nature provides us with a lot of energy and is critical in our inspiration. Nature is the most beautiful thing in life. Nature is perfect and unique in its imperfection. We love how moody nature can be, from the sun to storms, snow, and rain—every mood has something unique and beautiful. Same as the asymmetry of trees, the color of grass, etc. Our goal is to have clothes as beautiful and perfect or imperfect as nature—to complete the body's imperfection.
We are both very different and discuss a lot. We have different ideas and visions, which can be challenging but is necessary because if we both like the outcome or the idea, we know it will work out.
You've incorporated an environmental ethic into your brand. Has that always been a part of your world?
Growing up in nature made us very aware, and we both grew up with very environmentally-conscious parents. At Ottolinger, we are improving our fabrics and materials every season to become more organic, step by step. Also, to avoid long transport routes and huge supply chains, the majority of our production is in Europe.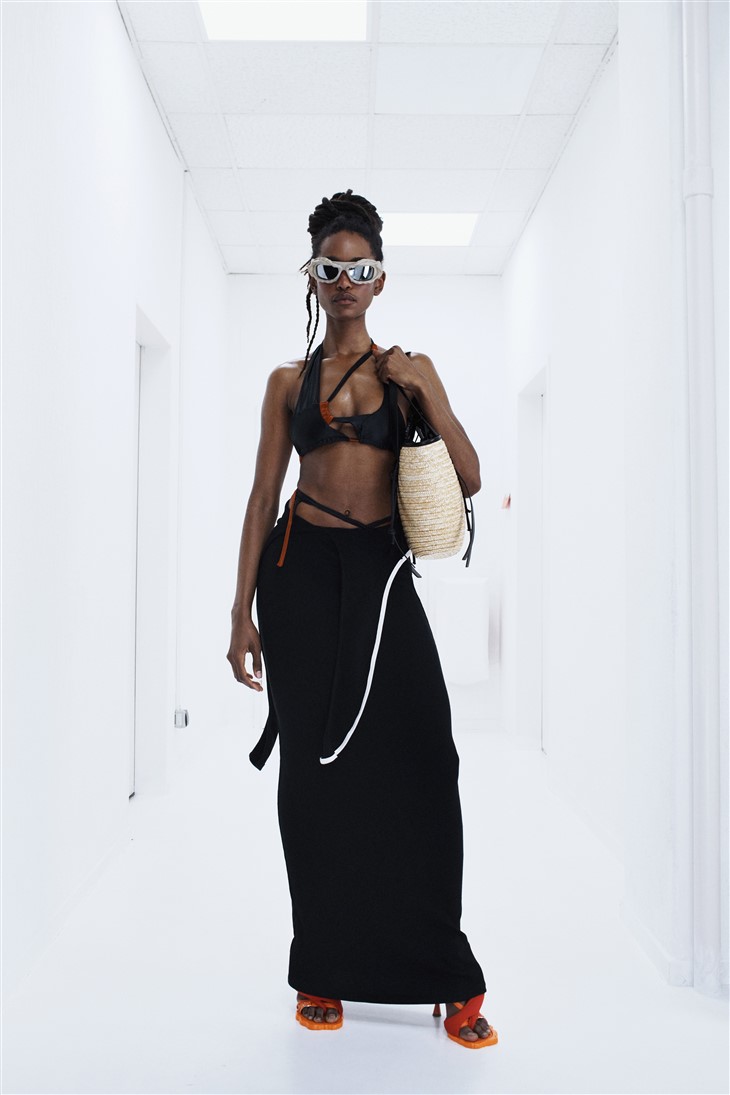 You've established your practice in Berlin. Is Berlin a place to be for young creatives?
Berlin is great—it offers us a lot of freedom and space. We have many friends in Berlin's art and music worlds and can exchange ideas and thoughts. It's very inspiring to be here, and we can focus on our work like we wouldn't be able to in any other city at the moment.
But still, you show your collections at PFW. Why?
We love Paris, and Paris Fashion Week is a unique event where everyone from the fashion world meets. PFW is the platform that offers us an opportunity to show our collection to the whole world, especially fashion professionals.
View this post on Instagram
Being a young designer, what's the biggest challenge you faced when starting your label and making a name for yourself in the industry?
For us, it was very challenging to bring the creative mind and the business mind together. Fashion school did not really prepare us to lead a company and a team, do accounting, build a website, etc. It can still sometimes be very challenging to switch from the creative mind to the business mind.
We love new technologies and believe in humans adapting quickly and constantly inventing something to improve life. Future looks very challenging at the moment and far away from ideal—but we love challenges and would love to be part of shaping the future.
How have you grown as a designer since your first show?
We grew more self-confident in the fashion world—we know more people and know kind of how it works. When we started, we didn't really know that we needed a PR agency and a sales agency, and we did all our prototypes and production in our studio. We are way more organized and aware of the process now—and better at timing.
What is it like working as a creative duo? Can you please tell us a bit about the process?
It's great to have a partner in crime, someone to trust completely, and know that the feedback will always be honest, even if you don't want to hear it.
We are both very different and discuss a lot. We have different ideas and visions, which can be challenging but is necessary because if we both like the outcome or the idea, we know it will work out.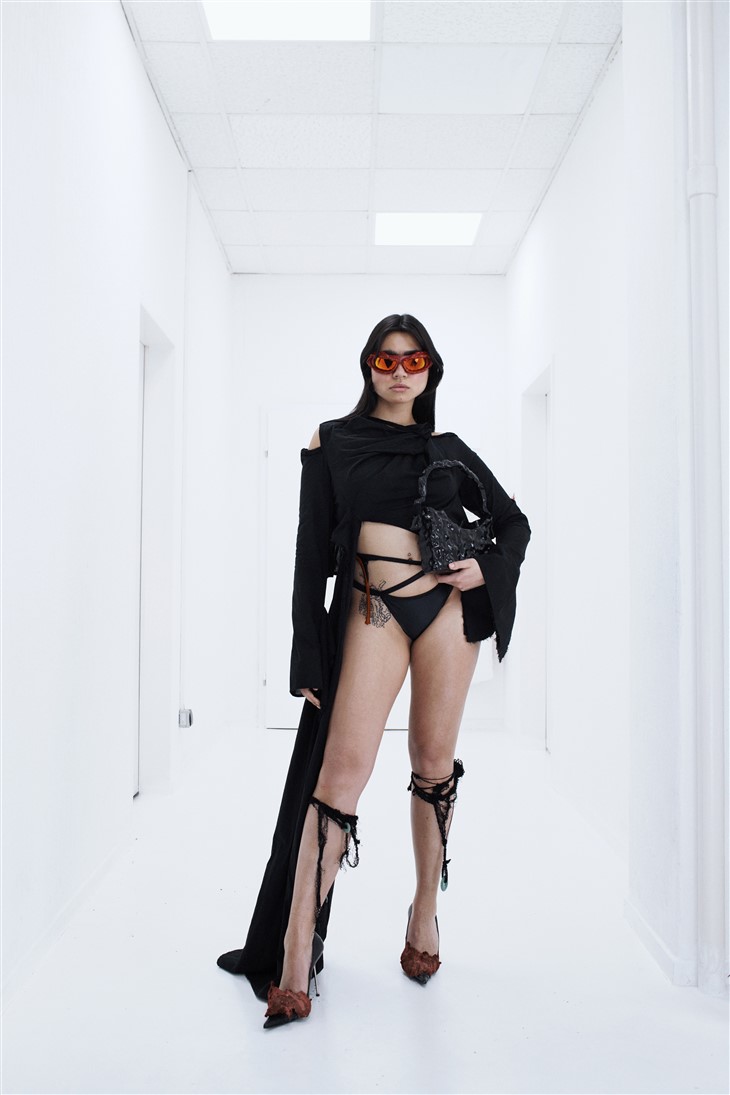 With more and more brands on the market, you need real creativity to stay relevant. Do you find it hard to reach your audience?
We don't think too much about this and prefer to focus on our work. We really believe if we focus on our work and our vision, the outcome will always be different. Of course, we are all living simultaneously, and there is always a certain zeitgeist going on; but what counts is the honesty and the people behind it.
Your approach to fashion is very unique, almost sculptural. Do you find your inspiration in art?
It's very much about framing the body and pronouncing the curves—we love to find ways and forms that make the body look more beautiful and sexy. We also like the balance between asymmetric lines, free forms, and straight lines—very much like in nature. For example, on a tree—nothing is symmetric, and the lines are very free, and somehow the arrangement of the branches always looks amazing. That's our goal—to achieve the feeling of natural beauty in our shapes.
Keep up with Ottolinger on Instagram – @ottlinger1000