Spirited actor Will Ferrell stars in the cover story of WSJ. Magazine's December 2022 / January 2023 edition lensed by fashion photographer Dan Jackson. In charge of styling was Edward Bowleg III, with grooming from beauty artist Catherine Furniss, and production by IRIS World.
On choosing not to sit for many interviews:
By his own admission, the 55-year-old actor, comedian and producer is out of practice at interviews. "I don't do this that much. Is that bad?" he says as he slumps into an armchair. "I used to have to. Now…I do it when I want to."
On what is it like to hear someone say, "When in Rome," "You sit on a throne of lies" or "More cowbell"?
"Honest answer? It's all fantastic. It never stops being surreal, though, because everything in this business, at least for me, has been a delicious flying by the seat of my pants. Delicious corduroy wide-wale."
On why he decided to leave SNL:
"I was creeping up on my seventh season, and it was just feeling like, for better or for worse, a good time to go."
On what Lorne Michaels said to him at his last SNL show:
"You sit down with Lorne Michaels at your last show, and he says—which is one of my favorite Lorne comments, because it's an absolutely amazing compliment and at the same time there's still some instability to it—"I have to say, I have to put you in the top three of anyone ever having done the show. Where in that top three—I can't tell you."
I was like, "Thanks. Wow, that's great…. Oh, I guess. Am I third?" Look, I have some talent. I knew there'd be people funnier than me, and I'd probably be funnier than other people. But I [also] knew no one would commit more than me. That's the one thing I could control."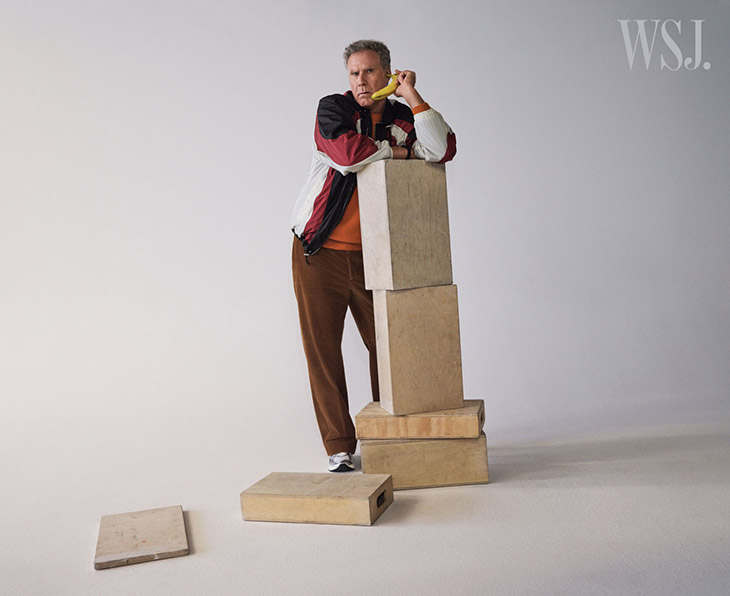 On the ideas process and how he chooses a project like Spirited:
"Our company is a great forum, like, "Hey, does this resonate with anyone?" But at the same time, I never pitched the cowbell sketch. I just did it. If I pitched it, you'd be like, "There's nothing there." Let me just write it and get out the beats. And then you'll be like, "Oh, OK, I see it." So I'm also just my own advocate a lot of times."
"That's where we get into Spirited, when [director and co-writer] Sean Anders calls me four years ago. He's like, "Hey, I've got an idea, a reimagining of A Christmas Carol, but this time it's from the ghost perspective, and it's a crisis of faith, and it's not the usual Scrooge is visited by the ghosts and wakes up the next day rejuvenated. It's these guys, led by Christmas Present, examining "Is this [whole redemption thing] even working anymore?" Then Sean was like, "Oh, and it's a musical." And I go, "Oh." Then within five minutes, I was like, "Yeah—of course, it's a musical. Yeah, we have to do this."
On his and Ryan Reynold's rehearsals for Spirited:
"Cut to us in seven weeks of rehearsals and a month just doing the pre- records. It was just crazy…. There was tons of anxiety, but that's where it was just great to be in the same foxhole together with Ryan and go, "This is nuts, right?" There were moments when Ryan and I were in a dance studio looking at each other in the mirrors trying to do the steps. Ryan's like, "I feel like I'm in a Zumba class at The Villages retirement community in Florida." We're like, "Wait, we're supposed to get to this twirl here and this thing. How is this going to happen? This is madness."
On his role in Spirited being the most intimidating thing he's done:
"This was sleepless nights, this was, "Oh, next week is dedicated to the shooting of this one number," and waking up at 4 in the morning. And I can't go back to sleep, so I'm walking around in the dark through Boston Common with my earphones in, with the track, singing out loud, walking in the dark. People are waking up and going on their morning jogs and [thinking] "What is that guy doing?"
On Spirited being more challenging than his past roles that feature his musical performances:
"Huge difference. All of those other previous examples were comedic singing, like, "Oh, that's funny," and maybe on occasion someone's like, "You're kind of a good singer though, too, but that was really funny." This was legit. That was the intimidating part, to give an earnest performance with these songs. So, it was theater camp. It was full-on boot camp. It's literally the most vulnerable thing I've ever had to do. It just felt like that was the longest high-wire act done to date. Maybe the only closest thing was doing a movie entirely in Spanish, but that still was different. That still was not as intimidating, in a weird way."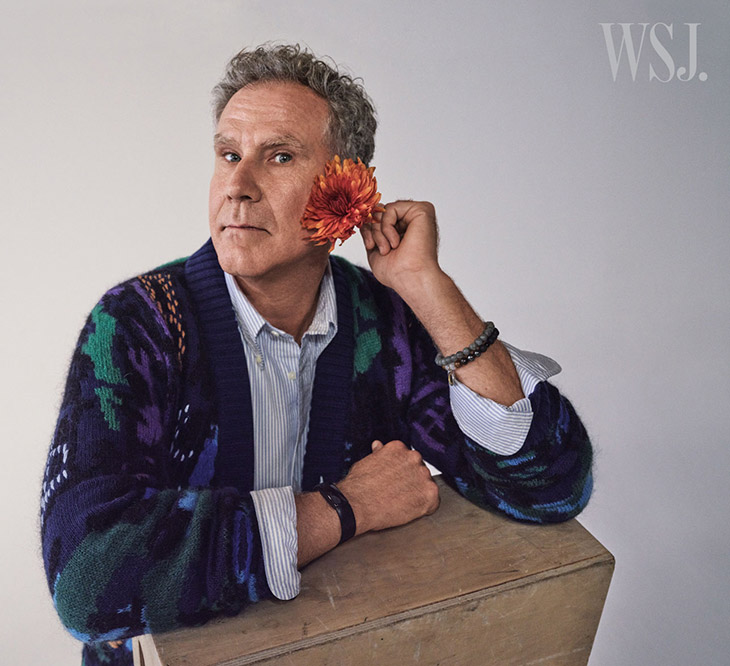 On what he thinks makes him funny:
"I'm terrible at self-analysis, but if I had to venture a guess: Obviously, I look like the guy next door, and I've been able to play against that in that you don't expect me to say or do the things that I've done in performances. But all I can say is that my brain is wired in a way that can somehow come up with weird stuff. It's that same loop of or the same process with "(Don't Fear) The Reaper" by Blue Öyster Cult. I always focus on the guy—I hear that cowbell in the background, I wonder what his life is like. These are the things that play through my head. That's the music.
On his ability to play fragile man-children like Ron Burgundy, Ricky Bobby and Buddy the Elf:
I mean, it was never a conscious decision to develop that as a character or a genre or a type, but I think a lot of this stuff kept landing on the same square: that men, in so many ways, are just big babies and we can't take it—and we can't take that we know that about ourselves. I love pushing that out there because we should listen to that."
"Not to get political, but we just had the biggest baby of all time running the country. It was the ultimate manifestation of this guy who'd act tough and mean, but then, "I got the most glorious letter from Kim Jong Un." Just looking for validation at every turn. It was like this man-child, like, "See, I'm doing things."
On whether his kids, ages 12, 15 and 18, think he's funny:
"They're underwhelmed, but I can still get them to laugh every now and then – a little sneaker-upper and I catch them off guard. I'll be curious as they get older if they're like, "Yeah, he was too serious." I don't know. I'd rather err on the side of, "At least he was listening," as opposed to, "My dad was funny, but never gave me the time of day."
On his and his wife's art collection, and their favorite artists, Maurizio Cattelan and Ai Weiwei, who inject humor into their art:
"Yeah, it's amazing. Ai Weiwei's middle finger series – to the White House and to famous monuments—that was really impactful. One of our boys – we got a call from the kindergarten teacher because he was giving the finger to something. We're like, "Mattias, you can't do that." He goes, "But what about Ai Weiwei? He does it." And we're like, "Yeah, you're right. OK, you can do it now whenever you want."
On Greta Gerwig's upcoming Barbie project, in which he co-stars, along with Margot Robbie and Ryan Gosling:
"It is, in my humble opinion, the ultimate example of high art and low art. It's a loving homage to the brand and, at the same time, couldn't be more satirical—just an amazing comment on male patriarchy and women in society and why Barbie's criticized and yet why every little girl still wants to play with Barbie. Boy, when I read it, I was like, "This is fantastic." I get to play the CEO of Mattel and be that guy who's just insensitive but weird and then, not to spoil anything, but…. Anyway, that's what excites me."
On where he's at right now:
"Home. I'm here at home. I really love driving the kids to school and watching their sports. If the Mayor of Showbiz called me and said, "We took a vote, you're out," I'd be like, "Thank you so much. When do I get my gold watch?"
This article is featured in WSJ. Magazine's December/January issue available Saturday, December 10th. – wsj.com