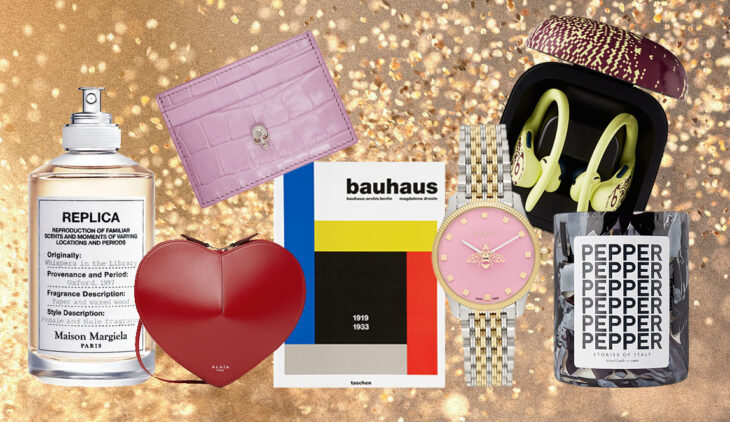 The period of New Year's holidays and gift-giving is approaching. We know that children are the most excited about gifts, but without a doubt, everyone likes to receive that little token of attention. The beauty of the New Year's atmosphere is reflected in the time spent together with the family, but also in the giving of gifts that represent attention and bring nice surprises. In addition to friends and colleagues, the closest family members are the ones we should make happy because it often happens that we take them for granted, when in fact they are the most worthy of our attention. That's why you should use this year's holidays to make your loved ones happy with a gift that could be useful, but which could also remain as a memory. If you're planing to surprise your loved ones with gifts or you don't have an exact idea what to get them, DSCENE team prepared some ideas for you.
We earn a commission when you follow the link to make a purchase. Click here to learn more about how we make money.
CECILIE BAHNSEN
Blue India Turtleneck
Starting off with holiday essential, the Cecilie Bahnsen Blue India turtleneck. Everyone needs a good woolen turtleneck, especially for this cold winter days. Perfect for layering and staying in style while still being warm, this cable knit wool turtleneck features rib knit collar, hem, and cuffs and it comes in the icy blue colourway.
Available for $1695 USD – BUY HERE.

MAX MARA
Tan Wool Balaclava
Balaclavas are definetely a trend that everyone seems to love this past years, so do we. For today's gift guide, we choose the Tan Wool Balaclava from Max Mara. Made from 100% wool, this balaclava will make your style game on point while still keeping you warm, and also protecting your hairdo.
Available for $195 USD – BUY HERE

.
JACQUEMUS
Tan Le Papier 'Les Chaussettes Neve' Socks
Inspired by the cold winter days, Simon Porte Jacquemus created the Neve World collection filled with warm and fuzzy styles. One of them are the Les Chaussettes Neve socks coming in tan with a conrasting blue upper line and logo with a calf-high design made from shag knit stretch nylon. Perfect for someone with cold feet and great fashion sense.
Available for $95 USD – BUY HERE.

GUCCI
Silver & Gold Bee G-Timeless Watch
If you're looking to amaze your partner, friend, or family member, look no further. Gucci released this Silver & Gold Bee G-Timeless watch featuring a pink dial with golden logo, markers, and signature graphic hardware.
Available for $1450 USD – BUY HERE.

ALAÏA
Red Cœur Bag
Maison Alaïa continues to create the signature styles which made the house famous, just like this sculptural buffed calfskin shoulder bag in red. Perfect for the New Year's eve party, it's surely going to make a statement.
Available for $1170 USD – BUY HERE

ALEXANDER MCQUEEN
Pink Croc Skull Card Holder
If you're looking for a more simple kind of gift, this Alexander McQueen croc-embossed calfskin card holder in pink is the perfect pick. Swarovski crystal-embellished skull hardware at face updates the simple silhouette.
Available for $245 USD – BUY HERE

SAFSAFU
Gold & Yellow Sun Clip-On Earrings
Make someone smile with this Safsafu Gold & Yellow sun clip-on earrings made from 24k gold-plated brass and baroque pearl at drop.
Available for $270 USD – BUY HERE

STORIES OF ITALY
SSENSE Exclusive Blue Large Candle
Make someone's house smell amazing eith this Stories of Italy Vegetable wax scented candle. Also the outside of the candle is made from mouth-blown Murano glass vessel in tones of purple and blue, so even when the candle burns all the way doen, you'll have a beautiful glass vase or decoration.
Available for $309 USD – BUY HERE

GINORI 1735
Blue L'Amazzone & Musk Road Diffuser
For the lovers of fancy diffusers, we recommend the Ginori 1735 handcrafted graphic glazed porcelain room diffuser in blue. It ncludes six reeds and diffuser oil with powdery and musky scents.
Available for $510 USD – BUY HERE

POLYMORF
Pink Large Gudrun Planter
Gardening  and plant lovers will definetely be surprised with this Polymorf ceramic planter in pink and white with speckled and textured detailing throughout.
Available for $227 USD – BUY HERE

IAAI
Green UFO 02 Mirror
Unique gifts are often hard to find, but DSCENE team found one of the most interesting mirrors you can have in your house. The IAAI Green UFO 02 Mirror with handcrafted glazed ceramic vessel in green, with removable circular mirror at top.
Available for $193 USD – BUY HERE
BI.DU.HAEV
Greeting Pour-Over Coffee Stand & Pot
Everyone loves coffee, especially when it's made in a piece like this one. This BI.DU.HAEV wood and metal pour-over coffee maker stand features handblown glass brewing cone, with a topcock at throat and handblown glass pot and knit heatproof sleeve in black included.
Available for $587 USD – BUY HERE


SHEYN
SSENSE Exclusive Ornament Set
Surprise someone with a cool addition to their home decor with this set of two sculptural 3D printed PLA ornaments in green and pink by SHEYN.
Available for $28 USD – BUY HERE

TASCHEN
Bauhaus: Updated Edition, XL
For the lovers of a good read and Bauhaus, Taschen released the updated edition of Bauhaus by Magdalena Droste featuring a compendium of illustrations and essays in XL format.
Available for $70 USD – BUY HERE

YALI GLASS
Pink Coppa Glass
Drink your champagne in style with this Yali Glass handcrafted mouth-blown champagne glass in pink.
Available for $161 USD – BUY HERE

SELETTI
Yellow Banana Louie Lamp
Definetely one of the most interesting gifts we found, this banana shaped Louie Lamp by Seletti designed by Studio Job. A lamp worth turning on.
Available for $295 USD – BUY HERE


MAISON MARGIELA REPLICA
Whispers In The Library Eau de Toilette
Maison Margiela's Whispers in the Library is a warm yet intriguing fragrance that contrasts peppery, woody notes with lighter notes of orange flower petals, vanilla and vetiver. It's a perfect every day, unisex eau de toilette fragrance from Maison Margiela's Replica collection.
Available for $135 USD – BUY HERE

VALMONT
Limited Edition Hydration Set
Skincare i one of the most important parts of our personal hygiene, so we recommend VALMONT's Limited Edition Hydration set of six self-care products for nourishing, plumping, and hydrating the skin with a satin zip pouch included.
Available for $520 USD – BUY HERE


QUIET HOURS
Navy Natural Clay Mask Kit
When you're done with hydration, you can step into peeling with Quiet Hours Clay mask set featuring a nylon bristle brush, ceramic mixing bowl, and spoon included.
Available for $45 USD – BUY HERE

LA BOUCHE ROUGE
The Beige Nudes Set
A quick and easy gift for every woman, a rouge set by La Bouche Rouge featuring two highly-pigmented lipsticks enriched with a moisturizing plant-derived formula.
Available for $120 USD – BUY HERE


PIONEER DJ
White PLX-500 Turntable
Turn the casual New Year's party into a discotheque with Pioneer DJ White PLX-500 Turntable made from aluminum and polymer.
Available for $361 USD – BUY HERE

AYANEO
White Ayaneo Next Pro Console
Enjoy your gaming experience with AYANEO Next pro Console featuring Handheld gaming console with plastic chassis in white featuring hall-effect conductive rubber joysticks and linear triggers.
Available for $1565 USD – BUY HERE

BEATS BY DRE
Yellow Paria Farzaneh Powerbeats Pro
For music lovers you should definetly consider buying the Beats by Dre in-ear wireless earphones in yellow and purple designed by Paria Farzaneh.
Available for $200 USD – SSENSE