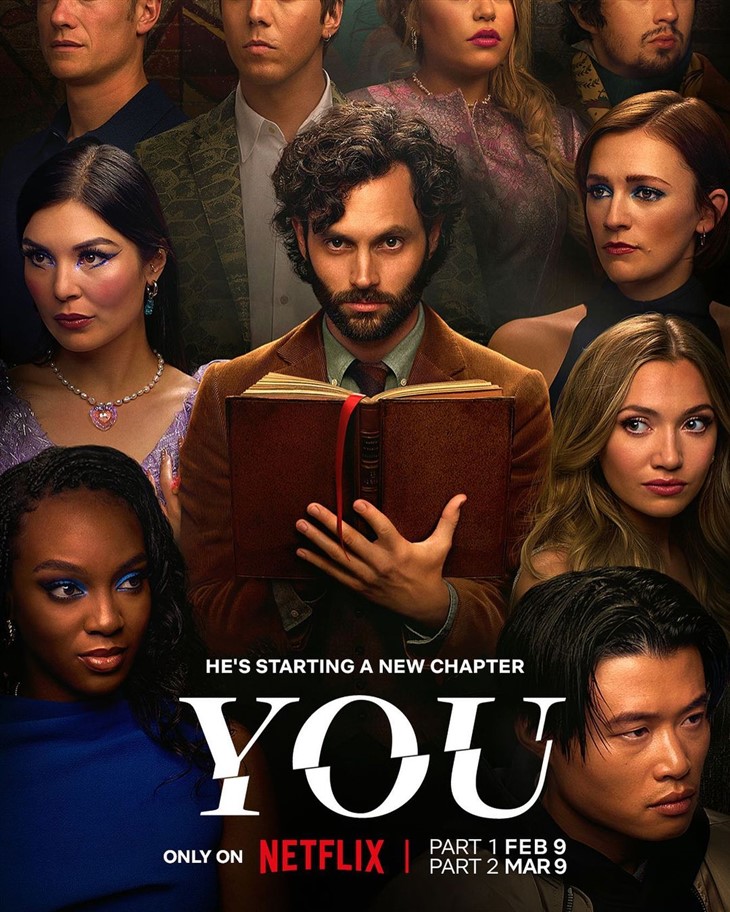 After a long wait, the season four of YOU is coming to our screens and it's better than we expected. Joe Goldberg, played by Penn Badgley, travels to London where he transforms into professor Jonathan Moore who tries to enjoy his European holiday after Marienne left him with a heartbreak last season. While he tries to reform himself, he stumbles upon a circle of privileged douchebags. It just so happens that douchebags start turning up dead, and Jonathan needs to investigate who is doing all the killing. Perhaps the skills gained from being a stalker are easily transferable to those of a detective. Of course, what is Joe without a love interest who may trigger his old habits.
The cast includes Penn Badgley as Jonathan Moore/Joe Goldberg, Tati Gabrielle as Marienne Bellamy, Lukas Gage as Adam, Charlotte Ritchie as Kate, Tilly Keeper as Lady Phoebe, Amy-Leigh Hickman as Nadia, Ed Speleers as Rhys, Niccy Lin as Sophie, Aidan Cheng as Simon, Stephen Hagan as Malcolm, Ben Wiggins as Roald, Eve Austin as Gemma and more.
We're floored by the love that fans worldwide have shown our twisted little love story — thank you! You inspire us to go deeper, and also crazier every season. As you know, each season explores a new city and a new 'you.' Season 4, set in London, drops Joe into a very different type of thriller: a whodunit murder mystery. This mysterious person is awfully curious about 'Professor Moore,' threatening Joe and everyone he cares about. Sometimes it takes a killer to catch a killer. Hey, Joe did say he wanted to redeem himself… but we'll leave it to you to decide if redemption is possible for a man like Joe Goldberg. – showrunner Sera Gamble
The first part of Season 4 will premiere on February 9th, while the second part will air on March 9th on Netflix.