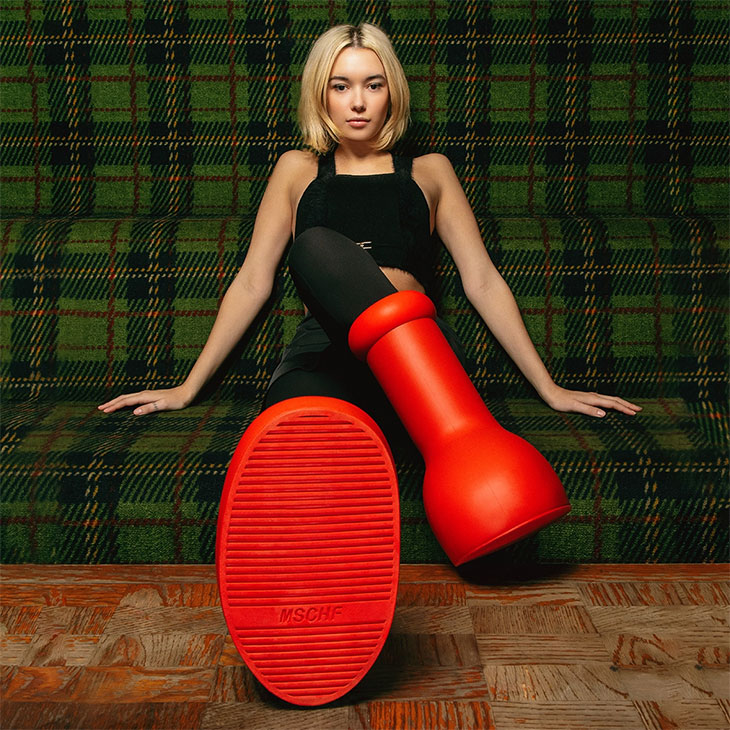 If you are using social media, there is no chance that you haven't already seen the THE BIG RED BOOTS. Known for its subversive designs, American art collective MSCHF has surprised us with a new viral drop last week and everyone is talking about it. Just like their grey Walking Boot MSCHF AC.1, inspired by a medical walking boot, these also look pretty unwearable. Even the brand described the model as 'cartoon boots for a cool 3D world'. (Image courtesy © MSCHF)
If you are, like many, asking yourself what does MSCHF actually do, you're not alone. The brand's chief executive, Gabriel Whaley said "My mom thinks we make toys" in an interview for The New York Times. Even though they look like something your nephew can play with, they are actually wearable. You can love them or hate them, but the Big Red Boots now have an actual release date, and they're coming just in time for this year's Valentine's Day. Read below to find our more about the release.
View this post on Instagram
The New York-based art collective have had numerous controversial sneaker releases including the custom "Jesus" Air Max 97 in 2019, followed by "Satan Shoes" made in collaboration with Lil Nas X, released in 2021 in limited edition of 666 pairs filled with human blood. Nike stated that it was not involved in the process, and has latter filed a lawsuit against the art collective.
Now MSCHF has once again captured the internet's imagination. Like many of the brand's designs, this one is also trending on the social media platforms, with sneaker-oriented profiles like Complex Sneakers TikTok sharing the footage of people wearing the model and the comments are hilarious. "I can see the low tops dropping soon with the sonic inspiration." – the one reads. "Legend has it that once they go on your feet, they never come off." – says the other. While some are loving the design and can't wait for the drop, the others are making fun of it, but the truth is – no one can stay silent.
The brand's official Instagram profile feed already features a significant number of influencers and celebrities wearing the boots, including the rapper Tommy Genesis, Canadian basketball player Shai Gilgeous-Alexander, influencer RADASFVCK, musician Ken Rebel, and many more. 
"If you kick someone in these boots they go BOING! You never design shoes to be shaped like feet. Big Red Boots are REALLY not shaped like feet, but they are EXTREMELY shaped like boots." –  the press release notes.
If you are searching for ideal Valentine's Day sneakers, the Big Red Boots fit the theme perfectly. They are unique, and most importantly, they're red. What's more to ask for? Even one of the comments on brand's official Instagram reads "Only talking to girls who wear these from now on", so better get prepared.  In the sea of Valentines shoes out there, with these, you can't really go unnoticed. Check out our Gift Guide for more V Day ideas.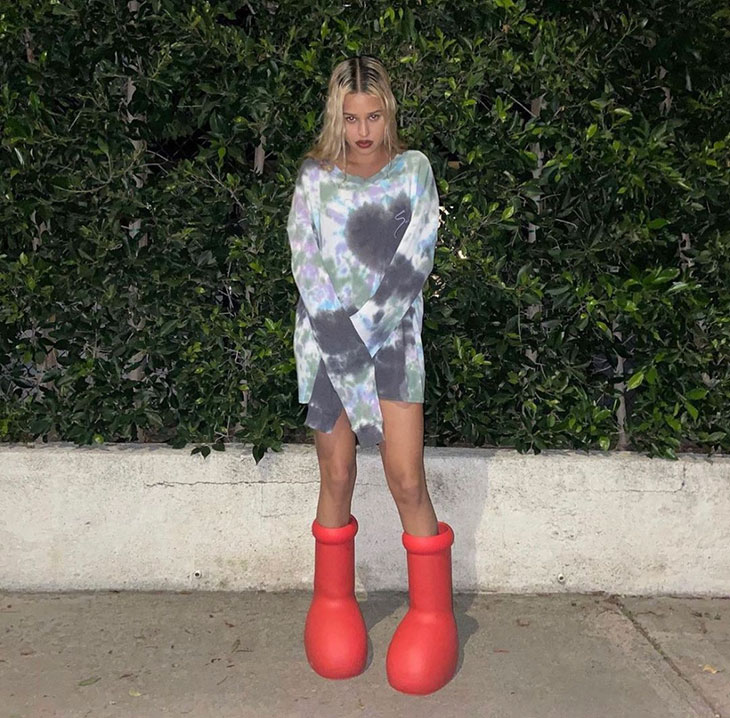 MSCHF's Big Red Boots now have the official release date and price. They will be available from February 16th at 11 a.m. ET at mschf.com and on the MSCHF Sneakers app for the price of $350, while the price on the secondary market is expected to go over $1000. According to the price tag, there is no chance that buyers won't be posting their new red babies on their social channels, and judging by the brand's Instagram account, this is exactly what they are hoping for. Are the Big Red Boots designed just to be posted on the socials, or worn in day-to-day life? It's up to you to decide.
Name: MSCHF Big Red Boot
Release Date: February 16th, 2023
Price: $350
Secondary Market Price: $1000+