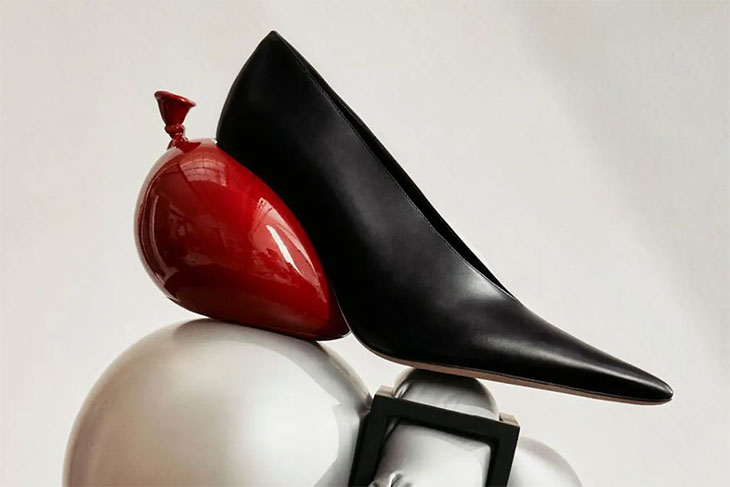 LOEWE, the esteemed Spanish luxury leather brand, has granted JW Anderson unparalleled creative freedom to showcase his exceptional designs, particularly focusing on the realm of accessories, with a special emphasis on footwear. Under his artistic direction, the brand has witnessed an array of captivating footwear creations, ranging from egg yolk heels to nail polish and rose petal heels.
As Anderson continues to breathe new life into the brand, placing emphasis on the body, the footwear designs are becoming more and more surrealistic. Amongst the array of remarkable designs, the true highlights were the dresses and heels adorned with mesmerizing 3D balloon shapes, ingeniously incorporated from shoulders to bustiers and ankle straps to the actual heels. These innovative and eye-catching elements added an extra layer of excitement to the collection, showcasing Anderson's unparalleled creativity and pushing the boundaries of fashion.
We earn a commission when you follow the link to make a purchase. Click here to learn more about how we make money.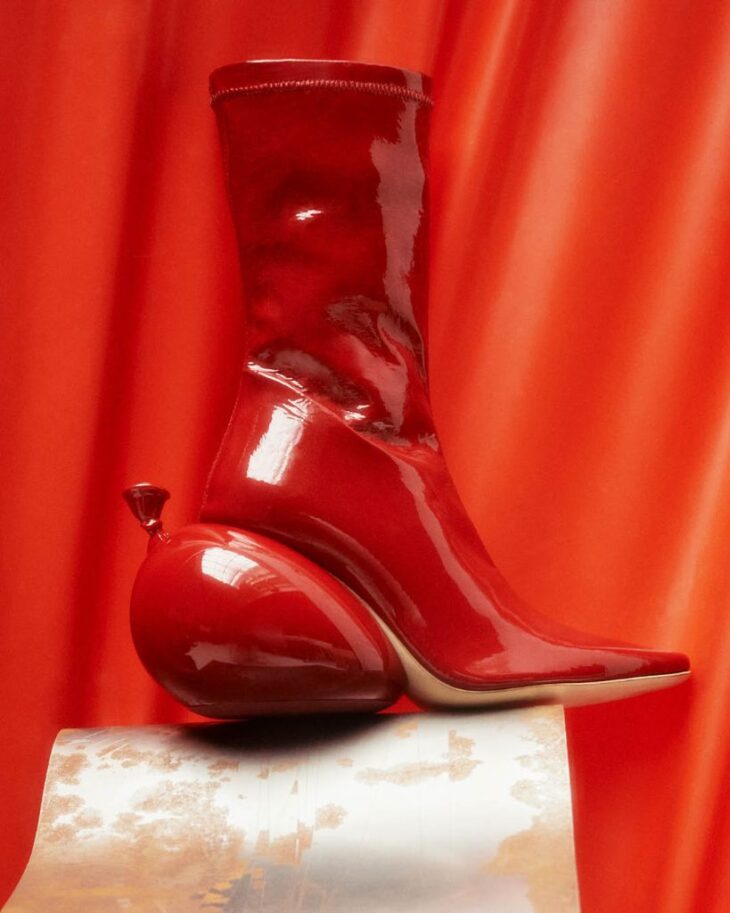 The Balloon Shoes showcase an exquisite blend of elegance and playfulness, as 3D balloon-shaped elements take center stage. From delicately inflated accents adorning the straps to bold balloon-inspired heels that seem to defy gravity, each pair exudes a sense of joy and wonder. The meticulously crafted balloons, crafted from luxurious materials, create a striking visual contrast against the sleek silhouette of the shoes, making them true statement pieces.
But amidst the enchantment and artistic allure of Loewe's Balloon Shoes, one may wonder about their functionality. Do these whimsical creations sacrifice practicality for their captivating design? Can one confidently step into these shoes and navigate the world with ease? With Loewe's unwavering commitment to both form and function, we hoped that these shoes are not just a whimsical fantasy, but also a practical choice for those seeking to make a statement without compromising on everyday functionality.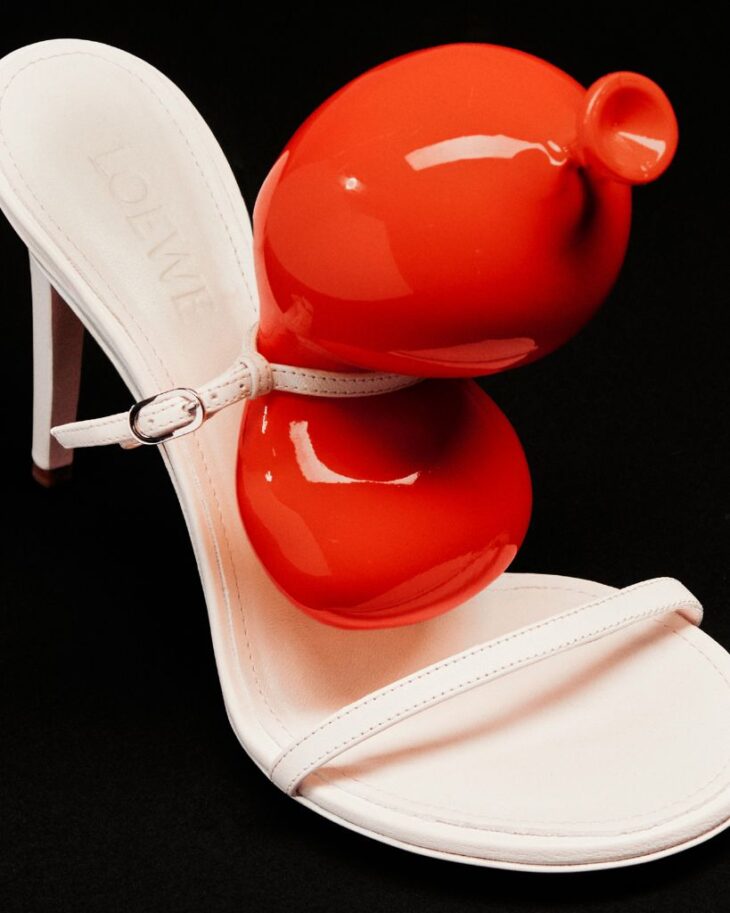 Taking cues from Fall Winter 2022, LOEWE's Spring Summer 2023 shoe collection continued to push the boundaries of traditional design with another balloon inspired shoe model. JW Anderson took footwear to new heights by incorporating real balloons into his creations. As models strutted down the runway, they wore a pair of oversized floppy pumps constructed from deflated balloons.
In the ever-evolving world of fashion, designers like JW Anderson continually challenge conventions and redefine the boundaries of creativity. The use of deflated balloons as heels exemplifies his ability to transform the ordinary into the extraordinary, leaving us eagerly anticipating his next audacious sartorial endeavor.
However, the upcoming 3rd episode of the 2nd season of "Just Like That" unveils an intriguing development regarding Loewe's balloon shoes. Carrie Bradshaw, the iconic fashionista portrayed by Sarah Jessica Parker, challenges their functionality as she swaps her signature Manolos for a pair of Loewe's whimsical creations. Carrie's familiarity with JW Anderson, the designer behind Loewe's balloon shoes, is evident as she previously showcased the viral pigeon clutch from his Fall Winter 2022 collection. With her finger on the pulse of fashion, Carrie's questioning of the shoes' functionality raises intriguing possibilities and invites viewers to ponder the balance between style and practicality in the world of high fashion.
As the episode unfolds, Carrie's exploration of Loewe's balloon shoes may shed new light on their wearability and further ignite the debate surrounding their functionality. Will these whimsical creations prove to be more than just a visually captivating statement? Only time will tell, as Carrie's fashion choices continue to shape and influence the industry's trends and perceptions.
As we eagerly await the episode's release, we are left to think about why Carrie Bradshaw decided to switch from her beloved Manolos to Loewe's balloon shoes. Will she discover a newfound appreciation for their unconventional design, or will she reaffirm her loyalty to classic footwear choices?