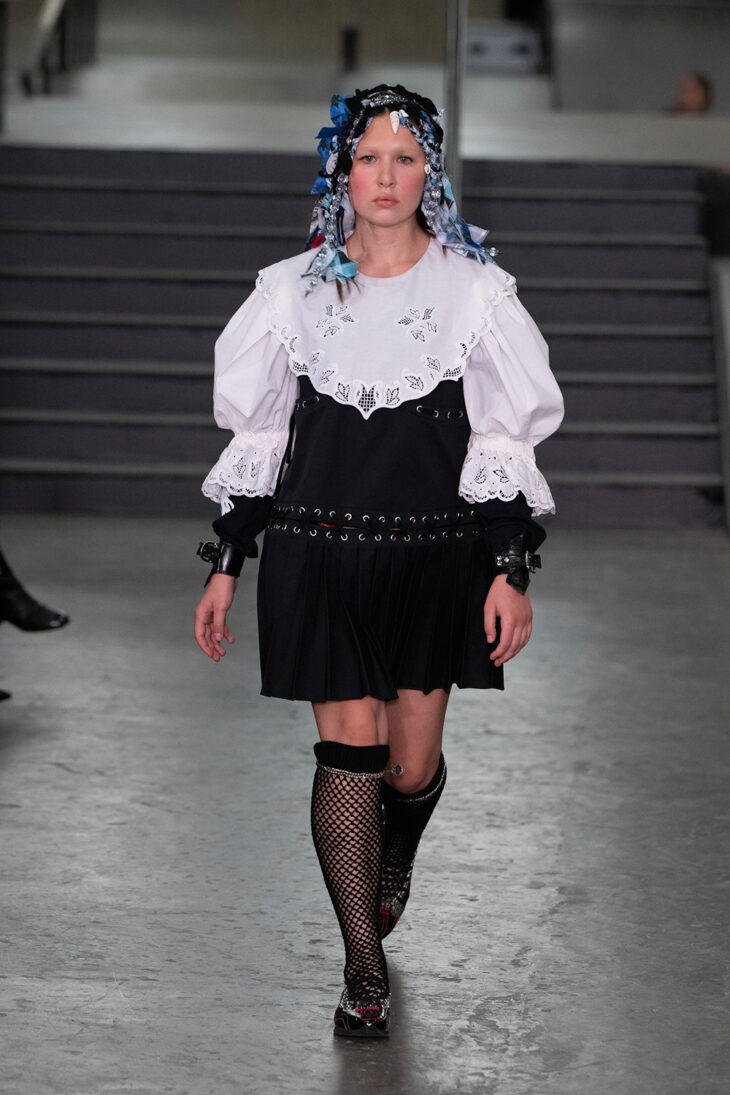 In an imaginative canvas where folklore meets contemporary street style, Chopova Lowena unveils  Spring Summer 2024 collection, "GIRL'S TEAR, GIRLS TEAR" at the ongoing London Fashion Week. Taking cues from the vibrant traditions of Heston's Flora Day festival, the designers Emma Chopova and Laura Lowena-Irons craft an aesthetic story that marries the Cornish seaside's poetic allure with the unrestrained spirit of youthful love and transition.
As the title "GIRL'S TEAR, GIRLS TEAR" suggests, the collection seems to embrace the duality of growing up — the tear of leaving girlhood behind and the tearing through a new and bold journey towards womanhood. The nuanced understanding of this transformation comes alive vividly, embroidered in the fine textures and patterns of the ensemble.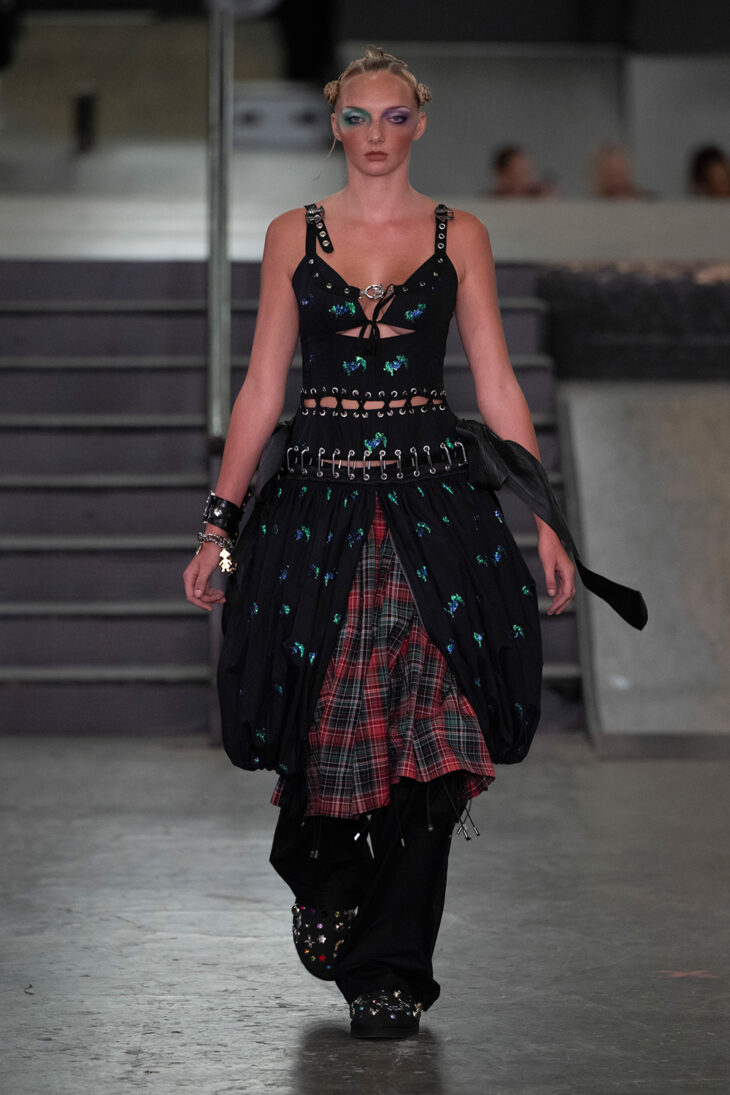 Drawing inspiration from the rich hues and narratives of the Helston Flora Day festival, the collection paints a picturesque tapestry of angels and devils, peace and war, evoking images of the sea and shore intertwined with mermaids and maidens dancing in harmony. The Hal-an-Tow, an age-old song, seems to reverberate in the fabric, echoing a tale that balances between innocence and sensuality, tradition and modernity.
The Bulgarian reference to lilies of the valley, known as Momina Salza or "girl's tear," finds a beautiful representation in the collection. Each piece speaks a language of contrast – innocence meets the warrior spirit in hand-embroidered Broderie Anglaise white dresses intertwined with leather strappings. The accessories, imbued with potent symbols — bats, keys, and an array of lucky charms — not only offer protection but also encapsulate a sensual embrace of adulthood, urging the wearer to find strength in vulnerability.
The fashion narrative takes a nostalgic turn as British folklore crashes into the designers' teenage memories, where young love blossoms amidst skater boys and budding crushes. The ensemble encapsulates these emotions in layered graphic tees, baggy board shorts, and plaid pyjama pants, reminiscent of the boy one aspires to be or be with. It portrays an exciting juxtaposition of teen life and the inevitable zipping into adulthood, captured through innovative silhouettes like low-slung bubble skirts, rakish skirt suits, and fleece zip-ups adorned with hand-crocheted frills.
SS24 also brings bags and footwear, marking a first in Chopova Lowena's fashion journey. Crafted in Italy, the bags promise utility with a tinge of whimsy, equipped with custom notebooks, pens, and combs, embodying a modern woman's arsenal to traverse through her day with panache.
Presenting 43 runway looks, the collection embodies a vivid celebration of folklore, youthful zest, and the nuanced journey of growing up. Through "GIRL'S TEAR, GIRLS TEAR," Chopova Lowena invites us to find ourselves in the trappings of tradition, yet dare to tear through.
Words by Editor Zarko Davinic – Discover all the looks in our gallery: