The world of gemstones is a fascinating realm where each precious stone holds a unique charm and history. Among these treasures, the sapphire gemstone stands as a true marvel, conquering hearts with its enchanting hues and timeless beauty. From the classic blue to the rare and prized padparadscha, sapphires come in a variety of shades that reflect their rich history and cultural significance. When these magnificent gemstones are meticulously set into sapphire rings, they become more than mere accessories; they transform into expressions of pure elegance and emotions. A journey unfolds, revealing the mystique of sapphire gemstones, the elegance of sapphire rings, and the innovative creations offered by a renowned brand Capucinne.
Exploring a Vibrant Palette
Sapphires, members of the corundum mineral family, are celebrated for their brilliance and enduring beauty. While the most famous shade is the deep blue, sapphires actually span a spectrum of colors, from delicate pastels and intense blues to mesmerizing hues like pink, yellow, and even the rare padparadscha. This vibrant palette of colors is the result of trace elements within the corandum structure, which also give rise to the gem's symbolism and mystique. This diversity allows couples to choose a sapphire that resonates with their individual style and personality, making each engagement ring truly one-of-a-kind.
A Symphony of Combinations
One of the unique qualities of sapphire engagement rings is their versatility in pairing with other gemstones and metals. The deep blue color of a sapphire complements both white and yellow metals, enabling couples to experiment with settings that suit their preferences.
The stone position setting options are endless. Classic solitaire settings emphasize elegance, while halo settings adorned with diamonds or other colored gems add opulence. Three-stone designs symbolize the past, present, and future, while vintage-inspired options with filigree and engraving evoke timeless romance. Mixing sapphires with contrasting gemstones creates a dynamic aesthetic. From round to cushion cuts, sapphires harmonize with various elements, creating rings that uniquely embody each couple's love story.
Who's Destined for This Allure?
Sapphire engagement rings are not limited just to those with a penchant for the unconventional. Their popularity has surged among couples seeking a distinctive alternative to traditional diamond rings. Sapphires symbolize wisdom, loyalty, and nobility, making them an ideal choice for those who value depth of emotion and meaning in their relationships. Whether you're a bride-to-be with an affinity for all things unique or a groom-to-be looking to embrace tradition with a twist, a sapphire engagement ring could be your perfect choice.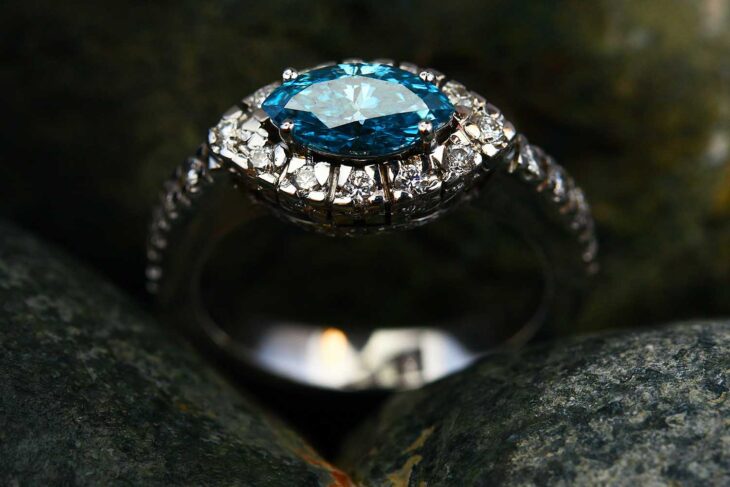 The Timeless Elegance
When to wear a sapphire engagement ring is a question often posed by couples. The answer? Anytime. The timeless elegance of sapphires makes them suitable for both formal occasions and everyday wear. Their durability and resistance to scratches make them an excellent option for an engagement ring that can withstand the test of time, accompanying couples on their journey from engagement to marriage and beyond.
Sapphires in Engagement Rings
But why choose a sapphire for an engagement ring? Apart from their aesthetic appeal, sapphires hold a wealth of historical and cultural significance. In ancient times, sapphires were believed to protect loved ones from envy and harm. This belief has evolved into a symbol of faithfulness and sincerity, making sapphire engagement rings an embodiment of a couple's commitment to one another.
Historical Facts
Delving into the history of sapphires reveals a treasure trove of fascinating facts. The Persians believed that the Earth rested on a giant sapphire, which reflected the sky's color. Ancient civilizations considered the gemstone as protection against evil and envy, making them a popular choice for both adornment and amulets. In the Middle Ages, the clergy wore sapphire rings to symbolize heaven, while kings and queens cherished sapphires for their royal associations. Their link to royalty and romance, as evidenced by Princess Diana's iconic sapphire engagement ring now adorning the finger of the Duchess of Cambridge, is still present in modern days.
Capucinne's Collection of Sapphire Masterpieces
Within this realm of sapphire engagement rings, Capucinne's collection stands as a testament to exquisite craftsmanship and innovative design. Their pieces skillfully capture the essence of sapphire's allure while incorporating contemporary elements that resonate with modern couples. From delicate solitaires to elaborate designs with intricate detailing, Capucinne offers a diverse range that caters to various tastes and preferences.
A Lasting Legacy of Love
Sapphire engagement rings embody a love that transcends time and momentous trends. Their allure lies not only in their breathtaking beauty, but also in the symbolism they carry. With a rich palette of colors, a seamless blend with other gemstones and metals, and a history steeped in romance, sapphire engagement rings are a representation of eternal love and commitment. Capucinne's unique sapphire engagement rings masterfully capture all of it, offering couples a chance to embrace tradition and celebrate their unique love story in an unforgettable way, all at the same time.
In the end, whether you're drawn to the majestic blues, the enchanting pinks, or any other color shade of the gemstone, the journey of choosing the perfect sapphire engagement ring is a celebration of individuality, love, and the unending romance that will forever be encapsulated in a timeless gem.