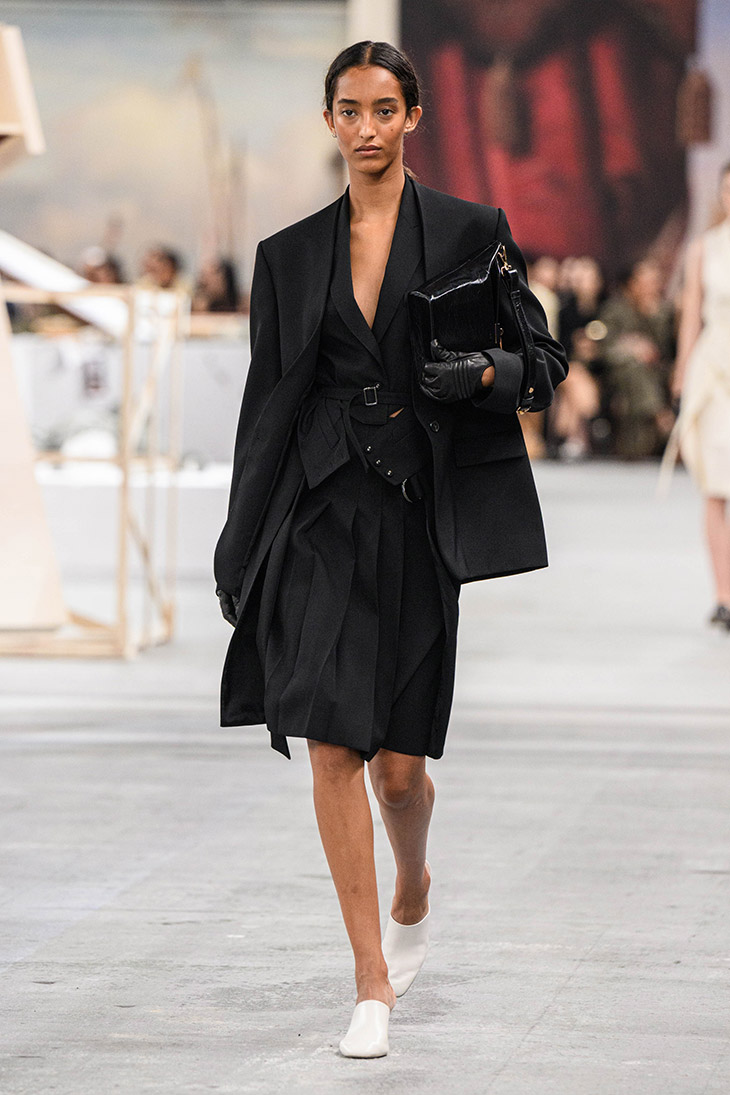 For the unveiling of their Spring Summer 2024 Collection, fashion house Tod's chose a setting that echoes the epitome of Italian craftsmanship: The Laboratori Scala Ansaldo, a place where scenographers, sculptors, and carpenters craft the remarkable scenography for the Teatro alla Scala. This unique ambiance, immersed in the preparations for the production of Don Carlos, resonates with the meticulous craftsmanship that embodies Tod's creations.
SPRING SUMMER 2024 COLLECTIONS
In this spectacular environment, Tod's pays tribute to the paramount value of Made in Italy excellence, an intrinsic ethos for the brand. Walter Chiapponi, Tod's Creative Director, presents a collection representing the culmination of a significant journey towards the essentiality of design and supreme quality of Italian craftsmanship. The collection places an emphasis on the cut, volume, and premium quality of materials used, reflecting the brand's unwavering commitment to superior craftsmanship and design.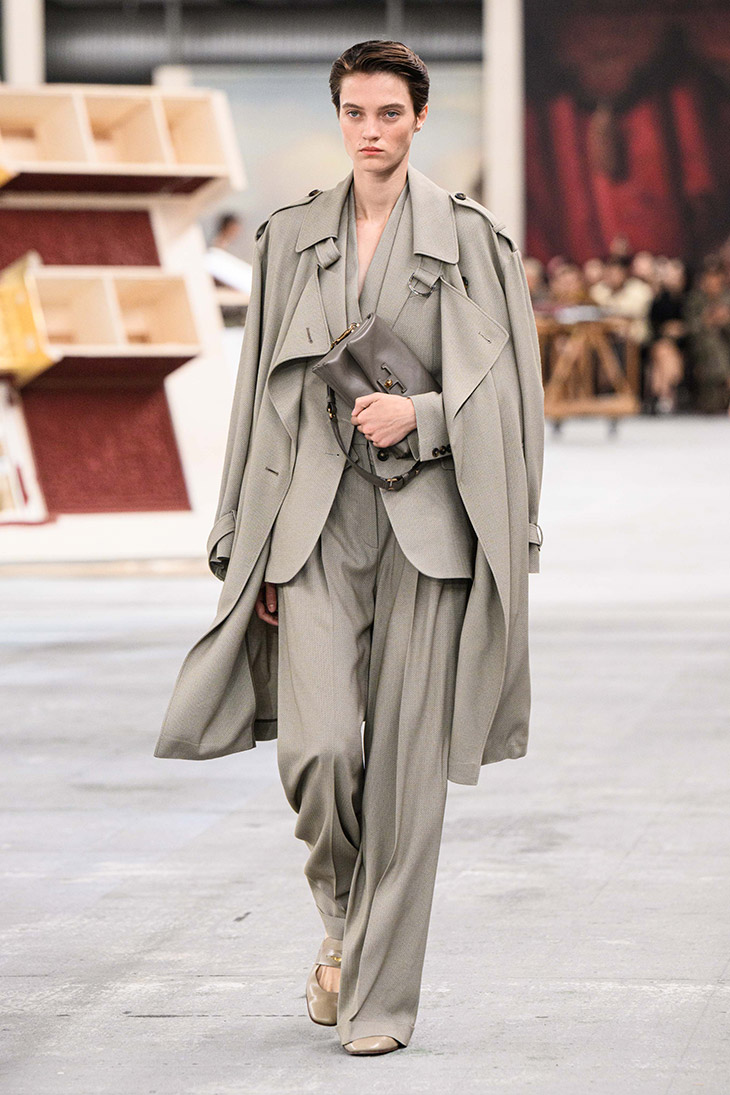 Drawing inspiration from the male wardrobe and the minimalism of the 1990s, the collection is infused with a feminine attitude, seamlessly blending traditional tailoring with softness and fluidity. Unlined and deconstructed suits, sartorial waistcoats worn sensually on naked skin, and classic trench coats in sheer fabrics and light-colored leather make a statement of refined elegance and understated luxury.
The TOD'S Spring Summer 2024 collection also includes fresh blousons in light cotton and soft nappa leather, alluring poplin T-shirts with kimono sleeves, seductive pleated patchwork skirts, and tactile, handcrafted crochet-effect knitwear in bright, contrasting colors. The palette is dominated by natural hues – écru, camel, tobacco, and scorched tones, set against vibrant touches of lime green, encapsulating the brand's signature aesthetic.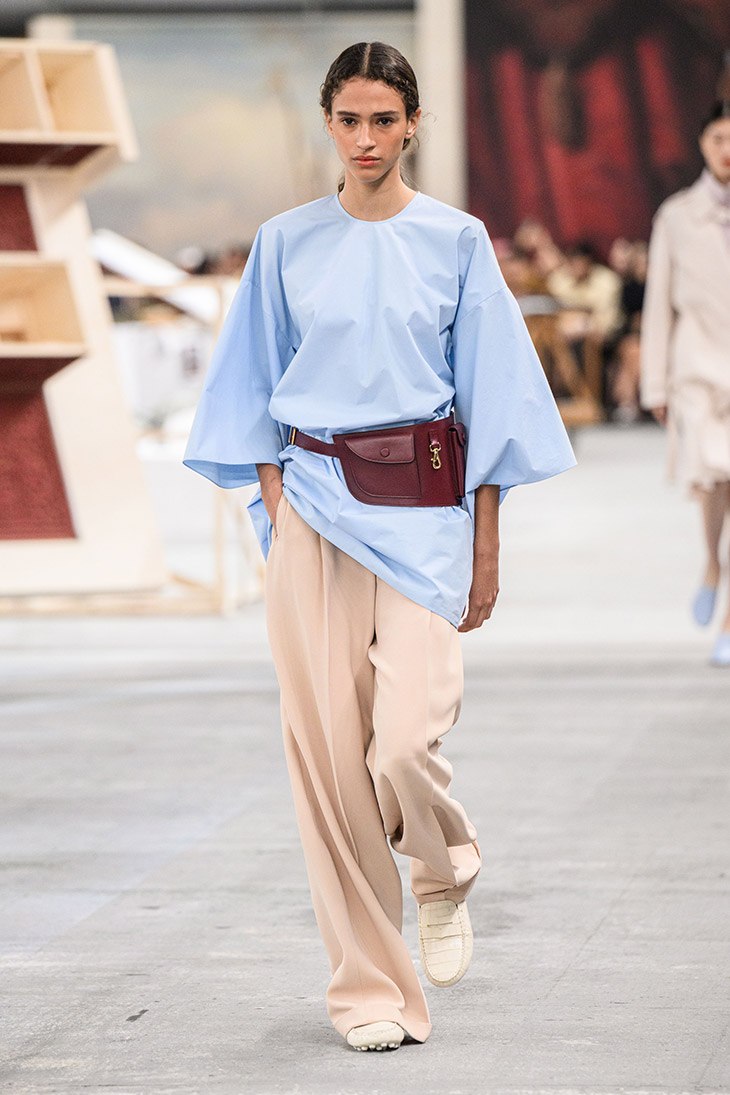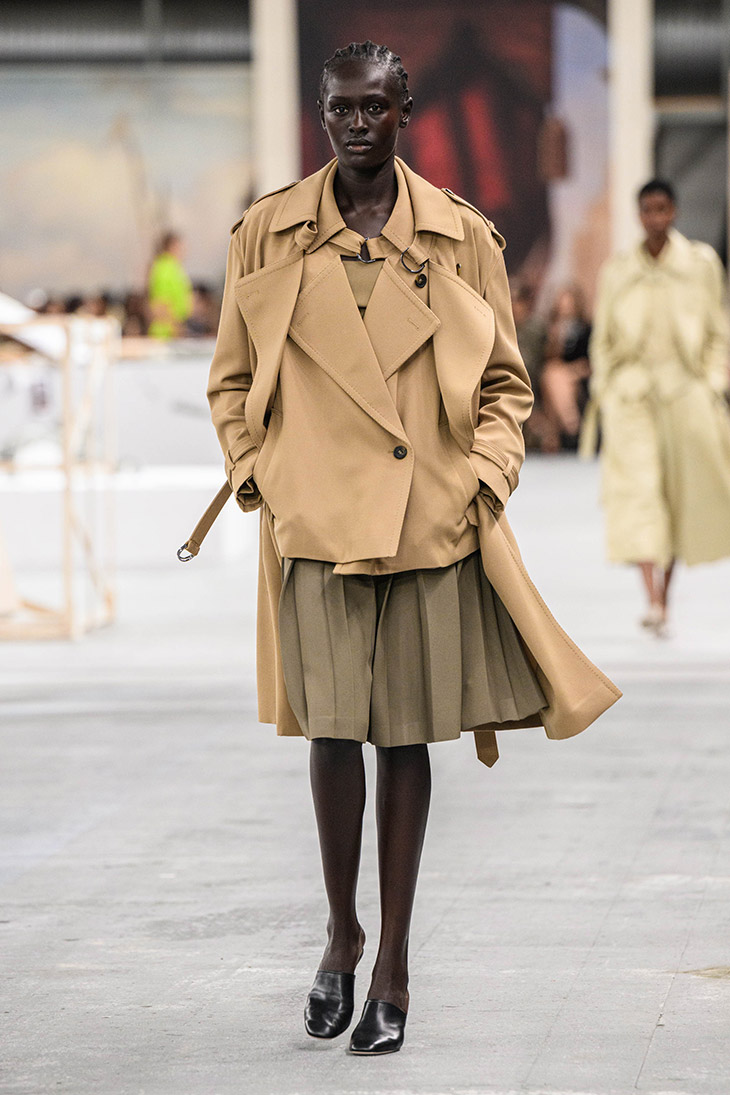 The bags, devoid of adornment, epitomize essential sophistication in their structural design, enhanced by the richness of the leather. The iconic seamless Di Bag, the embossed leather T Timeless bags, and the new polished leather Tod's T-Box bag with a metal T fastening, all accentuate the looks with their distinct elegance.
In footwear, Tod's continues to honor the richness of Italian craftsmanship. The traditional male moccasin is reimagined, giving center stage to the iconic Gommino in a bubble sole fine leather version, alongside ballerinas, mules, and the new woven sandal in soft colors, further enhancing the collection's appeal.