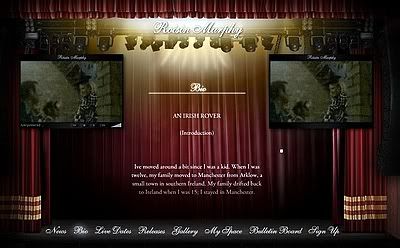 Artist: Róisín Murphy
Website: www.roisinmurphy.com
The official Róisín Murphy website is finally fully launched, designed as a special online theater, now it finally got all of its sections, be sure to read the biography sections written by Roisin herself. Snatch the free "Modern Timing" exclusive MP3 gift from Roisin herself, if you didn't already, and if you have it, I've heard there is that collabo of Róisín and Calvin Harris online, the track is called "Off and On" I am sure its not hard to find.
In other Róisín news , shes been in MTVs EMA pre-nomination category for best INTER ACT, pre-nomination voting is still on, you can vote by clicking
HERE
.