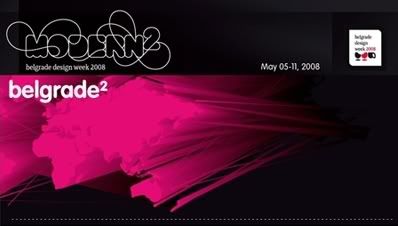 Event: Belgrade Design Week
Conference title: modern²
Country: Serbia
City: Belgrade [Beograd]
Website: www.belgradedesignweek.com
Past week, from May 8th to May 10th the globally sensational creative industry conference was held again in Belgrade. The most wanted in world branding, advertising, design, architecture, new media and business were there to show their own vision of modern living.
Some of the industry names present at the event were:
Defne Koz [Defne Koz Design Studio]
designed over 150 products for brands like Foscarini, Sharp, Pirelli, Slide, Capellini, Guzzini Nissan and more.
Shin Azumi [a Studio]
list of his clients has names such as Magis, Desalto Guzzini with lot more celebrated Japanese brands.
Michael Baulk [The Mill]
chairman of The Mill company, works on visual effect projects, with offices in London, New York and Los Angeles.
Alice Rawsthorn [Design Critic International Herald Tribune]
the author of column Object Lesson in weekly New York Times addition, member of the Arts Council England and Whitechapel Gallery board, design critic for International Herald Tribune. Alice was also director of London's Design museum, which gained popularity under her guide.
Miguel Fluxa [Camper]
the leader of a family company, who made Camper an international brand, Camper [Shoes] has 52 stores all over the world.
I have noticed that leading names in the world of architecture were not really present, last years we had people such as Zaha Hadid present on the side of architecture.