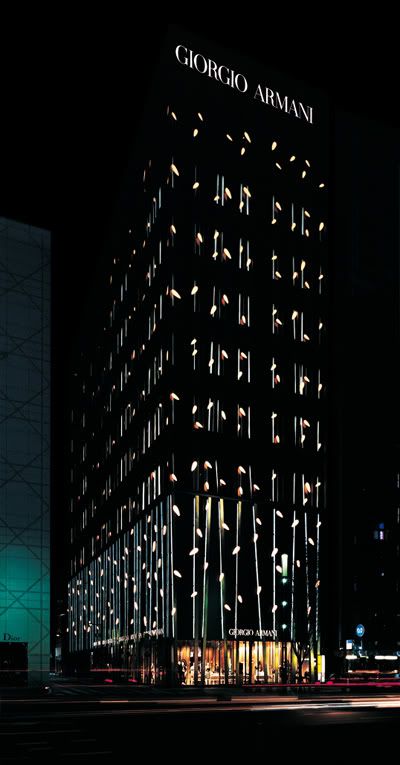 Architect:
Doriana e Massimiliano Fuksas
Programme:
Multibrand – GIORGIO ARMANI, EMPORIO ARMANI, ARMANI/RISTORANTE, ARMANI/PRIVE'
Construction year:
December 2005 – November 2007
Site:
Ginza, CHUO-KU TOKIO
Client:
Gruppo Giorgio Armani
Interior and Furniture Design Team:
Filippo Bich, Ana Gugic & Maria Lucrezia Rendace
Lighting design:
Speirs & Major Associates
For the Armani/Ginza Tower, it was considered essential to project not just his creativity as a designer but his special aura, recreating the atmosphere of the atelier of this Italian creative genius, as well as his aesthetic code and his personal image. How to translate these qualities into architecture? How to combine the concept of luxury with restrained elegance, the concept of absolute modernity with a lasting style… the Armani style?
It is in Tokyo that for the first time ever the entirety of his output is to be displayed within the same building. Tokyo, a city alive with continuous movement. The brightly lit buildings pulsate with the vibrant speed of the traffic all around them, creating through a ceaseless flux of brilliant images the expression of a metropolitan spirit. The irresistible appeal of the big oriental capital cities consists in the rapidity and speed of their endless transformations. These are cities that pulsate like living organisms, continually modified to adapt to the needs of new inhabitants. They represent the polar opposite to our own European cities, so dark, secret and suffocated by history. Read the rest
HERE
.
*Photo/Source credit: archdaily