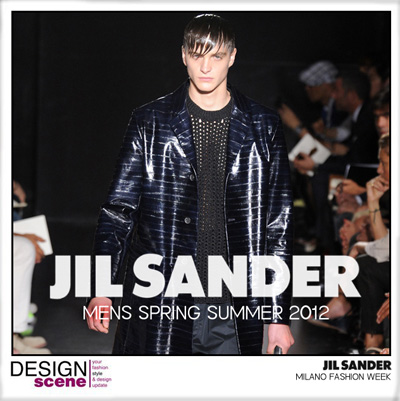 Collection: Jil Sander Menswear
Season: Spring Summer 2012
Designer: Raf Simons
Website: www.jilsander.com
The massive white invitation did not hint of what we were about to expect at the Jil Sander's Spring Summer 2012 men's show, but the dark toned showspace itself was more than a clue. After literally starting up the colour block menswear trend for the current season, Raf Simons surprises all with the domination of black colour in the new Jil Sander collection, a formula designers reserve usually for their winter lines. This welcomed element of surprise brought an additional note of elegance to the collection, the cuts are classic and often with a strong line of volume, sentiments of the 70's are combined with high waisted pants at the same time snakeskin and pvc/plastic materials are creating unique runway looks.
Nowadays when runway images are online literally minutes after the show, the styling department opts to show as more as possible so in a sense this might explain the peculiar way of carrying the gadget ready accessory. The Generation of Today as a Generation of All Times – the impeccable theme sentence could not bypass something as an iPad case design (already a coveted list item), but at the same time the accessory is the one actually carrying the bright colouring.
View more than thirty runway looks after the jump:
Click on the thumbs above to enlarge.
*Images courtesy of Jil Sander