Dressing well is what everyone would love to do. In fact, website Makeup and Beauty points out that almost all of us will dress our best and take the time to look into a mirror before leaving our homes but teen fashion is something else altogether. Not only is it a completely different arena of fashion, but it is cutting-edge and quite distinctively different. If you have a teen daughter or if you can remotely remember your own teen years, this should not be a surprise to you, according to Travel India Smart.
Dressing for school usually involved hauling out everything in your closet and then wailing that you had nothing to wear, even when the room was swamped with clothes. Times have not changed. Teenagers are stubborn, individual, and creative, and they want to develop their own personality and dressing style. For most teenagers in India, starting college is a traumatic time in which they are now completely independent. Up until the 10th standard, most schools enforce uniform clothing but college or 11th standard is where uniform clothing is not required. This means that teenagers have to dress to impress and fit in with their peers to form the right social standing in college. Cities like Mumbai and Delhi, in particular, have their own unique college fashion styles that are not found anywhere else. A single misstep could result in the teen being the laughingstock of the entire college, but a trendy cutting-edge outfit could make their reputation for a lifetime. If you are a fashion and budget challenged teen who is getting ready to start college, don't worry. Here is what you have to do.
Prowl Look Books
This is one of the simplest ways to get clued in to the latest fashions. Large online retailers like Flipkart usually have style guides, personal dressing tips, and suggestions on every page of the website. For example, when you click on a dress, the website will scroll matching shoes, earrings, handbags and necklaces at the bottom of the page. You can follow the tips on mix and match items with what you already have. Remember that look and suggestions are usually based on the latest catwalk trends but they are simplified for daily wear. You won't go wrong with these tips.
Buy Classics
Trends are cyclical but classics like blue and black jeans, neutral, black and white blazers, white shirts and blouses, well-fitting trousers, the classic pencil skirt, etc. are all must-haves for any wardrobe. Even if you do like seasonal trends, make sure you have a ready supply of the classics in your wardrobe to mix and match. For example, uneven hemlines and sleeveless tunics are currently in and they are meant to be worn with leggings or opaque tights. However, combining the same tunic with a classic blazer and matching scarves can create a unique look all your own. Not only are you comfortable but you are trendy as well.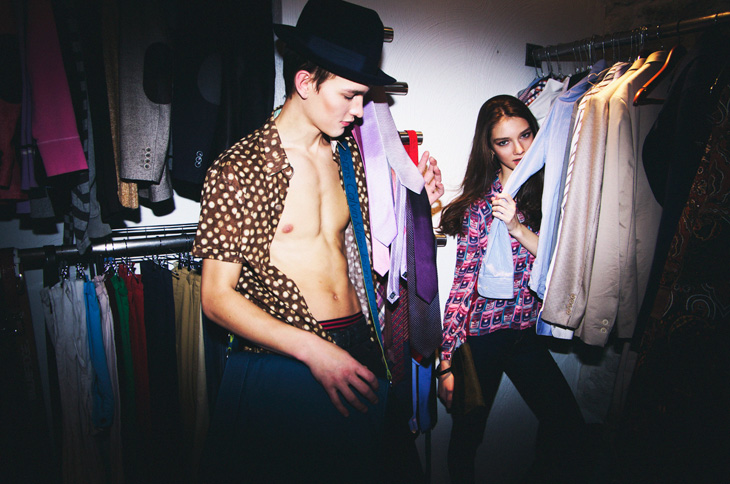 Accessories and Makeup
Just about all fashion websites have their own accessory and makeup sections and you can happily take a look online. Most websites also have a male and female accessory and beauty product section that lists grooming products, electrical appliances and beauty products. Seasonal sales are held two or three times a year to clear out old stock and you will easily, get great deals on lipsticks, hair color, nail products, deodorants and perfumes.
Save Money but Shop Till You Drop
Buying a brand new wardrobe is a large expense and most teenagers usually keep adding to their wardrobe to match trends, moods and styles, according to Shout Me Loud. This can be expensive for everyone. However, you can save money as all it takes is a little savvy shopping. Online shopping is usually cheaper and you can easily combine specific coupons to get good deals. It's a good idea to register with online forums, social media platforms, retailer newsletters, etc. to get a complete list of coupons. For example, if you like Flipkart, all you have to do is trawl online for the most commonly used coupons and then create your own list of flipkart coupons available.
These few tips should make you the belle or stud of your college but website Rupeebot urges you to remember one thing: Fashion is cyclical and individual. Do not be afraid to repurpose items from any source, but wear them with confidence. The latest trends are available online and with these tips you should be able to get them at a discount. However, if you are personally not comfortable with design and pattern, do not buy the outfit. It's a far better idea to invest in simple but affordable classics and wear them with style. Not only will this save you money in the long run, (classic jeans, white blouses, leggings and T's are always affordable), but it will also ensure that you do not make a costly fashion mistake in your first year of adult life.
Photo by Benuchi Photography for Design Scene