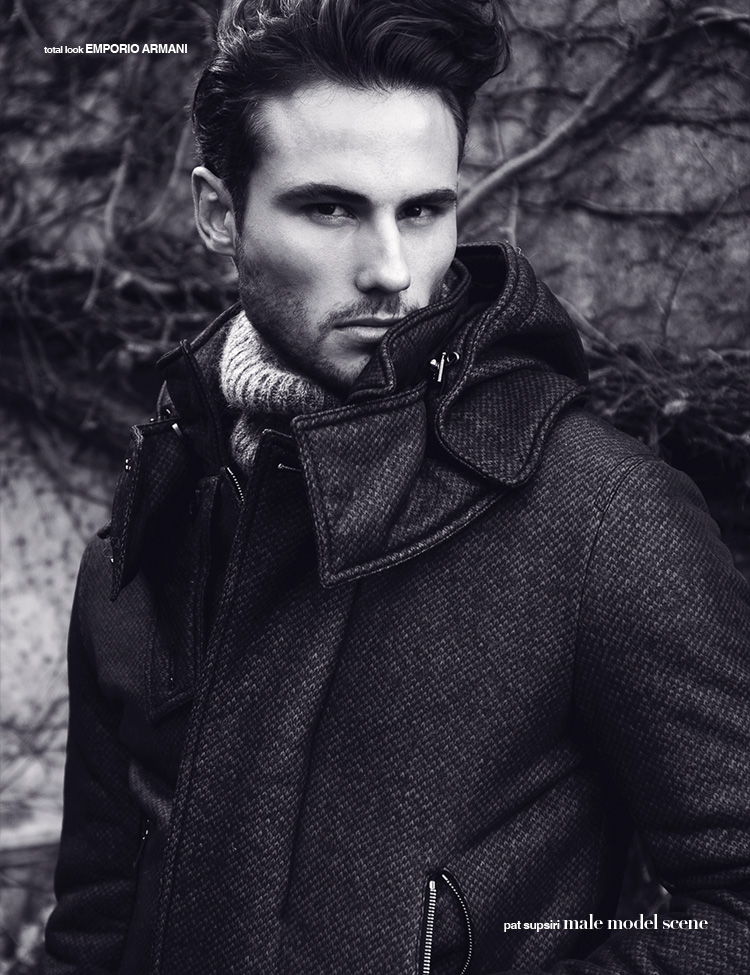 If you're feeling a little bit lost as to where to begin for your fall shopping, try starting out with the essentials that you'll be wearing on a consistent basis. For the fall, that means your medium-weight coats. Layering with sweaters and jackets is a great way to develop your own look and stay warm as the weather starts to cool off. However, you probably won't find a single jacket that will be suitable for every occasion during the fall season. Here's a guide to navigate the world of fashionable men's jackets so you can get some ideas for the right jacket for every situation.
Photo Pat Supsiri for Male Model Scene

Casual Jackets for the Daytime
• The Denim Jacket: One of the styles that has seen a recent resurgence in popularity is the denim jacket. These come in a pretty wide variety of weights so the one you want is going to depend on the climate in your city. If you live in an area with relatively mild fall weather, a lighter denim jacket that is closer to the weight of a button down shirt will be a good fit. Typically, you will want a lighter wash jacket in blue, grey, or black, but steer clear of acid wash unless you want to look like you just stumbled out of a White Snake video. Your denim jacket is going to pair well with a pair of chinos in brown or khaki. You can wear the jacket with a pair of jeans as long as the jeans are not in the same color family as the jacket.
• Vests: Although not technically a jacket, vests are a good way to layer your fall look without being too warm. For those transitional seasons, a quilted vest in a dark color like olive green or navy blue is a great wardrobe staple to pair with a button down and jeans.
Professional Attire
• Blazers and Sport Coats: For the working man, sometimes finding fashionable attire that meets the standards of your office's dress code can be difficult, but worry not, there are plenty of jackets that match the criteria of both fashionable and professional. For a blazer that you can easily dress up for the office but also wear out to dinner with a pair of dark jeans, try the Aviator Jacket from designer, VK Nagrani. The lightweight jacket will pair perfectly with either a button down or a dark tee shirt if the collar is popped. For a fully Nagrani look, pair it with their popular Captain's shirt. As Keith Carlisle of Stanley Korshak observes, "We love showing and selling the Captain's shirt. Any color, doesn't matter. They are soft, comfortable and tailored to have that trim but not TOO trim fit. Most clients buy all colors after trying one. Personal preference is the long sleeve, but the short sleeves are an easy sell in the summer. We never have to take a markdown on these either. They are good sellers all year." Nothing beats a shirt that looks and feels great to compliment your blazer.
Formal Occasions
• Topcoats and Pea Coats:For more formal evening occasions, you'll probably need a topcoat when you go outside. These are generally flattering in black or dark grey and shouldn't extend past your fingertips when your arms are at your sides. Any longer and you'll start to look like you're in the Matrix. You can find a great pea coat for these types of occasions with the Liverpool coat from VK Nagrani.
• Trenches:For the daytime when you want to have a slightly more polished look, go for a trench coat in grey or khaki. Similar to the pea coats, a shorter cut is going to look more contemporary and flattering. A trench coat is also going to be your best option if you run into thunder showers or otherwise inclement weather. These coats are fairly versatile and can be worn with any number of styles.
Going out on the Town
• The Biker Jacket:One of the perennial favorites for men who want to go out on the town is the leather jacket. This classic style is always going to give off tones of the retro rebel look, but can be dressed up for different occasions depending on what else you decide to wear it with. If you're going out to bars, a leather jacket in a motorcycle cut with an asymmetrical zipper will look great over a tee shirt or a waffle print Henley for that slightly grungy look.
• The Bomber Jacket:If you're looking for a more polished look but still have an interest in sporting the leather jacket, go for a style with cleaner lines, a vertical zipper and fewer pockets. A crew necked jacket or a short mandarin collar will pair well with a button down shirt and can work with either jeans or a pair of chinos. If you're still looking for more of a substantial collar for your jacket, try a bomber jacket look with a shearling collar that provides added warmth and style. A bomber jacket is slightly more difficult to pull off, so only go with this look if you think you have the matching clothes to go with it.
So now you have a few ideas of the best fall jackets to get you started. Finding a fashionable jacket will be easy now that you know the styles to start looking for and some brands like VK Nagrani to find them. Find more menswear stories on Design Scene.