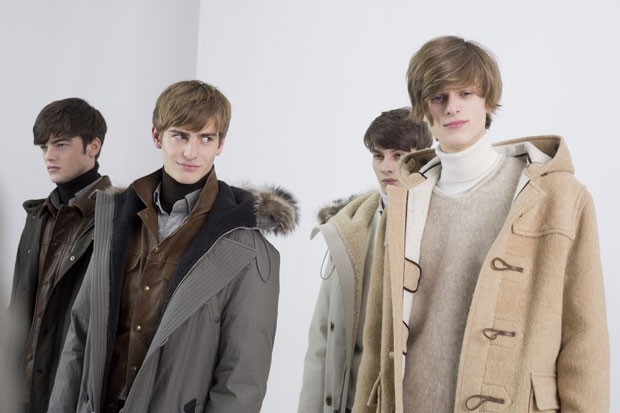 D'SCENE'S Fashion Editor CHRISTOPHER MAUL reports from LC:M. The menswear market is booming. London is no exception – London Collections: Men (LC:M) returned for its third year with its first four day schedule. Once the awkward little brother of the 'Queen Bee' at school, LC:M has come a long way since it was the halfhearted extra at London Fashion Week. The showcase has grown up and is now penned into the calendars of the fashion elite.
The D'SCENE team had a busy week. Most shows were held in Victoria House or the Old Sorting Office in Holborn, but some shows tempted journalists further afield. Burberry Prorsum returned to its residence at Kensington Gardens whereas Tom Ford personally welcomed his guests near Victoria.
Missed the shows? Don't panic, this trend report should fill you in.

THE FLASHBACK
The clothes were dated. This isn't a bad thing – the 60s and 70s were plundered for all they're worth this LC:M. Picture shearling jackets, mod style suits and denim for days. The skinted among us can raid parent's attics, hit thrift stores or pray the high street will answer our prayers. For the minted, J.W. Anderson, Margaret Howell and James Long encapsulated the spirit of these decades with ease.
Tom Ford was no exception. During one of his biannual presentations, guests were brought back to the 60s. Last season Tom Ford's aesthetic made a u-turn from sharp tailoring to down-time dressing with double-denim ensembles for women and a range of high-end sneakers for men. This collection saw him return to his synonymous style. Suiting was boxier and slimmer, inline with the 60s vibe, but the highlight was the evening wear, complete with optical illusion designs. Worthy of a presentation of their own, the monochrome smoking jackets were the lovechild of The Who and 007.
This presentation was like no other and Mr Ford addressed this upfront. "Every season we've tried to keep the presentation secret and every year photos end up leaking out of it," said Ford. "So we gave up and designed a studio for you!" With the photo ban lifted, a curved white walled studio with  two giant lights waited ready and eager for guests. Absolute genius. A social media dream – Instagram was packed with photos of press release quality. Filters not needed.
Shearling is back. Perfect for the laid-back lad, sheepskins are the wardrobe staple for AW15. For effortless cool, look no further than Coach. This year the American brand presented its first menswear range at LC:M – outerwear jackets suited every taste in earthy greens, sandstone and camel. Topman Design was another close contender for the retro crown.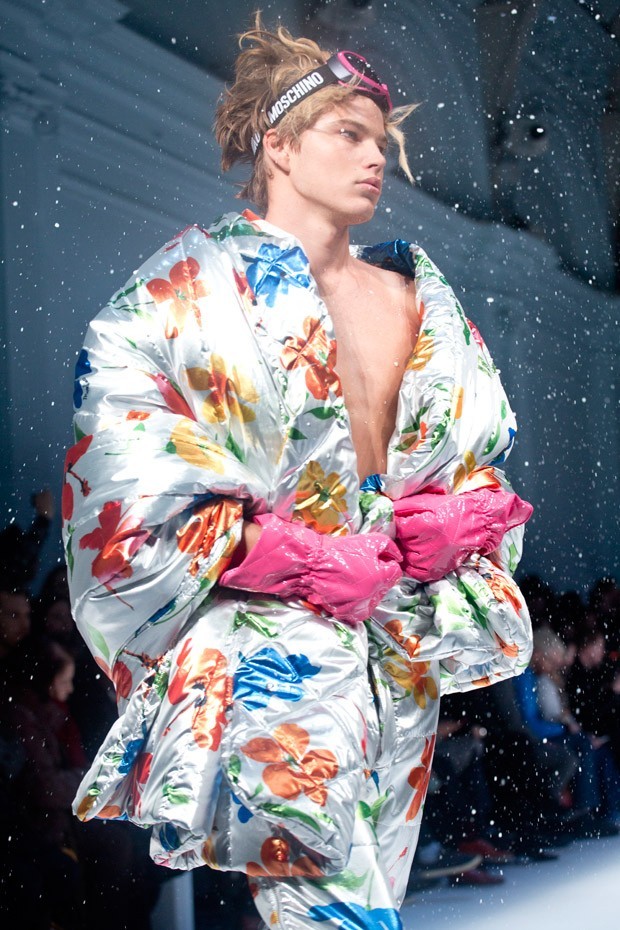 THE MILITARY MOB
The onsie has had a shake-up. After an MOT, it's appearance is closer to military garb than loungewear for the lazy. A surprising trend for men, the jumpsuit is officially a menswear item and it's here to stay.
It was a winter wonderland at Moschino. Amidst a snow-covered forest, supermodel Jourdan Dunn took to the runway in a punchy collection. The show was an ode to denim – slapdash prints made from mismatch jeans were the highpoint and double denim get-ups rocked. Sheer, floral jumpsuits were ice-cool – models were powerful, virile men thanks to barely-there pants teamed with large, strapping ski gloves. The setting was freezing but it was still hot under the collar.
The army vibe was stronger at KTZ. Models resembled soldiers in arctic combat – jumpsuits were  white with thick, black strap detailing and industrial sized buckles meant business. Top hats were a kooky juxtaposition when paired with heavy biker boots, but for some reason it worked. Belstaff was on a similar wavelength but the brown leather all-in-ones looked more befitting of pilots.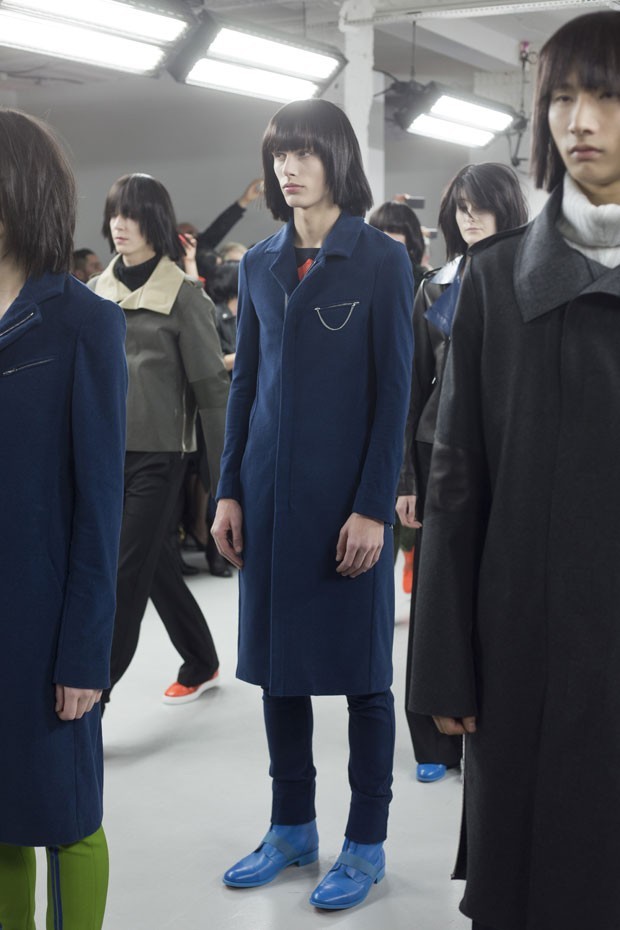 THE WHITE STUFF
If it ain't broke, don't fix it. All white is the recurring classic that just won't quit.
"I love it when you're angry with me. You're so fucking boring when you're not," screams a member from the band Slaves. The rock 'n' roll music mirrored a collection that was loud and proud at the Todd Lynn presentation. Models had striking mullets and walked with conviction in their Christian Louboutin boots, which were stripped of their eyelets and laces in place for elastic fastenings.Though a striking lineup, it was the white ensembles with chunky, fitted knits that stole the show. "For this collection, I really started with the clothes. It's not overly concept-ed or titled," Lynn said. "It's just part of a development process. I was thinking about my customer and how clothes impact their lives. Recently, I've been working on a lot of reversible elements and transformation, making the clothes work in different ways and being able to be styled differently."
Models were ghoulish at Cottweiler. The men donned streaky white face paints and silver accented garments gave a futuristic feel. Plain white puffa-jackets and high top sneakers were on the mark and could easily sit in the average man's closet.
Other designers who were all white on the night were Lee Roach, Xander Zhou and Craig Green.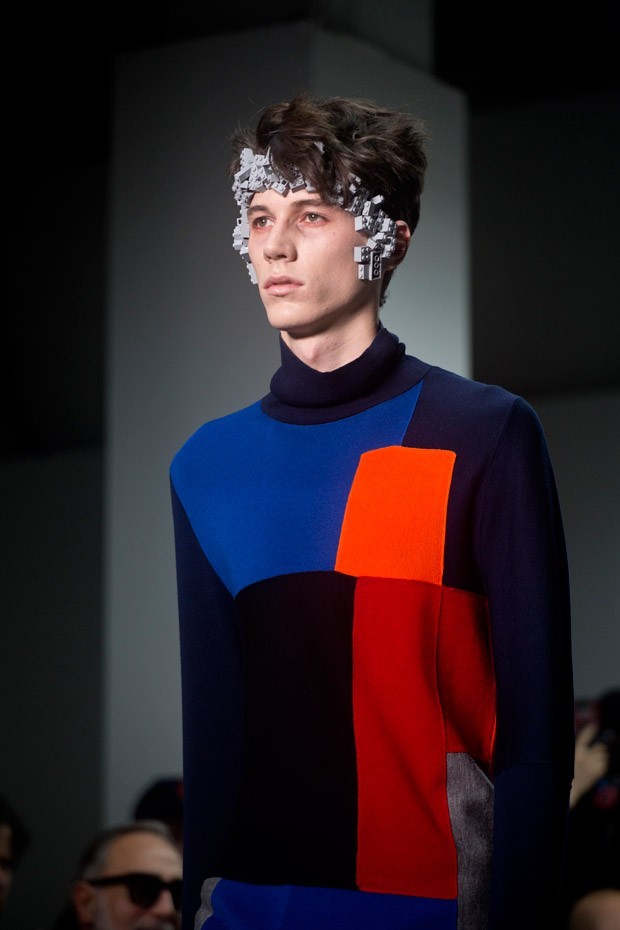 THE DEATH OF THE DRAINPIPES
Is this the death of skinnies? The 60s takeover goes one step further with trousers – oversized pants, even flares, were a runway favourite. This doesn't concern psychedelic flares wide enough to hide your platforms, rather trousers that subtly nod towards the era. Better late than never. This style of trouser is more forgiving than its tighter relative.
Newcomer to the scene, Rory Parnell-Mooney stepped in to replace Bobby Abley in the MAN lineup. The recent graduate from the MA Fashion course at Central Saint Martins sought inspiration from monks' robes for his collection and the sombre colour palette reflected this. Trousers were cut abnormally large and silhouettes were startling. Let's hope started his career as he means to go on.
It was a shark's tale at Christopher Raeburn. His navy trousers, crafted using British Millerain waxed cottons and Hainsworth wools, were wide-legged. Hold your guns – it's what he teamed with these that kept things interesting. Inflatable coats and jackets, remade from emergency rafts, were the standout pieces alongside shark motif knits. Though the coat isn't to be used as a life jacket in troubled waters, at least you'd go down in style.
Not to be outdone, Agi & Sam kept things playful. Sticking to their oversized trademark, the duo experimented with patchwork panels attached with Velcro. The collection was nostalgic – the starting point was the drawings of the four year old Agi. Further childlike wonder was evident with the use of charming Lego face masks.
Astrid Andersen and E. Tautz also adopted the 'bigger is better' approach. The former offered a street-wear take on this trend whilst E. Tautz showed a spruce selection of voluminous alternatives in ash, charcoal and black.
THE BARBIE BOYS
It's not just for girls. This season boys are venturing into uncharted territory – men are embracing pink. It's not for the faint hearted. Not just a flirt with a salmon shirt, we're talking full frontal snogging with all things fluorescent. It's time to ditch that patterned tie. To turn heads in the office this AW15 you'll have to try much harder.
Don't fret, it's ok to think pink. AW15 welcomes the colour's image overhaul and it's never looked so mannish. A colour once reserved for Barbies and airhead heiresses, pink is being snatched back by the gents. Fashion was one step behind – the sports world already recognised the shade's rugged potential. The Cardiff Blue's rugby team, among others, adopted the colour for their away kit, yet they don't resemble fairies whilst on the pitch. I wouldn't disagree with them. Would you?
For the bold, Casely-Hayford and Sibling are your port of call. The former's show, inspired by outsiders and tearaways, offered a smart take on the trend. A print made of brush strokes of silver, black and red dispersed the pink onslaught and painted over any misconceptions of femininity. Later there was little holding back – highlighter-pink coats and fuchsia trousers were a welcome shock to the system.
Sibling embodied this colour the most at LC:M. The collection's monotone palette was referential to Sibling's first collection and celebrated how far they've come; an achievement marked by an appearance in the Fashion in Motion series at the Victoria and Albert Museum this year. Models wore head-to-toe pink but it didn't stop at the clothes – bubblegum hair and giant teddybears created a punk rocker meets Disney hero aesthetic that was fresh and on-point.
"Hell yes! I mean they don't have to wear it head to toe," says Cozette McCreery of Sibling. "Let's be honest, that full look was just for the catwalk where you have approximately six minutes to make an impact in an already banging LC:M schedule. Men can easily wear pink socks or a scarf if they can't imagine themselves in a pink sweater. How hot do guys look in say a pink T-shirt in the summer? And many men wear chinos or bermudas in pinks. Sibling aren't reinventing the wheel here." This is true, but Sibling set a bench mark for others to follow in Victoria House.
Cozette has a point. Perhaps less is more. Men can still earn brownie points this season without committing fully to the cause. When used sparingly, there's always a time and place. Burberry Prorsum nearly broke the internet with its live stream of the show this year and rightfully so – pink accessories were a highlight and can be used to liven up an everyday look. Another labels who offered toned down alternatives include Tiger of Sweden, Dunhill and Lou Dalton.