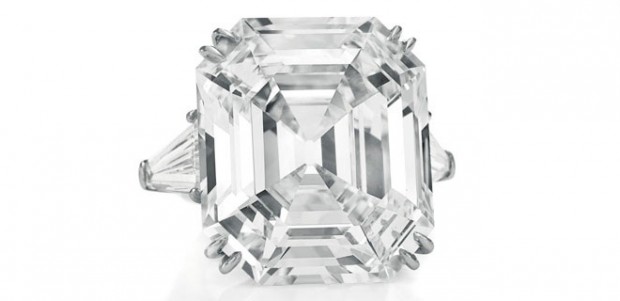 From Audrey Hepburn's stackable set to Kate Middleton's famous blue sapphire, there are a number of iconic engagement rings that have influenced future designs. Here's a look back at some of the most memorable and highly covetable rings, inspiring countless knockoffs.

Elizabeth Taylor
Liz Taylor is a master of engagement rings, having been married eight times to seven different men. Perhaps her most famous look was the massive oversized diamond ring she received from Richard Burton, husband number six. Its sheer size is part of what makes it so memorable, a testament to their highly publicized romance.
Image Source photo above: Christies
Kate Middleton/Lady Diana
One of the most iconic rings in recent memory features an oversized oval blue sapphire surrounded by 14 sparkling diamonds. First worn by Lady Diana Spencer in 1981 for her engagement to Prince Charles, the ring was then given to Kate Middleton for their more recent engagement. The diamonds are set in 18 carat white gold, with a 12 carat Ceylon sapphire as the centrepiece. This highly covetable style has inspired a number of engagement ring designs, and you'll find dazzling blue sapphire rings on sites like Vashi if you want the same look as the Duchess of Cambridge.
Image Source : Minerva97/Wikimedia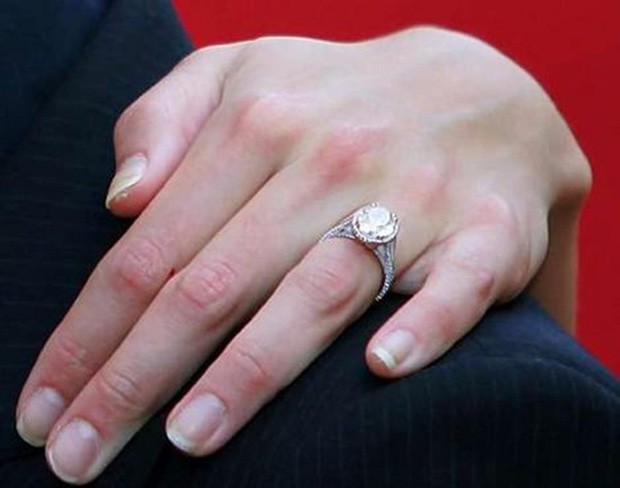 Katie Holmes
Rose gold has long been a vintage favourite, but its recent resurgence can perhaps be retraced to the gorgeous engagement ring that Katie Holmes received from Tom Cruise during their whirlwind romance. He presented it to her during a proposal at the top of the Eiffel Tower, with the ring's design as classic and romantic as the location. Although their marriage hasn't lasted, the vintage look of rose gold is still hot.
Image Source : Pinterest
Jacqueline Kennedy
Any list involving iconic fashion would have to include Jackie O. Her engagement ring from John F. Kennedy is just as stylish as the rest of her wardrobe, with a stunning mix of emeralds and 2.88 carats of diamonds.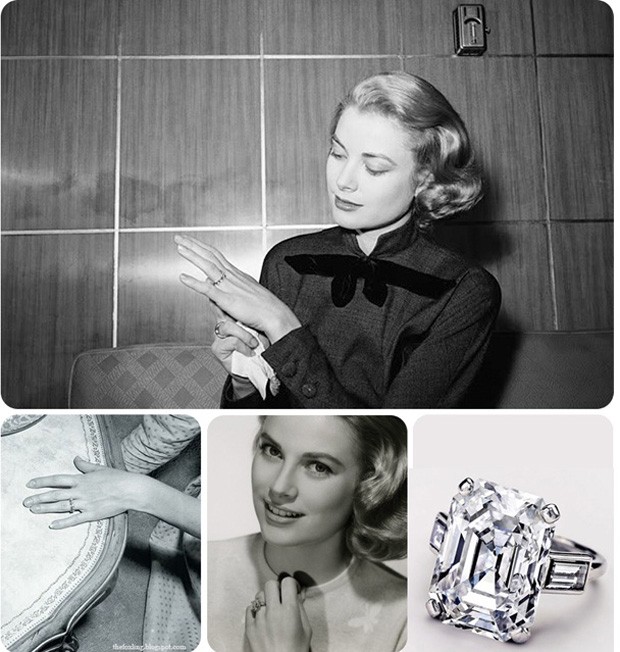 Grace Kelly
Although Prince Rainier III of Monaco first proposed to Grace Kelly with a Cartier ruby and diamond ring that was none too shabby, he decided to upgrade when he saw the giant rocks that other Hollywood starlets were sporting. The second design is the one that's most remembered today. Also from Cartier, it featured a large emerald-cut diamond to rival any other leading lady's.
Image Source: Laura Loveday/Flickr
Catherine Zeta-Jones
For decadent antique glamour, Catherine Zeta-Jones' engagement ring is often mentioned as an example of an iconic piece of jewellery. This 10 carat antique marquise diamond ring is estimated to be worth a cool $2 million, given to the actress and singer by Michael Douglas.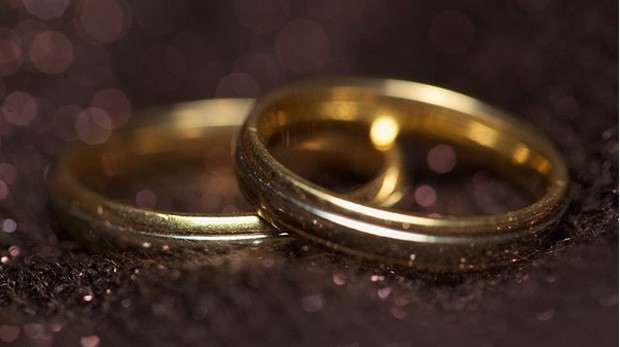 Audrey Hepburn
Another fashion icon in her own right, Audrey Hepburn was one of the first to wear a stackable ring set. Mel Ferrer gave her this engagement ring in 1954, which included two wedding bands that can be mixed and matched for different outfits or moods. One band was rose gold, and the other was platinum. Stackable rings remain a best seller for both engagement purposes and day-to-day accessories.
Image Source: Ernst Vikne/Wikimedia Commons