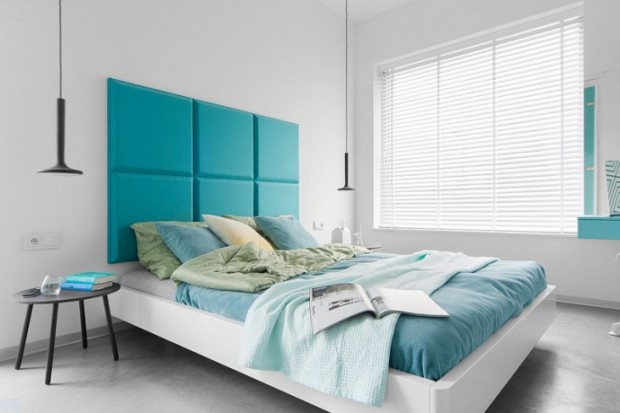 ©Widawscy Studio Architektury
If you prefer a modern design when it comes to your home, creating the right bedroom space can be really important. Certainly, when you have guests to visit, they may not always get to see your bedroom, but it is a place where you spend a lot of your time, so you definitely want it to reflect your own style! If you like a slick, modern look, then here are some tips to help you achieve it:
Minimalism Through Storage
One of the things that really gels with modern interior design is clean, minimal design. If you like this particular look, then it is just a case of translating it to real life, where you probably have a lot of clothes, accessories and other general stuff you would ideally want to keep in your bedroom. That clean, slick, futuristic look can be hard to achieve when you own lots of things, so look for ways you can hide your storage. Fitted, mirrored wardrobes are great because they allow you to use a plain, but dimension-improving wall to conceal a lot of your bits and pieces. Also, consider a bed that you can store stuff in. With quality furniture such as these you can adopt a minimalist look while still giving a home to all your important clothes!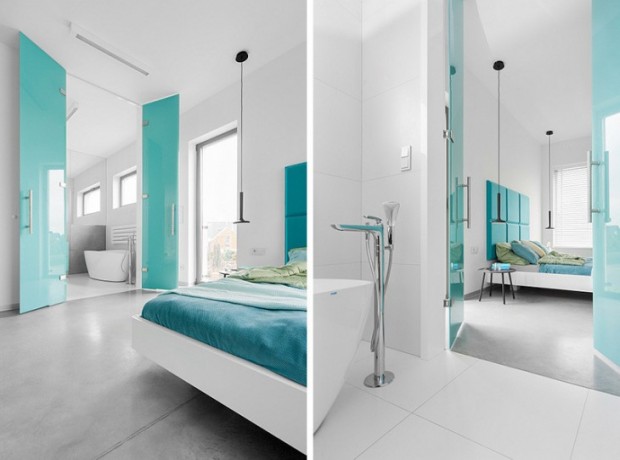 ©Widawscy Studio Architektury
Colour Accents
If you love the idea of some colour in your bedroom, it can perhaps seem like a big commitment to actually opt for coloured walls. This can be why coloured accent pieces can help you get the modern, cool look you want, but with that temporary feel that is so practical. Use lamps, rugs and decorative things like art, frames, and bed linen to create coloured effects without changing from a neutral wall and ceiling colour. This is a tip that works well for rented as well as owned properties – you may not actually be allowed to change interior colours but you can still surround yourself with modern, hip colours!
©Widawscy Studio Architektury
Lighting!
When you are sleeping, you want your room to be as dark as possible, so blackout curtains or blinds are a very good idea. However, you may sometimes want to transform your room or have good, natural looking light to get dressed with! Look for ways you can change the lighting in your bedroom very easily, like having shutters or blinds you can quickly deploy, but also good daylight coloured LED light bulbs that will help you get ready with confidence. Lamps, spotlights and downlights are all options, but work with the natural light that you have available for your room too!
Contemporary looking bedrooms are not difficult to achieve – it is very much about a balance between the styles you like and the practicality of having a place that is set up for sleep, and for keeping a lot of your things. Choose furniture with hidden storage, apply colour with accessories, and think about your lighting effects, and you can soon create the room of your dreams!
All images from House in Gliwice by ©Widawscy Studio Architektury