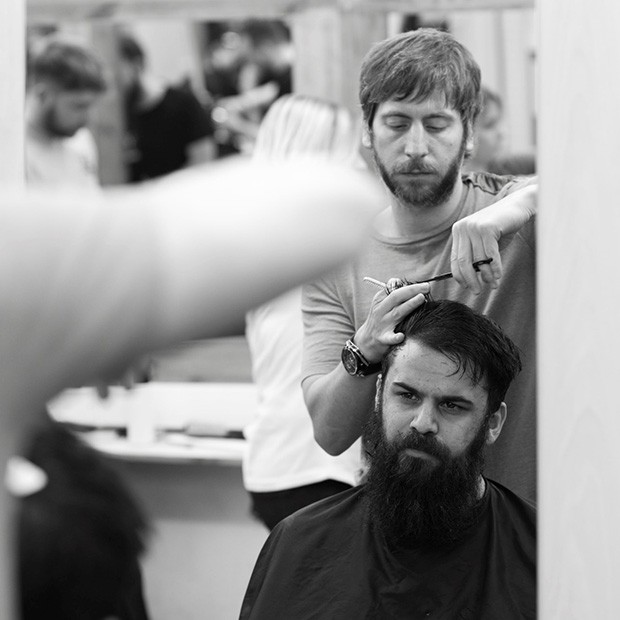 Design SCENE sat down with Michael Kontos, head of the London School of Barbering, to talk about the art of barbering and its relationship with today's fashion world. From beards to blunt cuts, men's hairstyle trends both influence and are influenced by what's happening on the runway.
It takes a full entourage of professionals to bring a menswear designer's vision to life, and hair stylists form an important piece of this puzzle. International fashion weeks showcase the men's hairstyles that will be seen on the high street along with the latest looks. We asked Kontos about the intersection of barbering and modern men's fashion to get a barber's view of the industry.
Read more after the jump: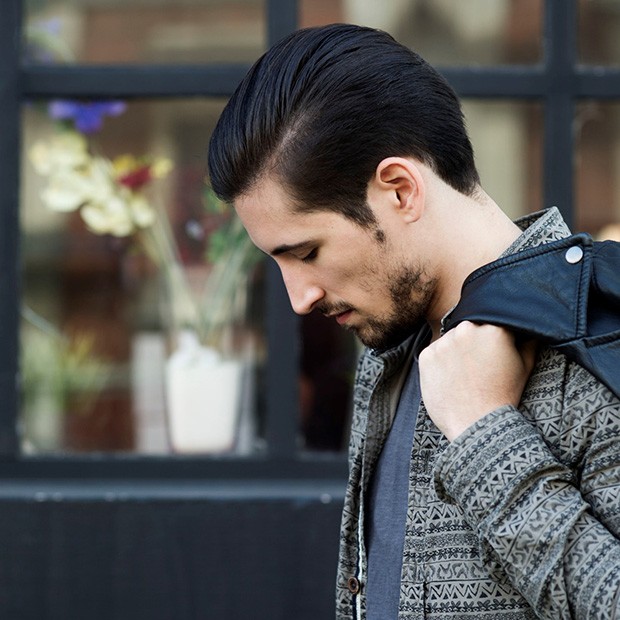 What role does hair styling play in menswear, in your opinion?
Kontos: In high fashion, it's the small details that really tie a vision together. The details are what make a designer's creativity stand out from the competition. Styling models in a uniform way ties a line together, particularly in a theatrical environment like fashion week or in photography. And it's the techniques and artistic tradition of barbering that helps bring these hairstyles to life for fashion designers to play around with.
Look at the average gent on the street of London today and there's a good chance his hairstyle will have graced the recent runways. The London Collections: Men SS16 showcase offered a treasure trove of stylish looks that have bled over into editorials and street style alike. The wet look was big in these collections, including the sleek side parts at Matthew Miller and the severe slicked-back looks at Bobby Abley. The quiff is a perennially popular 1950s-inspired look that was also all over London Fashion Week, at shows like Burberry Prorsum and Belstaff. Its modern interpretation is more textural in nature, softer than its classic incarnation.
Facial hair in particular has been en vogue for season after season. Many of today's top male models sport a full beard, which would have been unheard of even 10 years ago. Ricki Hall, Billy Huxley, Luke Ditella, and Levi Stocke are just a few big names with big beards. There's certainly a masculine vibe to these brawny models, which stands in contrast to the boyish or androgynous male models that dominated editorials a few years ago.
Just when we think we've achieved peak beard, facial hair continues to hold onto its trendy position. Do you think that the resurgence of the barber shop has something to do with this?
Kontos: While other brick and mortar businesses have been replaced slowly by online shops and ecommerce, barber shops are big business. I'd say that having trendy barber shops within easy reach in most towns has helped spark the demand for well-tended beards, yes, but it's also the popularity of vintage styles in general. Bearded or not, men are going for retro, neatly trimmed cuts that require regular visits to the barber. And in the process, they may be willing to experiment more or take on new grooming suggestions.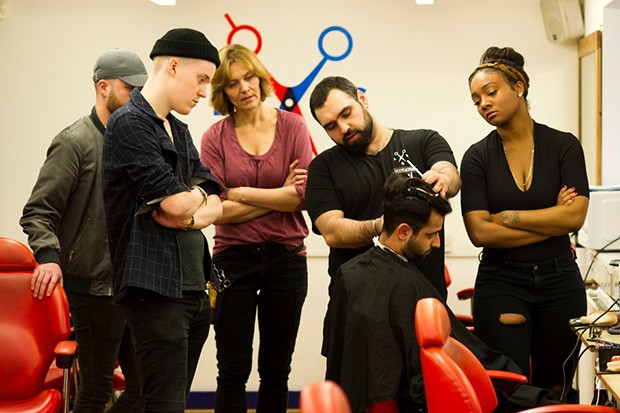 When you conceptualize new styles, do you immediately turn to vintage looks as a jumping-off point?
Kontos: Just as with any creative endeavour, it's natural to derive inspiration from past looks. But it's also important as a barber to put your own twist on them, like an artistic signature. This is particularly important when designing styles for an editorial photo shoot or runway show, where you have the freedom to be a bit more avant-garde and work as part of a team of creative professionals. Stylists can bounce ideas off of one another which sparks innovation.
Beyond the fashion world, how has the rise of the barber shop had an impact on street style?
Kontos: We see the barber shop serve a unique function in that it's not only the place to upgrade your style, but it's also a social outlet for many men. Clients come back for the camaraderie of the experience, which is akin almost to an old-fashioned pub. You'll see this reflected in modern barber shops that offer a beer along with a beard trim, to enhance that social, relaxing experience. With so many new barbers coming onto the scene particularly in cities like London, more inventive looks are offered along with the traditional straight back and sides. You can see vintage trends like the slick-back in everyday street style, not just in high fashion models.
Whether it's in the latest crop of it-boy bearded models following in Ricki Hall's footsteps or the retro hairstyles utilized in fashion week, the influence of the barber shop can be seen in high fashion. With or without facial hair, men's styling draws from numerous influences and it's the knowledgeable, artistic eye of experts like Kontos who help dream up new twists on old favourites.
All photos taken for the London School of Barbering by photographer Ilaria Morelli.