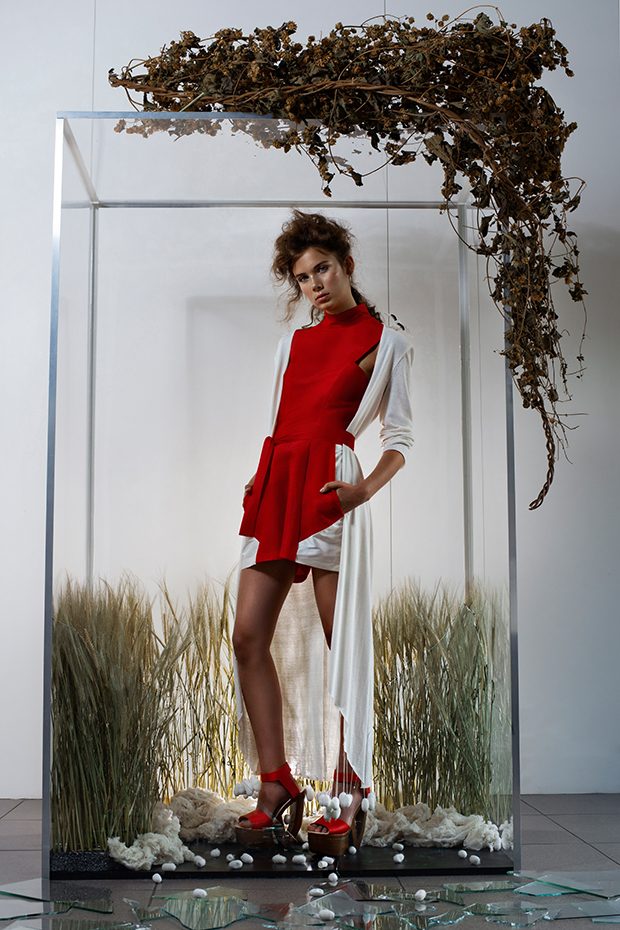 Our Fashion Features Editor KATARINA DJORIC sit down for an exclusive DESIGN SCENE STYLE stories interview with the promising Dutch Fashion Designer JUDITH VAN VLIET. Judith's innovative vision is already making a spot for her on the fashion scene, her latest collection is also featured in the RAW MATERIALS fashion shoot. 
RELATED: FIND MORE INSPIRING INTERVIEWS ON DESIGN SCENE
Fod DESIGN SCENE STYLE pages Katarina talks with Judith bout her beginnings, design process, inspiration and latest collection.
Read our exclusive interview and don't miss the exclusive look of the shoot after the jump:
 What sparked your interest in fashion?
Since I was little, fashion and clothes always fascinated me. It gives a person an extra dimension. But most of all, haute couture and conceptual fashion attracted me the most: it makes clothes even more than fashion, it makes fashion a form of art.
What was the first piece of clothing you ever worked on?
The first pieces of clothing I've ever made where clothes for my barbies! Always liked to style them. Later on I was more of a drawer and it took some time before I really started to make clothes. I made my very first outfit for myself when I was 17: a balloon skirt with a top and belt, it looked quite adorable.
Are you self taught or did you study fashion design?
I studied fashion design at the School of Arts Utrecht, The Netherlands. I graduated in 2012 and learned a lot during my study about conceptual thinking, thinking outside the box and that fashion can be everything. Of course I also learned the important basics like tailoring skills. The school really helped me to explore my creativity.
How has your work evolved since you began your own label?
My work evolved definitely since I started it two years ago. I have been exploring my role as a fashion designer, where I stand for and what I want to achieve. I did not only grow in my process of what I want as designer but also in what my target audience is and wants.
How would you describe your design aesthetic?
My designs are feminine, have geometric shapes, but are also cool… They are designed for women who are independent and are looking for honesty, quality and something special in stead of going for easy, mass productions.
What are you fascinated by at the moment and how does it feed into your work?
At the moment I am fascinated by how we use the world and its products. We are not using it at its best, we are only making things worse by thinking in numbers and money. I really hope we won't spoil that much food and products in the near future and people/governments/companies will get more aware of their behavior.
This aspect got into my way of designing. Latest collection Raw Materials is all about being more aware of what products are made of and what an effort it takes to make something, while we throw so many things away so easily. All this is why I'm using sustainable materials with high quality, because good products should last for longer than one season. I make designs that also should last longer or even better: are timeless. Last but not least, the items should be comfortable as well, so people really like to wear them.
Is your focus mainly on the design of garments or do you occasionally experiment on other fields?
Next to designing and making garments, I really love to complete looks with my own accessories and sometimes, like in the Raw Materials collection, also the shoes! They are made of wood and leather, and within the heel one of the raw materials of the outfit. The accessories like a bag made of a mini wooden loom and ring made of raw polyester flakes, make the look stronger and the story is even better told.
How does your concept Raw Materials come out in the photo serie?
The collection shows literally the process of the materials, from source to the fabric. Each outfit contains one of the raw materials transforming to a piece of garment, like raw polyester flakes or the cotton plant. A beautiful set was made specially for the photo serie by Willemijn bos. The showcase stands for the preciousness of the materials, like an object in a museum. The broken glass is a metaphor for the vulnerability of the materials. If we keep overproducing, the sources will stop in the end.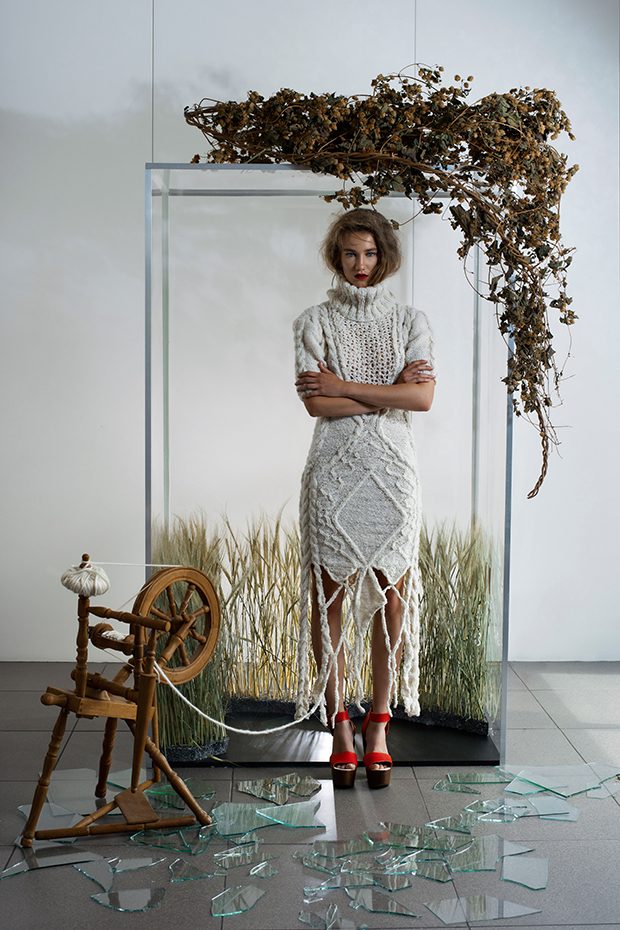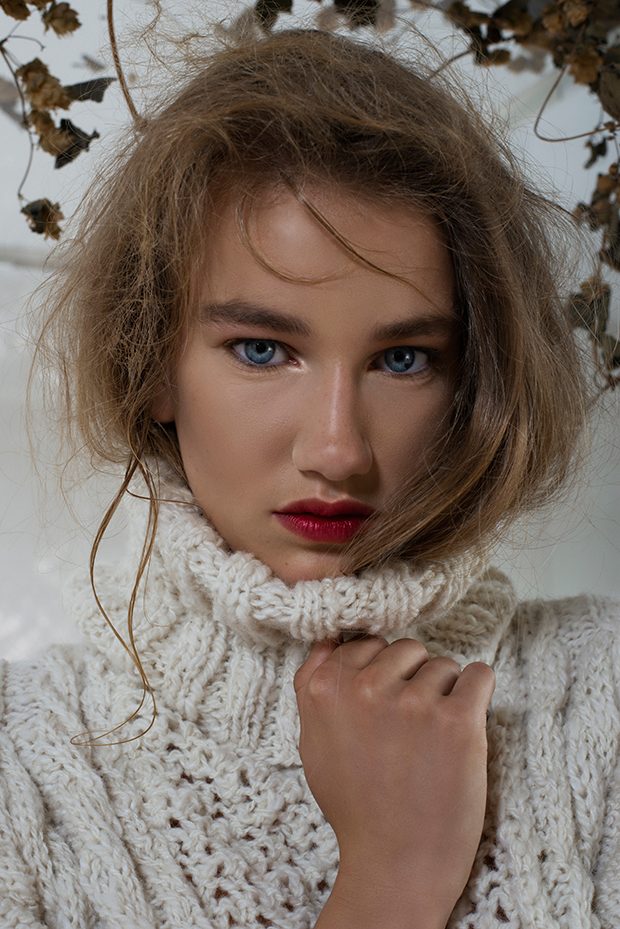 What are your favorite fabrics and materials?
I really like a lot of fabrics, all fabrics have their own speciality, like wool for nice winter coats. For every design, I search for the perfect fabric that makes the best shape or gives the best feeling. With this latest collection I used the pure forms of four materials because of the concept, but these days there are a lot of mixed fabrics that can give the best characteristics of both in one fabric, which can also be very handy!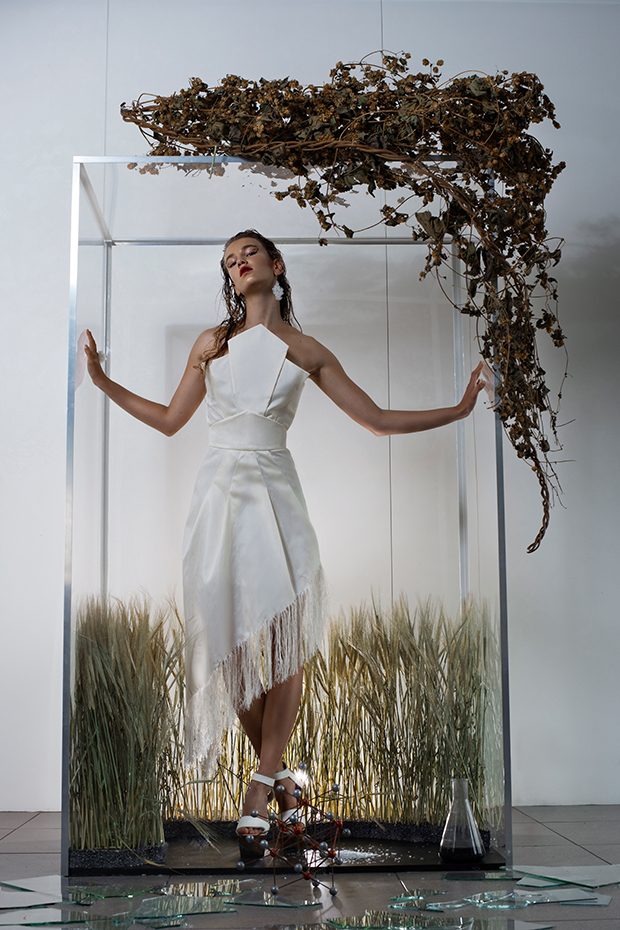 Is there someone in the fashion industry who inspires you?
Ilja Visser is a designer whose work I really love. She makes great shapes, uses geometric shapes and can design amazing haute couture as well as great pret a porter. Her materials are great and the fitting feels comfy, feminine and cool.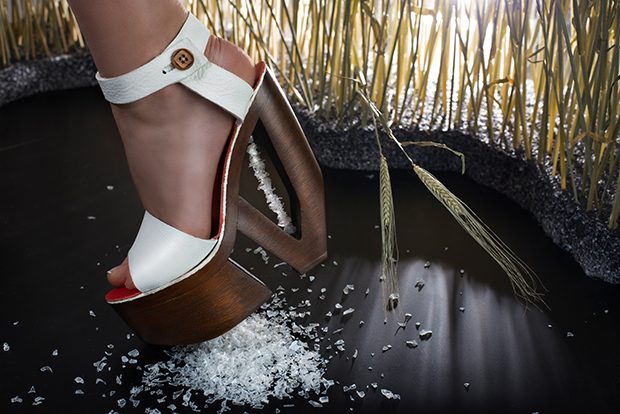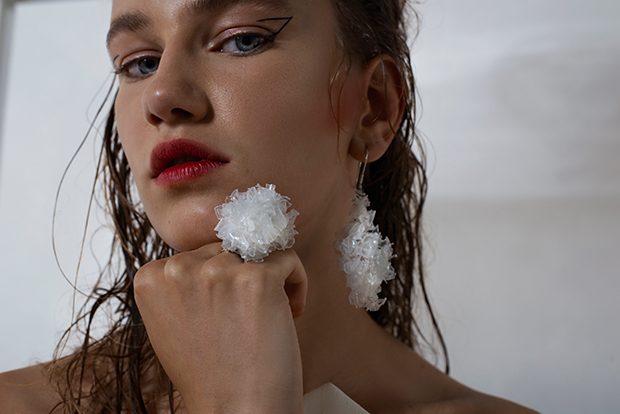 Who would you like to see wearing your designs?
I would love to design one day for our queen Maxima. She is such an elegant beautiful nice lady! And next to this I hope I can make a lot of ordinary people happy with good sustainable comfy design clothes.
Where do you see your label 10 years from now?
I see my label in 10 years from now as a great sustainable brand, not only for the high class, but also for the middle class. All who'd rather want good and sustainable design quality in stead of cheap mass production. I'd rather not make two or four or even more collections a year all with different shapes and colors, but would like to add some new items like every 3-6 months so you can mix and match. I also love to continue show/art pieces to tell a whole story to the audience, to inspire people and let them understand fashion is more than just a piece of garment.
Designer 
Judith
van
Vliet – www.judithvanvliet.nl
Assistants Gaël Loison and Sharon Rietmeijer.
Photographer Melissa Houben
Art direction and set design Willemijn Bos
Makeup Artist Sabine Lemmens
Hair Stylist 
Judith
Dorman
Models Isa (Human Models) & Madieke (Human Models)