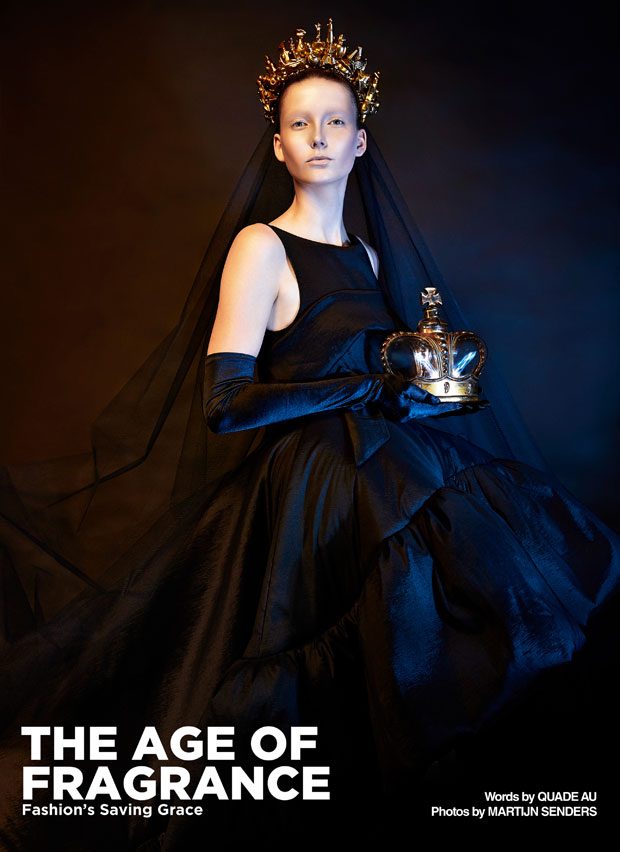 For the August issue of DESIGN SCENE Magazine (out now in print and digital), Writer QUADE AU takes a look into the fragrance industry and the impact it has on fashion's top brands, along with iconic scents and our obsession with the same. The stunning images accompanying our story are work of MARTIJN SENDERS.
Scroll down for more.
Some say fragrance is the finishing touch of any real dress code, others describe it as the lingering scent of romance – but no matter the description, no one can deny the enduring reign of the perfume industry. In amongst the charming smells and poetic memories attached to the bottled euphoria, the perfume industry has proven itself to be both an economic and fashionable force not to be reckoned with. Alongside men and women's growing affinity for toilette the multibillion industry is expected to grow substantially, furthering its recognition within designer labels and consumer buying habits.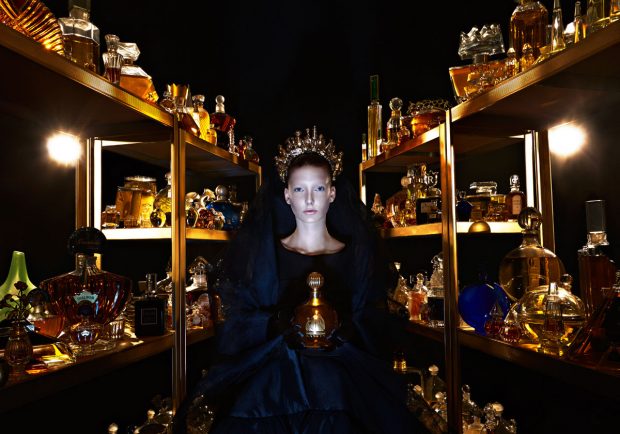 Fragrances such as the iconic Chanel No. 5 have nowadays become just as memorable as Chanel's classic "Little Black Jacket", the only difference is- that, it is unlikely that the everyday women would have the pleaded jacket hanging in her wardrobe yet it would not be surprising to find the little perfume bottle sitting on her dresser. Chanel No.5 debuted in store windows in the early 20's and now almost a century later is still regarded as one of the best selling aromas in the market proving that smelling beautiful is never going away.
Perfume is one of, if not the only aspect of high fashion that creates a commonality for women-it is no longer something people just spray on for special occasions but more so a staple within any wardrobe. In the age of fragrance dominating mainstream media through endorsements and million dollar advertisements, a well complimenting aroma now translates into looking good.

Smell for the longest time has been the underlining temptress of fashion, so much so that some design houses have halted production on their ready to wear collections in order to enhance their image within the perfume industry. For years, scent has been the mutual opulence for interested clientele – it has overtime cultivated the idea that brands are not exclusive to the high and rich but are accessible by common folk. Similar to how the notion of wearing red lipstick can suddenly rejuvenate a woman's day or how a high heel can immediately update an appeal- the correct choice of perfume can allude to a variety of meanings- with a simple spray, perfume can all of sudden transform a woman into something new.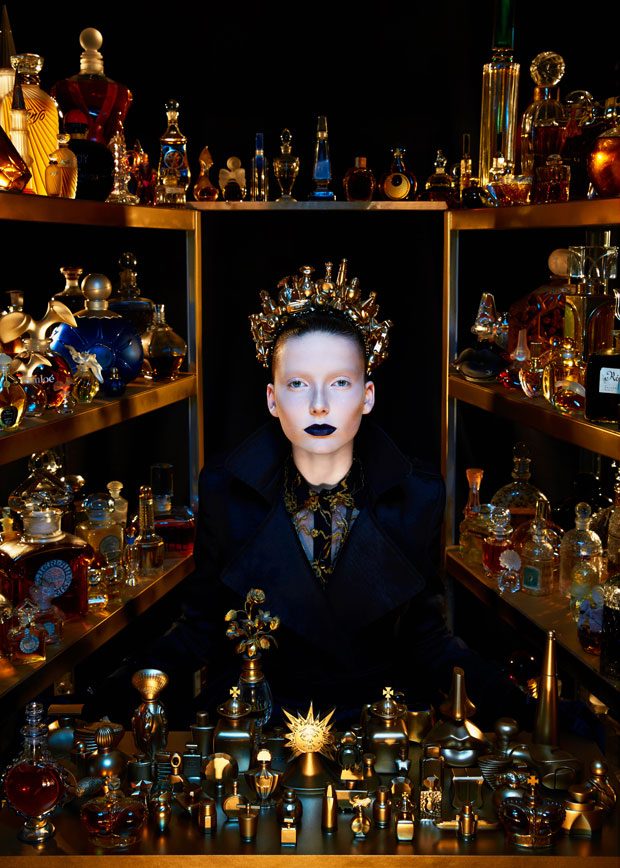 As soon as a scent arrives into a room and lingers in the nostrils of others it can almost tell a short story of who someone is- it can compliment a woman with an easy elegance, show how youthfully feminine a pretty girl can be and without trying can be the finishing touch that makes a bride feel beautiful. The sudden mirage that quality fragrances can transport a woman's sense of self is an aspect of fashion that many design houses are enthusiastically capitalizing on.
Viktor & Rolf, a brand most recognized for their expensive avant-garde aesthetic launched their first fragrance 'Flowerbomb' in 2005, and since then have never looked back launching three more fragrances- all reaping in financial success. The Dutch duo labelled their venture into the perfume industry as a 'modern-day business weapon' that ignited a new income of profit that soon became much stronger than their retail sales. For Viktor & Rolf introducing fragrances was essentially a game changer that re-designed their business model as a company- to the extent that the design house have now limited their merchandise to only couture and fragrance, removing ready to wear entirely off their production. Upon eliminating their off the rack products- many had understandably thought that the label was entering the early stages of liquidation but in actuality they were simply taking full advantage of the growing fragrance market. Just as V&R, legendary french designer Jean Paul Gaultier halted his ready-to-wear lines, resting his fashion empire only on the massive fragrance business while fashion boiled down to two couture collections a year.

With bottles and certain smells becoming more and more recognizable- the success of fragrances to a brand can sometimes be the main fueling revenue that keeps a company afloat- in some cases perfumes themselves have made some fashion lines become irrelevant and transformed a brand's image into a fragrance based appeal. The hugely profitable repercussions of a successful fragrance to a design label is often times much more than just monetary- if properly endorsed fragrances can create a sub-label that provides a brand with a new social reputation- a medium in which individuals are able to innocently buy into.
Annually the fragrance industry generates an estimated $US44 billion- two thirds of which designer brands are responsible for. With so many iconic perfumes on the market- all competing to be the leading smell upon department store shelves- designer brands spend up to a year or more in pre-production developing strategic aromas to set themselves apart.
To illustrate, Calvin Klein's line of perfumes and colognes have quickly become household names, not necessarily due to their memorable smells but more so because of their strategic persuasion. Most people would not be able to recall the scent of any Calvin Klein perfumes but many would be able to describe the controversial Kate Moss 'Obsession' advertisements or the incredibly erotic 'Euphoria' campaigns both of which featured various naked suggestions of sex and seduction- a persuasion people notably bought into.
However, before the contentious fragrances came to the public eye- the team of Calvin Klein had spent an approximate ten millions dollars developing each product range (not including packaging costs or advertising which equated to additional fifteen million) and although that may initially appear to an unnecessary sum their investments are undoubtedly always returned with favourable results. Today, the CK line of fragrances for men and women is worth approximately 1.4 billion US dollars- making more money than the watch and jewellery range of Calvin Klein.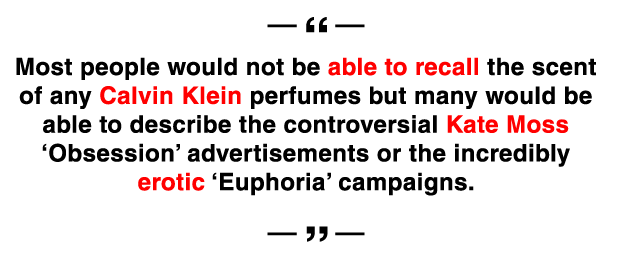 Fragrance's relationship with fashion is growing closer together, it the bridge that enables consumers and designers to become temporarily relatable. High fashion is an expensive luxury with a mass market for consumers to choose from, and now with the new trend of designers offering affordable collaborations with clothing-retail entities such as H&M and Supreme- high end ready to wear collections are being bought less and substituted for cheaper variations with the same logos and designer signatures. With new collections being introduced and prices being compared continually, the economy of designer brands are gradually becoming dependent on the fragrant industry whom unlike other fashionable by products show no signs of slowing down in sales or likeability.
In the same way as brushing your teeth in the morning for fresh breath, or using shampoo twice a week- wearing perfume and cologne is becoming apart of the everyday routine. Fragrances have themselves developed an identity that is much more far reaching than a good smell, it is as Paloma Picasso describes 'like a piece of clothing, a message, a way of presenting oneself, a costume perhaps- that differs according to the woman who wears it or maybe even a love letter told without handwriting'.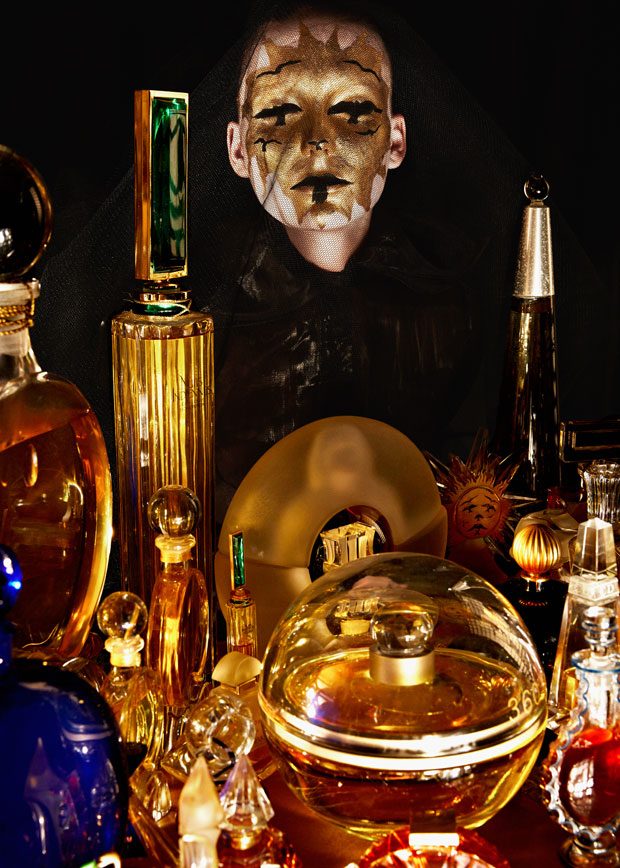 People do not necessarily want to smell any particular way- most settle for smelling nice, it would incredibly peculiar to hear someone say they craze the smell of sandalwood or really want to resemble a bouquet of flowers. But an aspect in which people do want is not necessarily smell but feel; people want to feel beautiful and desired, and the idea that perfume captures this appeal in a glass bottle easily open purses and credit card swipes.
Most fashion campaigns showcase clothing and accessories decorated in a certain manner that highlights a piece's wearability and vanity whereas fragrances are sold on the play of emotion. Other than featuring the actual fragrance bottle much of the selling points of perfumes feature subtle messages of desire and lust- essentially trying to instil the thought that if an individual were to wear the perfume Marilyn Monroe is most likely rolling in bed sheets with that they too will be the object of affection. Sex and beauty sells, and in this modern age where commercials are litter our attention span it is subtly taught that sex and beauty can be found in fragrances.

Body shapes vary and tend to be excluded from highly regarded fashion labels and often the clothes distributed in stores for ready to wear are priced with unreasonable costs that most individuals would be conscious in purchasing. Yet buying a fragrance in which prices are almost equal amongst the choices is an easier spending decision for most and is one of the reason why the fragrance industry continues to grow strong in profit and social popularity.
Fragrance is the compliment all women want, it is the everlasting 'new black'- a compliment all women will buy.
Text by QUADE AU
Photographer Martijn Senders – www.martijnsenders.nl
Styling Sato Okoro
Hair Style and Makeup Pernell Kusmus for Dior at House of Orange
Photographer's Assistant Laura Dirksen
Hair Style and Makeup Artist Assistants Bastien Zorzetto & Martyna Plutya
Model Mijntje at Miha Model Management

Special Thanks to Pernell Kusmus for sharing with us his fragrance collection.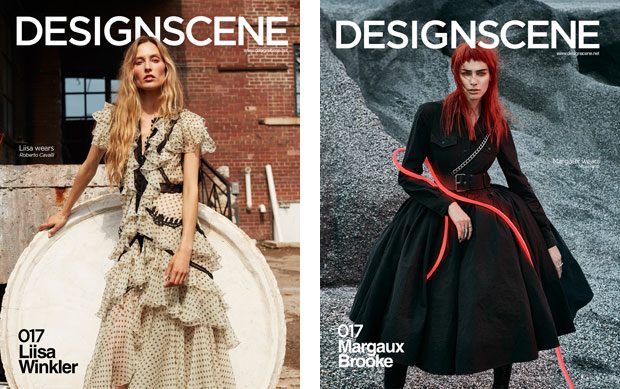 Originally published in DESIGN SCENE AUGUST 2017 Issue – get your copy.