Our cover star BERI SMITHER has an unparalleled portfolio under her belt, from top fashion campaigns to editorials and covers shot by who's who of the fashion industry, Beri is a true representation of a supermodel. We teamed up with Beri on a rainy day in Brooklyn for our cover story shot by SKYE TAN and styled by KARINA SHARIF. Beri and the team stormed through the rain (and wind) for our stunning cover story, staying positive throughout and delivering these masterful images.
AVAILABLE NOW IN PRINT $22.90 & DIGITAL $3.90
In a much more dry atmosphere Beri sits down for an exclusive interview with our Deputy Editor ANA MARKOVIC to talk about her beginnings as a model, shifts and problems in the modelling industry, as well as beauty and style.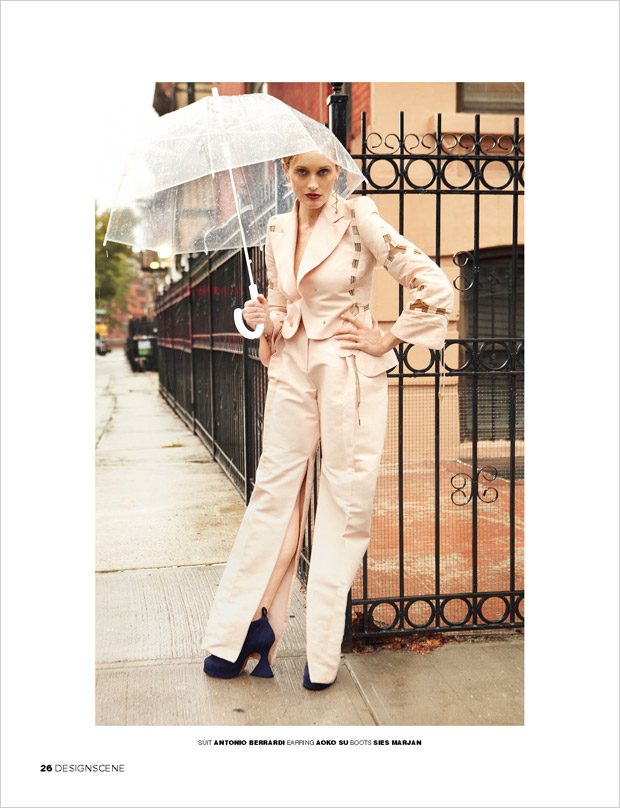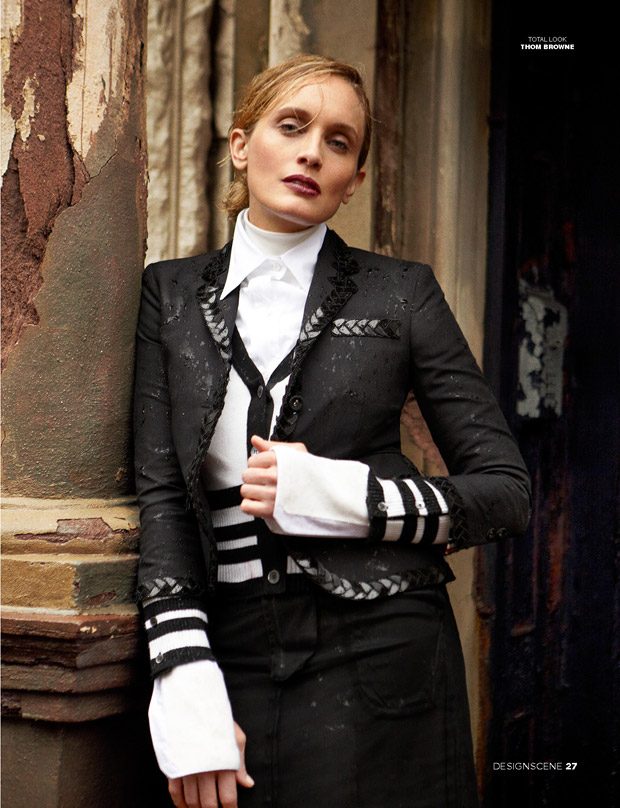 First off we want to say it's such an honor having you as our cover star. Tell us how do you manage to keep your smile during shoots when conditions are far less than perfect, being harsh weather (like for our shoot), or something else.
It was such a pleasure working with the magazine! I have loved it, since its inception, and the creative team, on the shoot were fantastic. Everyone rallied and inspired me! The reason I can keep smiling and remain positive, regardless of unforeseen events including less than perfect conditions on shoots , or in my personal live, for that matter, is because I'm silly and like to keep things light!! Also, I know that what we "think"/or current state of mind, easily shows on in front of the camera. When I'm working my focus is the end result and I want it to be AMAZING… no time for negativity and complaining [laughs].
Take us back to the beginning. You started back in 1990, how did you get into modeling? Did you always want to become a model?
I've always admired models, makeup and the implied glamour of fashion since my teens. I had Christy Turlington and Renee Simonsen tear sheets pinned on my bedroom walls! At 17 yrs old I walked into a modeling agency in Portland Oregon and they signed me. Three months later I was living in Paris and shortly thereafter shooting the Les Copains campaign, in Milan, with Patrick Demarchelier and Christy Turlington!! It felt like I was dreaming. I could not believe I was face to face (and working) with Christy. It was so surreal and I was beyond grateful.
So, how was it working with Christy?
She is wonderful!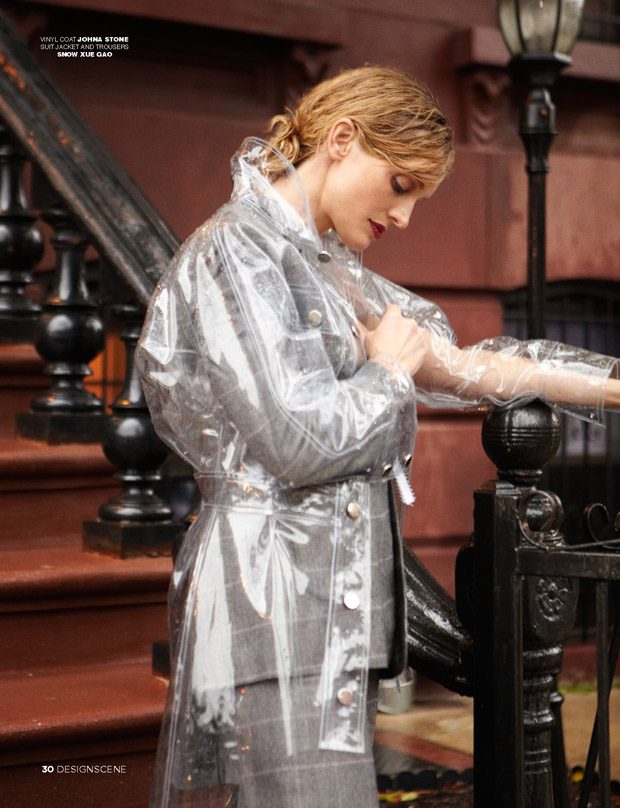 What was your first big break in the industry?
In the beginning of my career, while living in Paris, I was sent to a casting for French Elle Magazine. I hit it off with the editor in chief Odile Sarong. Establishing strong relationships, in our business, is paramount. She immediately confirmed me for multiple covers as well as, inside, "main fashion" stories. I consistently shot with Studio Elle. To boot, because it was published weekly, I was given a rare opportunity to have back to back covers This was AMAZING and helped my career exponentially.
You covered almost every fashion magazine from various editions of Vogue, Elle and Marie Clare, as well as, Sport Illustrated. Peter Lindbergh's feature book. Do you have a favorite cover or a shoot?
I can't pin down one cover or shoot. I treasure all of them for their unique message and artistic creativity working with Peter, was, and still is an honor. It was more about having him capture your essence on film, versus just pure "modeling." This is reflected in his images, as you know.
You have also done numerous campaigns, what are some of your favorite brands that you've worked for in the past?
In no particular order, certainly: campaigns for the Chanel's Allure Fragrance  – shot by legendary photographer Herb Ritts, Versace shot by the world renowned Bruce Weber and Armani shot by Peter Lindberg, and that was the tip of the iceberg.
After 20+ amazing years in the industry, do you have any unfulfilled dreams?
Not in the least.
Every day is a new day ! Dreams live, die and live again. There is no way to run out of dreams nor have them unfulfilled if we are in complete acceptance… that everything is the way it is for a reason and each experience or gift allows for growth. "Growing pains" are real but life giving!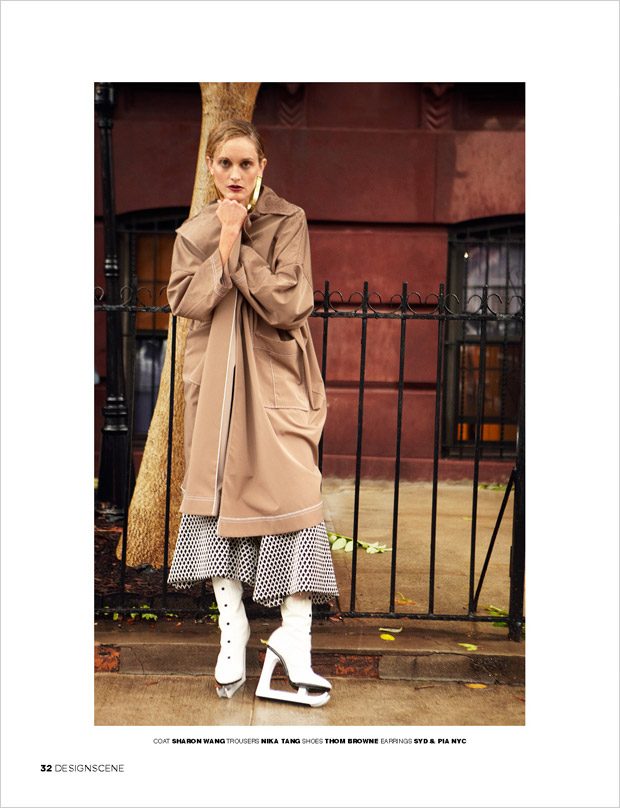 What keeps modeling job exciting for you?
The fact that being a model is an actual job for one. Secondly, the exceptional creative, cultured, sophisticated people I get to be around from job to job. Thirdly, the fact this business, like all businesses, demands that you evolve in order to sustain and reach your potential. For example, after living in Paris, I moved to NYC where my agent and I decided to, what some may think, was a drastic change: I bleached my hair, cut it quite short and then had the fortunate opportunity to work for clients like Allure Magazine (and its illustrious Creative Director and Stylist Polly Mellen), photographers such as Michael Thompson and Steven Klein. Fashion is always in flux and in order to truly advance you must attempt to predict where it is headed. Having the willingness to transition with it, is paramount.
From your perspective how different is modeling world now from the one back in the '90. What's changed for the better, and what for the worse, since then?
Modeling in the 90's was, in a way, simpler yet ironically more demanding, which made it all the more exciting. Toward the late 90's celebrities began to grace the major magazine covers and hired for advertising campaigns and beauty/fashion collaborations beauty and fashion space. This, and factoring in the proliferation of the internet and Social Media have shifted how consumers interpret information and relate to the environment around them. Conversely, modern technology has also brought us closer, as a species. Frankly, there is a greater connectedness.
Do you think social media influencers are here to stay, or is it going to be just short-lived phenomenon? Who do you see ruling modeling scene in the upcoming years?
I think Social Media is here to stay. It allows us a much broader multi-platform with the world around us. I think vloggers and YouTube will rule.
With recent controversy, we have to ask about your knowledge and experience of sexual harassment in the fashion industry – do you believe the industry is finally ready to face this ongoing problem in the public limelight as well?
Yes, I think we are ready to face this. It's not about fashion it's about men and women having their voices and speaking their truth regardless of their fear of retaliation. This behavior is omnipresent and occurs in all industries.
You starred in Scouted reality TV show, as a mentor to young models, is mentoring something you are interested in?
I loved shooting Scouted. I am asked on a regular basis to help young models. I always jump at the opportunity.
As a fashion icon what do you think makes a great model, and what is the secret to the longevity in the industry?
Personality !!! Beauty on a "model level." Kindness. Perseverance. Humility. Confidence.
You and your agency work should as a team… don't be afraid to ask questions or concerns. You have to build a trust level with your agents and that comes from believing in yourself and complete honesty with your team.
How would you describe your personal style?
Timeless, Chic, Simple, No nonsense.
How do you stay in shape?
Weights old school style, spin and yoga.
What is your beauty routine?
No SUN on my face as much as possible. Then I use wonderful face products that my skin responds to well.
And finally, what's your advice for aspiring models?
Be professional… you are your business, treat it that way. Give it your all, remain grateful and don't be lazy!
Follow Beri on Instagram: @beri_smither
Photographer: Skye Tan – www.skyetan.com
Creative Director and Stylist: Karina Sharif
Makeup Artist: Claudia Oyanedel using Giorgio Armani Beauty
Hair Stylist: Richard Cooley at UTOPIA – www.utopianyc.com
Model :Beri Smither at NEW YORK MODEL MANAGEMENT
Stylist Assistants: Estée Page and Arlenys Valdez
Available now in print & digital – in our DESIGN SCENE mag store.