DS INTERVIEW: RIANI with Ulrich Schulte & Mona Buckenmaier
|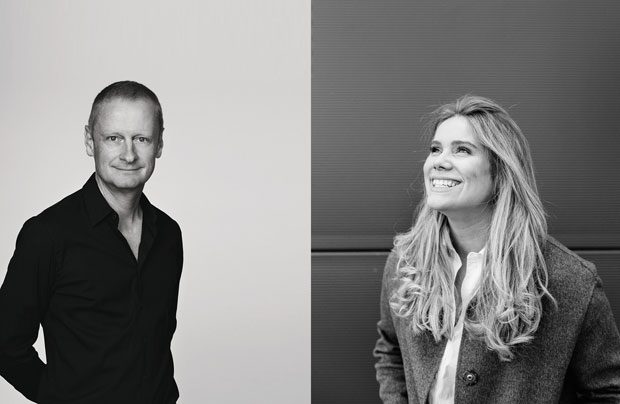 Contributing Editor Sussan Zeck sits down during Berlin Fashion Week for an exclusive interview with the lead team behind RIANI, the Chief Designer Ulrich Schulte and Senior Business Development Manager Mona Buckenmaier. Ulrich and Mona talk about their work dynamic, the perfect RIANISTA and guilty pleasures. 
During Mercedes-Benz Fashion Week Berlin we got the chance to meet Ulrich Schulte, chief designer of German-based label RIANI, and Mona Buckenmaier for an exclusive interview. The RIANI show, which is always one of the most popular events, took place in the evening of the first show day at the main venue "ewerk" quite close to Checkpoint Charlie in the centre of Berlin. Its awareness for details paired with a vibrant choice of pattern, colourful garments mixed with a highly wearable, feminine yet sophisticated approach are significant for the labels' style. We were curious to get some insights about the latest trends for Autumn/Winter for our readers as well as their personal secrets of success.
Read more after the jump: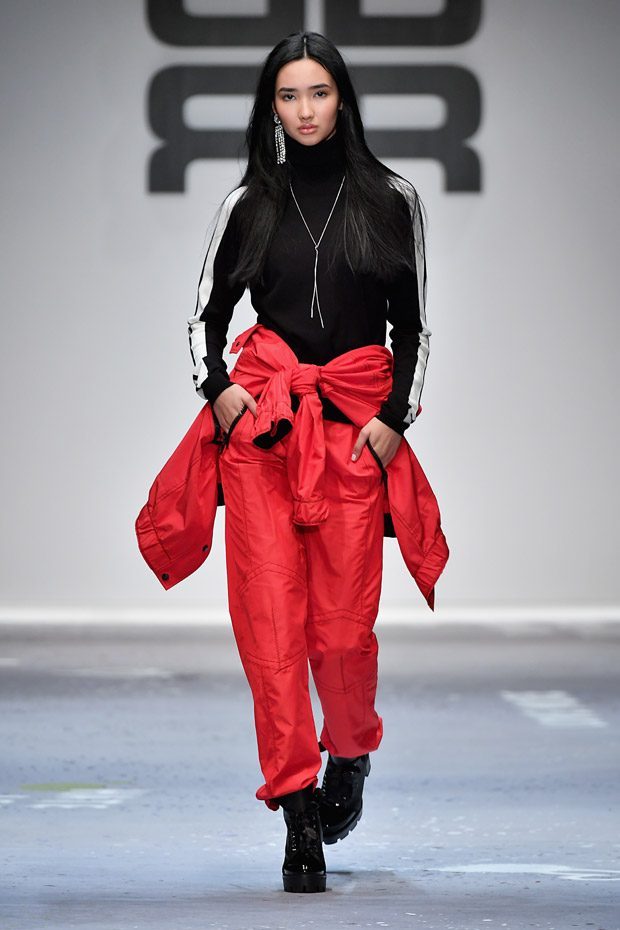 What distinguishes the latest collection from the previous ones and what makes it so exceptional?
Ulrich Schulte: This collection focuses mainly on a mix of elements with three trends playing a central role. Menswear elements are displayed in a rather masculine choice of fabric in finest qualities and styles that seem to be borrowed from the RIANISTAS' boyfriends. While the feminine elements spotlight floral dresses and blouses, lace and volantes. In addition to a sporty style with pieces originated in active wear, for instance ski chemises and pants, parkas and body warmers.
The RIANI looks combine these three elements in a simple yet independent way. To me, there is no single look in our show that embodies a homogenous style.
Mona, what is your range of functions at RIANI?
Mona Buckenmaier: My main focus right now is on launching our online shop. Additionally I am working on various projects in PR and Marketing.
Please explain to us the theme of your "RIANISTAS REVOLUTION" collection and why you chose this topic.
Ulrich Schulte: This play with different combinations is certainly revolutionary. It takes its inspiration from the art scene and it's people. The artist's muse that quickly throws her boyfriend's blazer over her floral dress when going out and meeting her friends or the New York based artist that mixes a rather practical, sporty style with vintage wear. All those RIANISTAS are strong, independent women representing our brand and collection.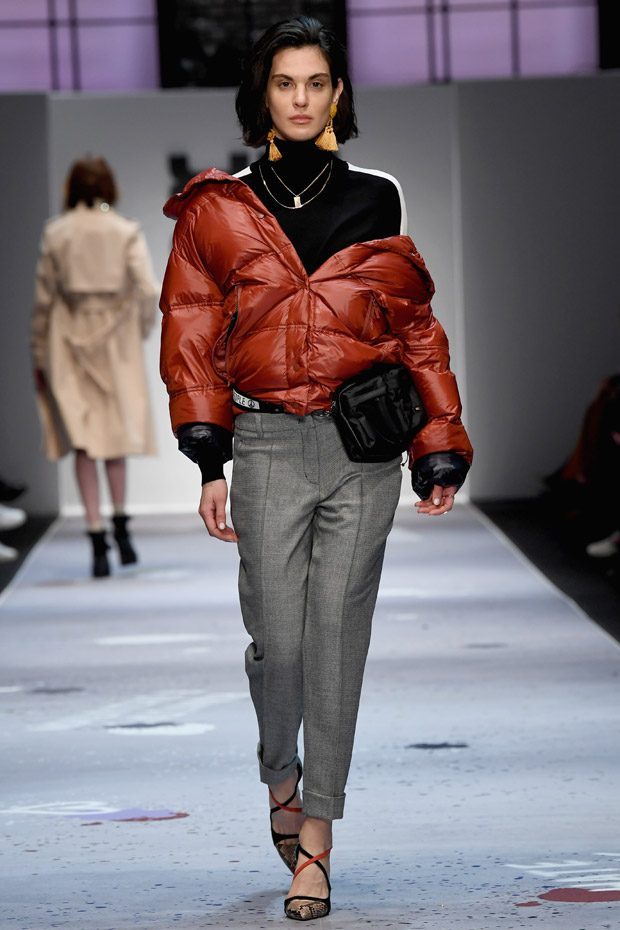 How can our readers imagine a typical day at the office for you?
Mona Buckenmaier: I don't think there is such a thing as a "typical" day at work [laughs]. Every day is filled with new challenges. The daily business then happens in between.
Do you have a favourite piece of this collection?
Ulrich Schulte: No. I have been asked this question over and over, but honestly can't give an answer at this point. My favourite piece is the one I'll see on a RIANISTA in about six months, thinking: "Wow, that looks gorgeous!".
What do you appreciate the most at RIANI?
Mona Buckenmaier: Our #RIANISTA. On the one hand our customers and on the other all the people that give their best every day to make RIANI what it is: a fashion brand for a woman with both feet on the ground who loves and appreciates fashion.
What are the three essentials every woman should have in her wardrobe?
Ulrich Schulte: This is an easy question to answer. At least for this season: a blazer made of a really great menswear-inspired material, a feminine print dress and a sporty 80s'- style windbreaker.
What is the best advice you have ever been given?
Mona Buckenmaier: Never ever give up! As simple and cliché as this might sound, it represents so much and motivates me every day.
Where do you find your inspiration?
Ulrich Schulte: In everyday life. Looking at strong women with their own style are the one who inspire me the most. Furthermore fabric fairs are crucial. Our Italian weavers are marvelously creative. Then the creative part starts happening: Once a collections' topic is set there are always new associations which come into the team's mind until an entire collection has been developed.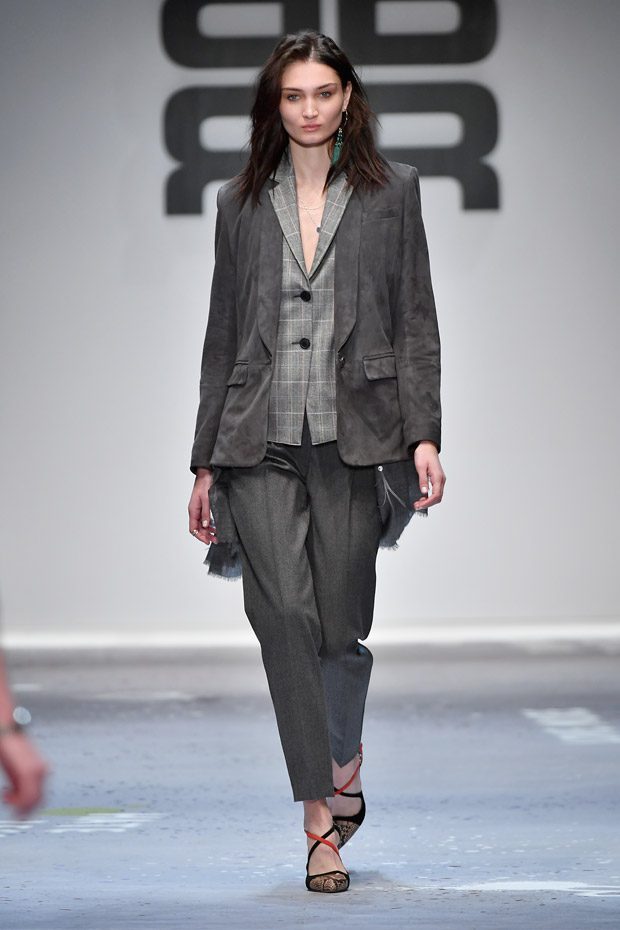 Are you a rather emotional or rational person?
Ulrich Schulte: As a designer I feel you should be both. We are no freelance artists. Our emotions have to be proven successful in everyday life. The creations should be wearable yet practical while embodying emotions and desire to complete the circle.
Mona, do you have a favourite piece of the latest RIANI collection?
Mona Buckenmaier: Yes, but not just one. In fact there are many but if I had to choose it would be the Glencheck double heron. The look and feel is amazing.
In which colours will the RIANISTA be dressed in for the upcoming fall-winter season?
Ulrich Schulte: We are inspired by the colour palette of legendary artists: Rodin Grey, Cezanne Green, Vincent Blue, Matisse… all beautiful yet lush colours.
What is your favourite colour for 2018?
Mona Buckenmaier: It's the colour blue in all its variations.
Is there any "No- Go" in fashion?
Ulrich Schulte: I don't think in these categories.
What is your biggest success, both professional and in your private life?
Ulrich Schulte: The shows in Berlin are always a highlight. Apart from that a great partner, my family and good friends who are my greatest happiness.
What is your guilty pleasure?
Ulrich Schulte: The 100g Milka hazelnut chocolate bar. If I don't find one in my fridge, I get nervous.
Mona Buckenmaier: Definitely delicious pasta! Preferably Bolognese, I could eat that day and night! [laughs]
Images – Riani Autumn 2018 Collection

Get your copy of DESIGN SCENE in PRINT & $4.90 DIGITAL