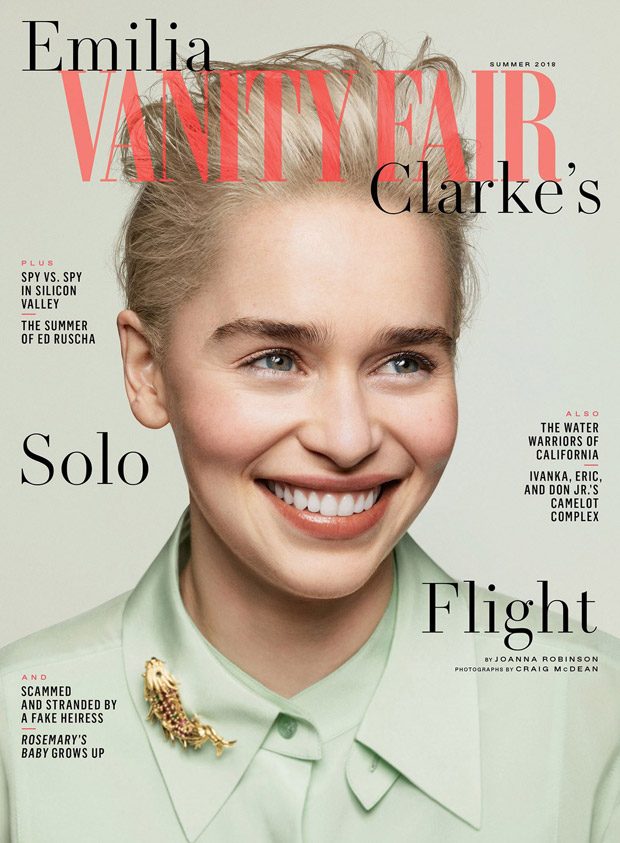 Game of Thrones and Solo: A Star Wars Story actress Emilia Clarke takes the cover story of American Vanity Fair's Summer 2018 edition captured by fashion photographer Craig McDean. In charge of styling was Jessica Diehl, who for the session selected looks from top brands such as Louis Vuitton, Salvatore Ferragamo, Max Mara, and Row among other.
"I hope we did it good, then, because people have all this gossip. I don't want people to go, 'That's the bit where it all went wrong. That's the bit, I know it.' I just really hope that people have a good time, that it's good, and, you know, selfishly, that I'm not shit and that people don't write reviews going, 'Oh my God, that's, like, the worst acting I've ever seen in my life. Wow. How did they give her the part?'" – Clarke for Vanity Fair, on her anxieties about how her performance in Solo will go over.
"That's something I have in common with Dae-nerys, I really feel for people and I want to help them. Not to sound too much like Oprah Winfrey, f**k that, I'm gonna sound like Oprah and I'm going to be proud of it." – Clarke for Vanity Fair, on being named ambassador to the Royal College of Nursing.