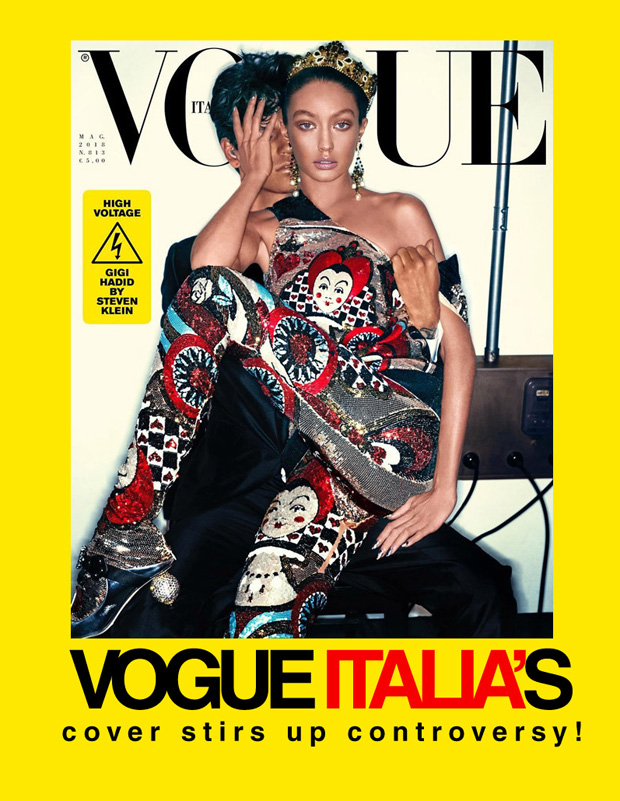 Vogue Italia has its share of attention grabbing covers, from it's black issue published now a decade ago, to the oil spill shoot by Steven Meisel starring supermodel Kristen McMenamy. However, this time the Italian issue of the fashion bible is grabbing the titles for all the wrong reasons. While there's no such thing as bad publicity, through the looking class of the current climate Gigi Hadid's bronzed skin on the May cover was quickly labeled as an ignorant act of racism. While in numerous other comments on social media the cover was called out for overuse of Photoshop, claiming Hadid looks nothing like herself, to objectifying the male model in the cover who is used on this occasion as a prop.
RELATED: BEHIND THE SCENES VIDEO OF THE COVER SHOOT
While the model in question, Justin Martin, does have a Vogue Italia cover under his belt, the cover itself is a blatant example of the stereotypical manner the fashion industry is used to objectifying the male model. That said, Vogue Italia has like no other celebrate the male model in the past, which continued under the direction of the new Editor In Chief Emanuele Farneti, who is so far doing a great job filling up the shoes of the late Franca Sozzani.
Taking action in less than 24 hours since the cover was released was Gigi Hadid herself, but also the Vogue Italia team. Nevertheless photographer Steven Klein did not comment on the controversy, while the stylist of the shoot and Vogue Italia Editor-At-Large defended the creative decisions of the team.
Scroll down for official statements from Gigi Hadid and the team: 
Throughout its history, Vogue Italia has respected and encouraged the creative viewpoints of commissioned photographers. In our latest cover shoot by Steven Klein, the vision was to create a beachwear-themed story with a stylized bronzing effect. We understand that the result has caused some debate with our readers, and we sincerely apologize if we have caused any offence. – shared VOGUE Italia in a statement on Instagram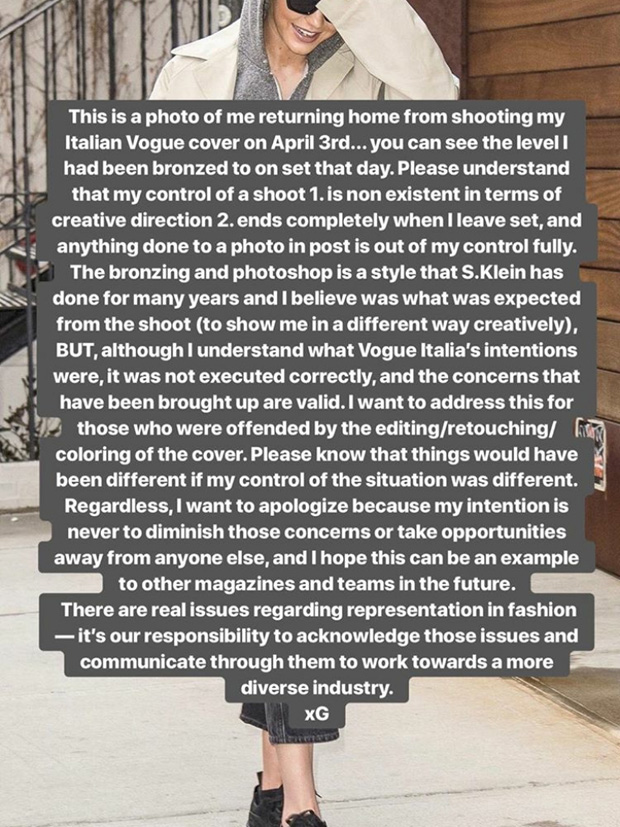 @gigihadid
Instagram was the go to place for Gigi Hadid as well, who shared in an Instagram story to her close to 40 million fellowship a sincere apology: "This is a photo of me returning home from shooting my Italian Vogue cover on April 3rd… you can see the level I had been bronzed to on set that day. Please understand that my control of a shoot 1. is non existent in terms of creative direction 2. ends completely when I leave set, and 4.1 anything done to a photo in post is out of my control fully. The bronzing and photoshop is a style that S.Klein has done for many years and I believe was what was expected from the shoot (to show me in a different way creatively), BUT, although I understand what Vogue Italia's intentions were, it was not executed correctly, and the concerns that have been brought up are valid. I want to address this for those who were offended by the editing/retouching/ coloring of the cover. Please know that things would have been different if my control of the situation was different. Regardless, I want to apologize because my intention is never to diminish those concerns or take opportunities away from anyone else, and I hope this can be an example to other magazines and teams in the future. E– • There are real issues regarding representation in fashion — it's our responsibility to acknowledge those issues and communicate through them to work towards a more diverse industry. xG "
@patti_wilson
The Vogue Italia Editor-At-Large shared the following: "As a black woman and as the contributing Editor-at-Large of Italian Vogue I wanted to take a moment to address the Gigi Hadid May cover comments I've been seeing.  It's a summer issue. It's a swimwear story. Gigi was meant to look bronze, tan, and gorgeous. Nothing more than that.  People come in all shades. Throughout my career, I've championed models of all ethnicities and have always fought for diversity in this industry. I celebrate women of all color. "
Is the public simply said overreacting, is the actual misuse of photoshop in this case a bigger problem, or the treatment of the male model? Or is it simply art? Feel free to share your thoughts in the comments below: