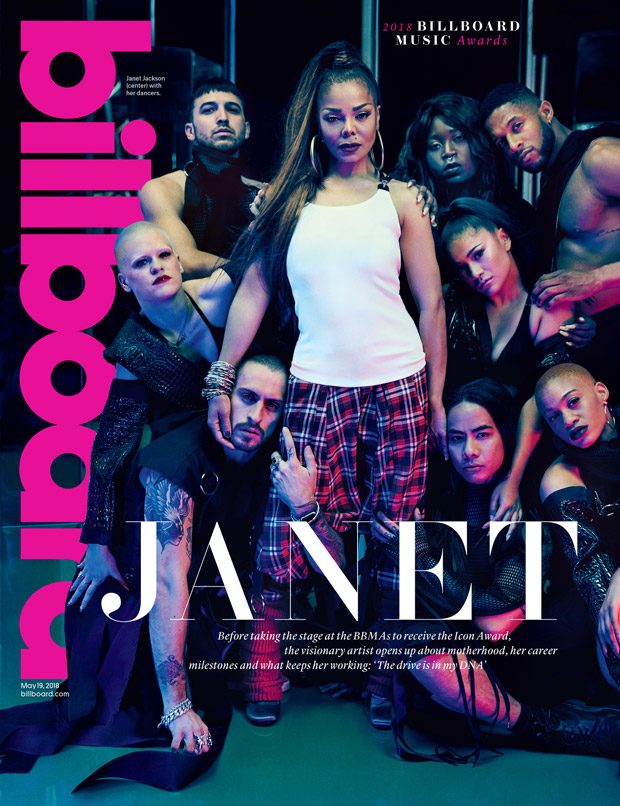 The one and only Janet Jackson stars in the cover story of Billboard Magazine's latest edition captured by fashion photographer Miller Mobley. In charge of styling was Robert Behar. Janet also performed, and accepted the Icon Award at this year's Billboard Awards Show held on Sunday May 20th, in Las Vegas.
"I wish I could. I'm not trying to avoid the question and be secretive, but the truth is that I don't try to analyze the creative process while it's still ongoing. I'm very intuitive about writing. Anything can inspire me. This morning, I saw this lovely elderly Japanese woman walking down the streets of Hollywood wearing an adorable bonnet with bright red flowers. She might be a song. I remembered an especially painful chapter in my early life last night before going to bed. That might be a song. I woke up this morning and heard a bird chirping in a rhythm that captivated my heart. Maybe that will turn into a new groove. Like everyone else, my feelings are fluid. My ideas are fleeting. I like to keep it that way. I can't decide in advance what a song or an album concept will be. I have to let those songs and concepts come to me rather than chase them down.
I'm glad I'm not methodical or self-conscious as a writer. It's important that I maintain a let-it-happen-when-it-happens approach. I don't want to strain or stress. I want to be a channel for whatever images and emotions are running through my imagination. Spontaneity is so important to me. It allows for surprise, and, for me, surprise is what breaks up the boredom of daily life. When I finally get to the music that genuinely expresses what I'm experiencing in the moment, I feel free. Music does that for me. Its healing properties are extraordinary." – Janet for Billboard, on the music she is writing now.