WSJ. Magazine celebrates 10th anniversary issue with 5 covers featuring 10 supermodels Imaan Hammam, Andreea Diaconu, Anna Ewers, Tao Okamoto, Rianne Van Rompaey, Freja Beha Erichsen, Carolyn Murphy, Karlie Kloss, Doutzen Kroes, and Adwoa Aboah. in charge of photography were Inez van Lamsweerde & Vinoodh Matadin, with styling from George Cortina.
See all WSJ. Magazine's September 2018 covers below and quotes from the exclusive interview with the supermodels:

Andreea Diaconu, Anna Ewers and Imaan Hammam in Balenciaga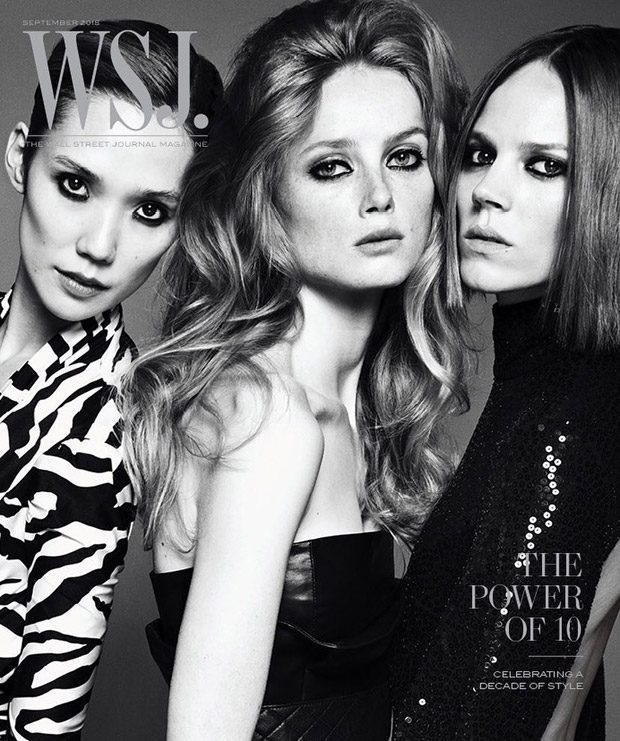 Tao Okamoto in Balenciaga, Rianne Van Rompaey in Versace, and Freja Beha Erichsen in Michael Kors Collection
Freja Beha Erichsen talks about living in New York:  "I live in Carroll Gardens," she says, of the Brooklyn neighborhood that's a magnet for helicopter parents and Whole Foods shoppers. "That's not very rock 'n' roll, is it?"

Carolyn Murphy in Saint Laurent by Anthony Vaccarello, Karlie Kloss Valentino and Doutzen Kroes in Valentino, Tiffany & Co. necklace (Doutzen)
Karlie Kloss talks the state of modeling in 2018: "Everyone's a super-hyphenate person these days. It's no longer enough to just be one thing, but also you don't have to just be one thing." "Being a muse is not always reflective of who you are and what you stand for," "You were a canvas for other people's visions as opposed to your own. You were seen and not heard."
Caroline Murphy touches on the social media obsession, and keeping the supermodel crown at the age of 45: "It's time- consuming, it feels invasive, and I like having some mystery,"  "Mamma Murphy, I'm very aware of the need to be a role model and to have an intention and purpose that translate for the younger generation,"
Doutzen Kroes talks sharing or not sharing on the socials: "It's hard to find that balance of not sharing too much of yourself or making it a family album, but also keeping it professional," Kroes says. "It's always a whole discussion with my agents, like how do we do this?

Rianne Van Rompaey and Adwoa Aboah in Marc Jacobs
Adwoa Aboah talks activism and her online community Gurl Talk: "I hope I'm known as an activist even before I'm a model." "The Gurls Talk community is my tribe," says Aboah.  "Speaking at a school or doing a Gurls Talk festival gives me a reboot. It's madness the energy being in my community gives me."
Rianne Van Rompae talks about how becoming a model changed her life:  "Modeling was a way to get out of Holland and to meet people. I make enough money to be able to actually get as close as I can to my dream, I don't come from a rich family. I have to do it myself."

Imaan Hammam and Andreea Diaconu in Givenchy
Andreea Diaconu talks modeling industry: "I grew up really poor, so when I had a little money, I was like, Oh, this is great," "It's really good to not have to think about [how to afford] bread."
Imaan Hammam talks her hair and future as a beauty entrepreneur:  "My hair is my signature look, I'd love to make my own hair products."
WSJ. Magazine's official site: – www.wsj.com