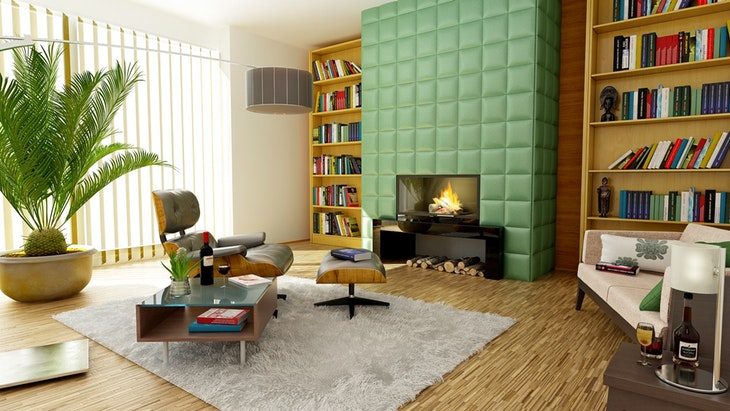 Everyone wants their house to be stylish. From walls to floors, there is a lot to consider. Your home is an extension of yourself, and for this reason is why everyone cares so much about every detail within it.
Floors are one of the most important aspects of any dwelling. It has a major impact on the aesthetic appeal. If you want to achieve complete furnishing of your home, then it is essential to place a modern rug on the floors and particularly under your furniture.
Read more after the jump:
Modern rugs have now become increasingly popular for a number of reasons. You can view a amazing curated collection of modern rugs at this store that we happened to come across here for inspiration and ideas, we've never seen such a large selection to choose from so naturally we think this is a good example and starting point. A floor rug is in fact considered an essential in any dining room, bedroom or living room.
However, there are several other ways in which these modern rugs can be used. Therefore, here are some of the major ideas to consider on how to place and use your rug.
1. Add a lovely pattern
A latex paint and a savvy stencil will enhance the overall aesthetic appeal of a normal and plain rug. Suddenly, the visual aura will be enhanced. In saying this though, you will need to ensure that those patterns are consistent with the existing décor. A stylish floor will complement perfectly with décor in the room. Use your mind creatively and come up with different patterns for a more innovative look.
2. Use it on the stairs
This is something that you will not find in most homes. Stairs are often bare. Placing a runner rug (or otherwise called 'carpet runners') on the stairs and softening it in an ideal way to make it look more creative, relaxed and welcoming. No one wants to walk on the cold stairs early in the morning. Therefore, you can cover the bare surface using different rugs not only to make it look better but to make it more functional as well.
3. Transform rugs into pillows or ottomans
Rugs are not only for the floors. This is another idea that a lot of the homeowners are not aware about. Rugs can be transformed into pillows in the most creative way that we've seen to date. A little rug will become a throw pillow. It not only looks good but becomes more functional as well. Most importantly, it is easy to do this. You can do it yourself without anyone's help. Fold the rug into half and just stuff it, then finish by sewing the edges together.
4. Add layers of rug
Just adding a rug on the floor doesn't mean you are done. You can add up different layers of rugs in order to make it look much more special. Add up textures and style with different layers. You can use different colors, designs and styles altogether for a more vibrant and colorful appearance. This is perhaps one of the most popular ways to implement multiple rugs.

5. Fill it on the wall
Rugs are not only for floors. It can also be used on walls. If you are facing a giant blank space, then make it into a gallery wall using a rug. Purchase a large graphic rug and then attach it on the wall. There can be nothing more creative than filling a bare wall using a visually aesthetic rug, it's something 'different' compared to a regular art piece. Well, sometimes hand made rugs can be considered an art piece in themselves.
6. Fill the door rug with color
The first thing that guests might come across when entering your house is a door rug. Just because the door rug is used to wipe the shoes on it doesn't mean you should not pay attention to it. The better that it is, the better the impression you will give to your guests. There are many patterns of rugs that can be chosen which will give it a more natural and inviting look to your home then just placing a generic mat. However, make sure the rug sets in with the existing décor of the house.
7. Mix classic and modern décor
The hybrid between classic and modern is one of the best combinations you will come across when using rugs. Use different patterns of rugs and combine them in order to make the most out of it. Classic patterns should be combined with high end décor in order to make it highly aesthetic. However, you can use these combinations in a more creative manner by complementing it with additional creativity. Alternatively, you can opt for more modern rugs that feature traditional patterns but are washed out and designed with more modern colour palettes.
8. Personalize the rugs
If you jazz up the rugs with your personality then it becomes much more aesthetically appealing. For instance, you can cut a hole in a round rug and add some paint on it. You can make it look like a donut. This rug can then be placed in the kid's room. Similarly, personalize the rugs with individual ideas.
9. Use rug as a seat cushion
This is another idea that a lot of people are not aware about. Fur rugs are ideal when it comes to style and comfort. A soft seat can be offered on the hard chair seats. This doesn't only create a stylish look but enhances level of comfort as well. Using rug as a seat cushion is one of the most sort after ways to utilise a rug, not only that but it has practical benefits too by protecting your furniture from scuffs and scratches.
Above are some of the most popular ways to use your rugs. You can come up with your own ideas to give your home a more personalized look.