Celebrating the 50th anniversary of the first step taken by man on the moon, Pinko presented a Space-themed capsule collection for Spring Summer 2019.
Entitled Space Program, the collection consists of a dress in two variants, a skirt in three variants, an oversized sweatshirt, a cropped hooded sweatshirt, a sweatshirt from the female lines, a t-shirt in three variants, a jacket laminate and matching shorts.

The Space Program reveals the DNA PINKO through a heroine who is in effect, and ironically the PINKO woman par excellence. A woman who everyday is heroic in what he does, which is divided between work, family and his busy schedule without sacrificing the aesthetic aspect. The modern heroine knows how to highlight and emphasize all her femininity even in a surreal environment, such as the Space Program. – from Pinko

The PINKO heroine is the protagonist of the capsule collection, portrayed as an energetic intergalactic explorer vaguely vintage-inspired features to the Space Age through the illustrations of Lawrence Sterne Stevens and MC Wolfman, while engineered prints that accompany resemble galaxies and distant planets and they are made ad hoc to make the most of each single garment. The iridescent glow of laminated fabric distinguish uniform PINKO woman, who this year is definitely ready to land on the moon. – from Pinko

The collection is available in stores and online at pinko.com.
Discover all the pieces below: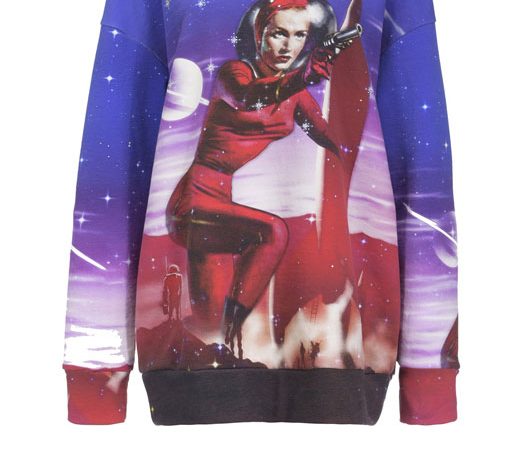 All images courtesy of © Pinko