Issue 11 of DSCENE Magazine is out now in print and digital with cover stars Ruby Aldridge, Milly Shapiro, Alton Mason and Connor Newall and DSCENE Beauty supplement cover girl Bruna Tenorio. Alongside latest fashion collections captured in editorials in Milan and New York as well as interviews with Gentle Monster brand director Gary Bott, also Tom Parker Director and Co-Founder of Fettle and architecture practice everybody is talking about as well as exclusive talks with our cover stars.
GET YOUR COPY IN PRINT $26.60 AND DIGITAL 4.90
Scroll down for the first look of our new DSCENE magazine issue as well as the opening words coming from our Editor In Chief Zarko Davinic:
In the fashion industry, the new season is always a collaborative concept and without any excuse it looks to the future, even with the summer heatwave is hitting Europe the Fall collections are already upon us, while in reality it is good to take a look at the more natural cycle. The coming 2020 season sees in such a manner brands realising more than ever the power of their less talked about pre-season collections. The worlds of cruise and resort lines is by many reports becoming the most profitable endeavour for numerous ready to wear fashion houses. Perhaps shopping for spring in the actual spring goes along with everyone's favourite time of the year when gardens are blossoming and the landscapes are at their most glorious.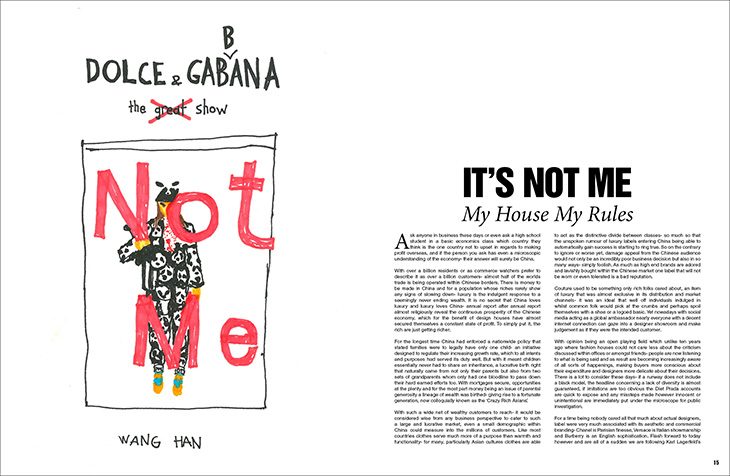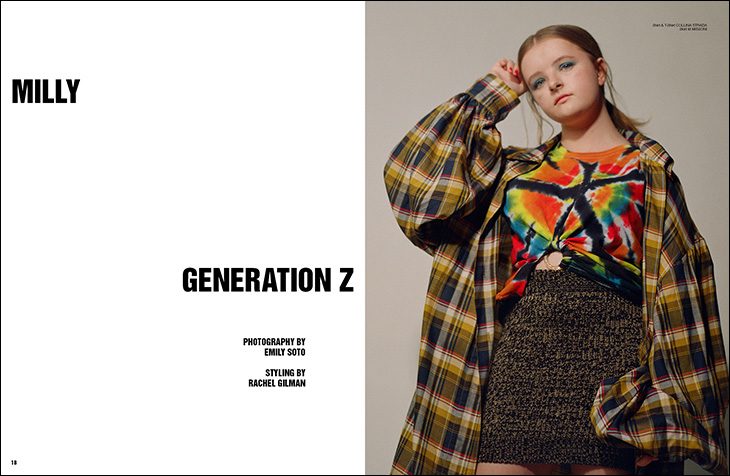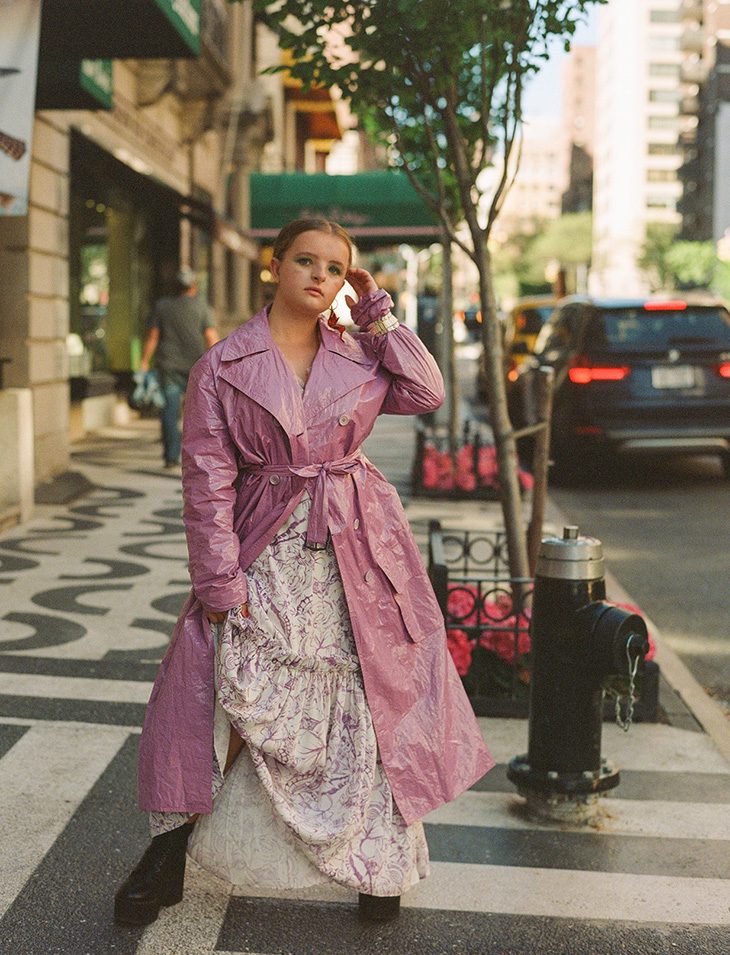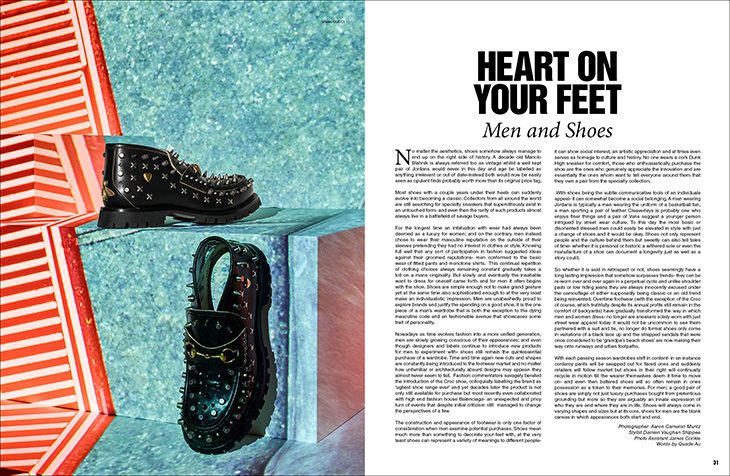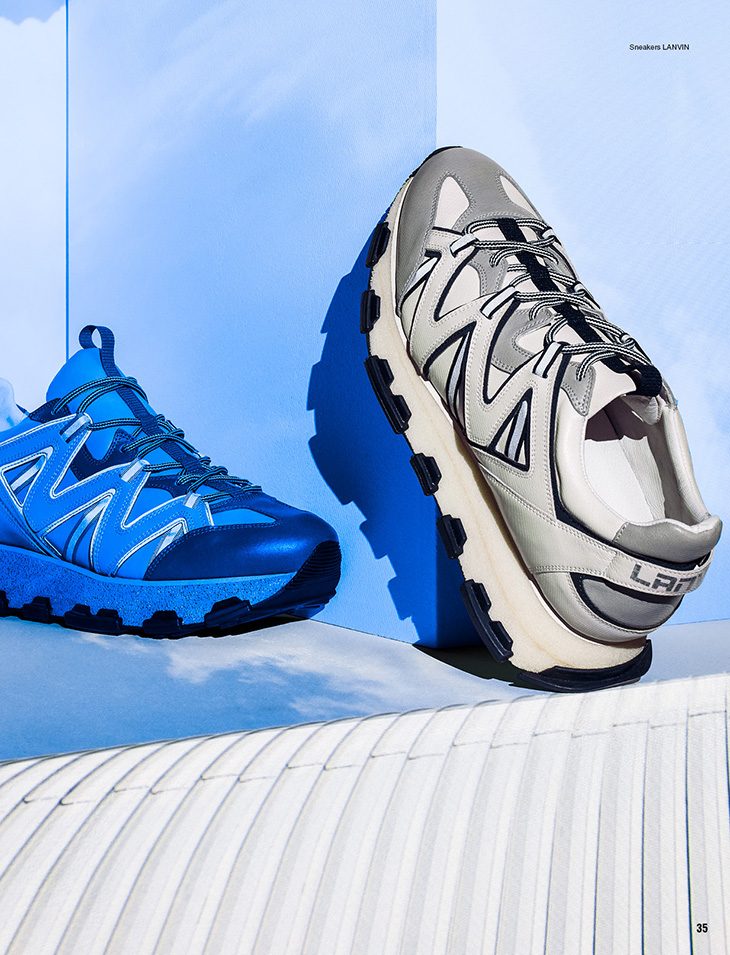 However, I am writing this the day before my travel to Berlin for their fashion week often, a week taking a backseat to the Milan, Paris, London and New York dominance by the rule of thumb. The Berlin shows which are terribly neglected perhaps due to the growing weakness of editors and buyers alike after a month of runways, are despite the slow media buzz showing another side of the European fashion industry. Undoubtedly a commercial one. In the face of a succession of parading models Berlin in the summer comes as an interesting destination, yet the designers are to be rediscovered by the international scene. Just as those designers our cover stars as well as featured design and art creatives have created a new trail in the ever hard to get into industry. This summer's heatwave at the same time feels like an appropriate moment to sit down, enjoy the moment and discover the talent behind our latest issue, which thanks to our featured talent can be simply designed in a single word, which is unique.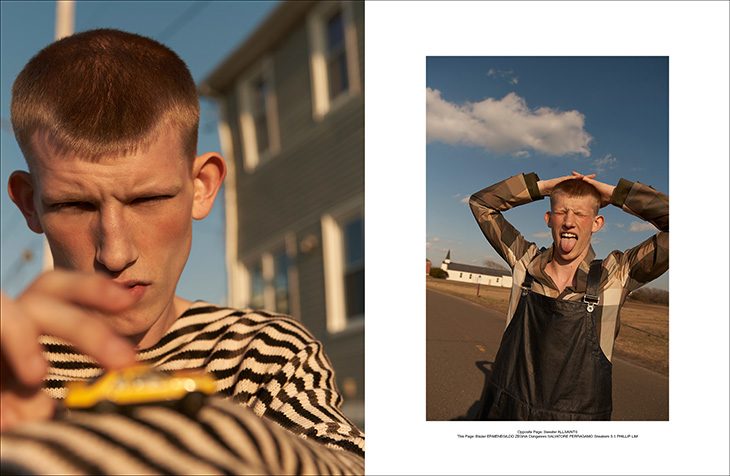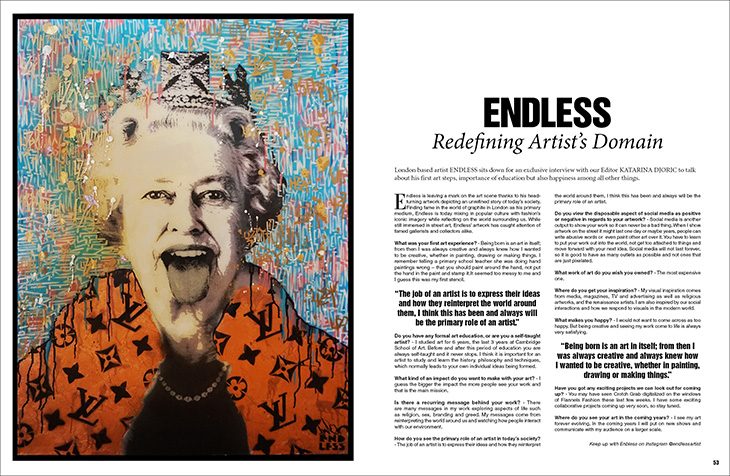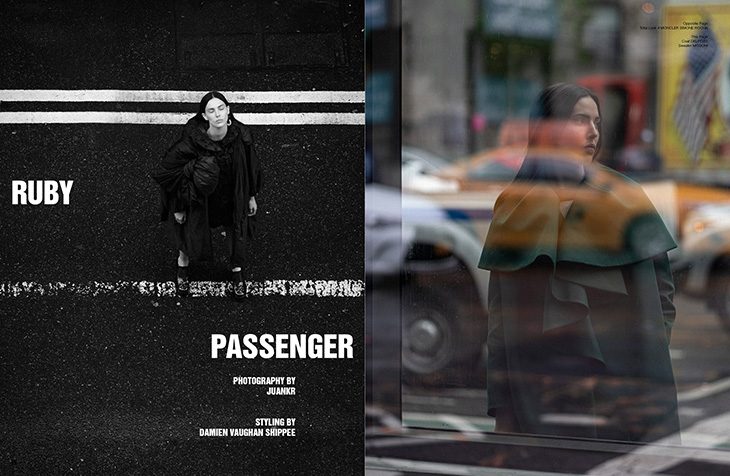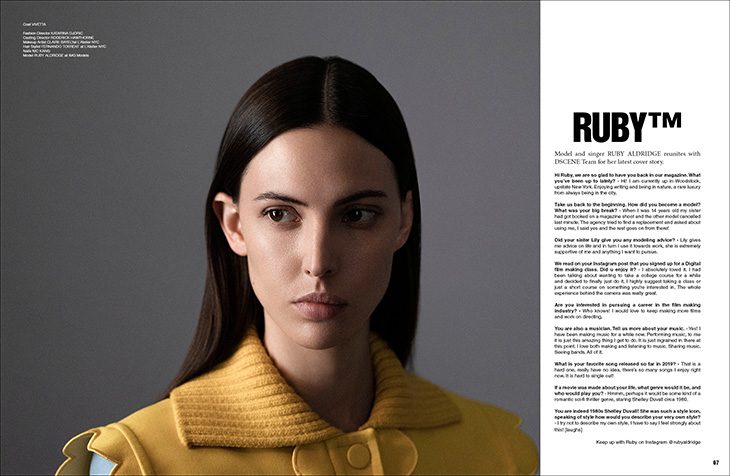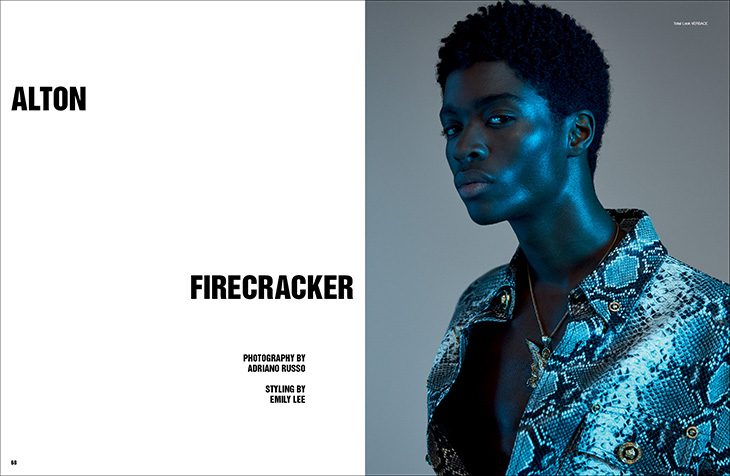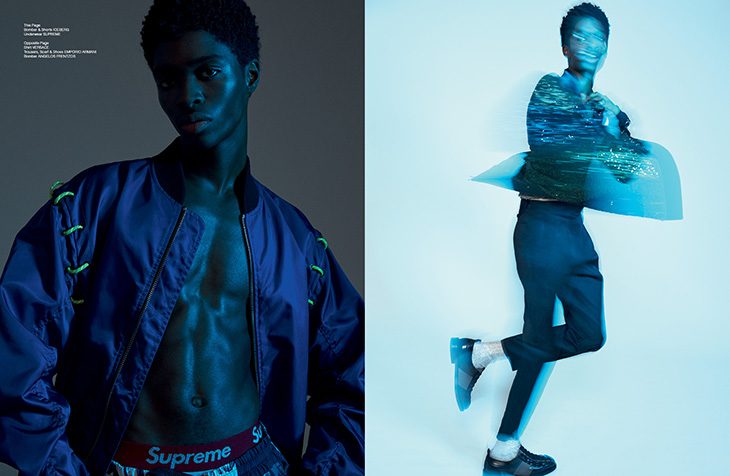 Our cover star Milly Shapiro defines the new takeover of the Generation Z, "I have realized the impact arts can have on people. It can change their life and make them feel all sorts of different emotions that can help them get through different situations.", the young actress and singer shared in her interview with Marko Jovanov for DSCENE cover story. Shapiro who is an award winning Broadway performer, found international fame with her film Hereditary, announcing the promising future for the young actress. Milly's love for fashion inspires our shoot by Emily Soto captured in New York city with styling from Rachel Gilman. This sort of head-turning talent comes also with the young guys headlining the men's covers of DSCENE, the unstoppable Alton Mason photographed in Milan by Adriano Russo with styling from our Milan Editor Emily Lee as well as Connor Newall photographed by the breakthrough photographer on the scene Arale Reartes. Another of our cover stars is Ruby Aldridge, part of the top model sisterhood Ruby's daring attitude takes her to experimenting with music, film making and much more. Ruby teamed up with us for her shoot on a rainy day in New York, yet posing for the elegant session photographed by our regular contributor Juankr with styling from Damien Vaughan Shipee.
Elsewhere in the issue our contributing writer Quade Au opens the new pages with an interesting fresh take on the shifts in the industry caused by Dolce & Gabbana's China meltdown followed by a story about men's obsession with good and expensive shoes. In the latest DSCENE interviews, creativity of new trail blazers was on our mind, where we got to sit down with Gary Bott Brand Director of Gentle Monster, who talks everything eyewear and story of their incredible success. When it comes to creativity we wrapped up this issue with interview featuring Tom Parker, Director and Co-Founder of Fettle, one of the most prolific architecture practices working around the globe. Fettle is in charge of the interior for some of the most coveted new design hotel chains, but also works continuously on some of the must-see restaurant's and cafes in cities such as London and Los Angeles to name a few.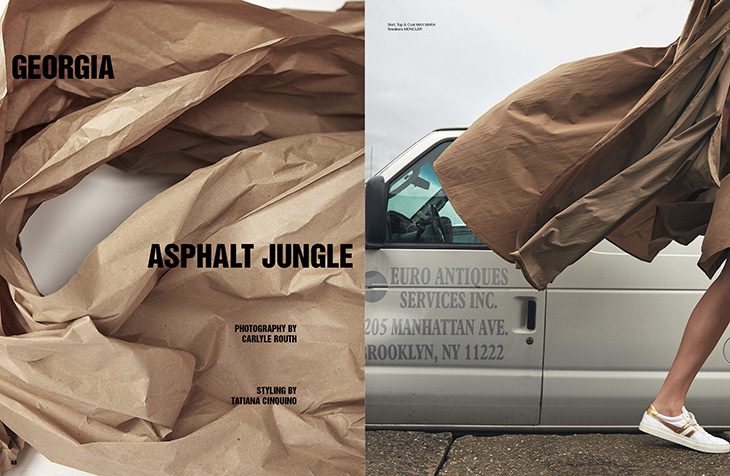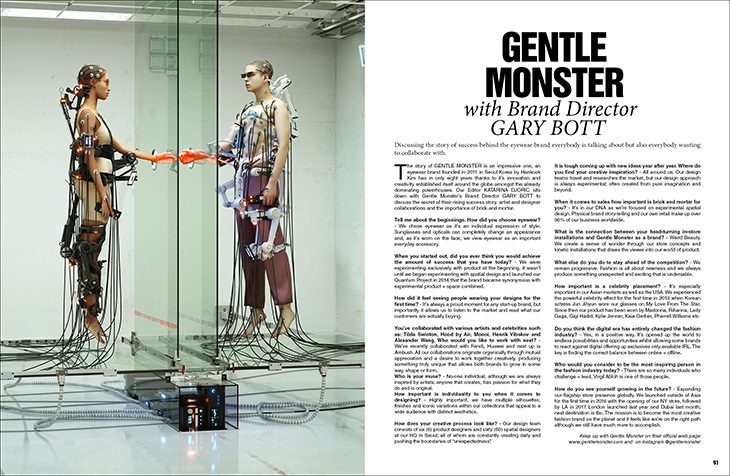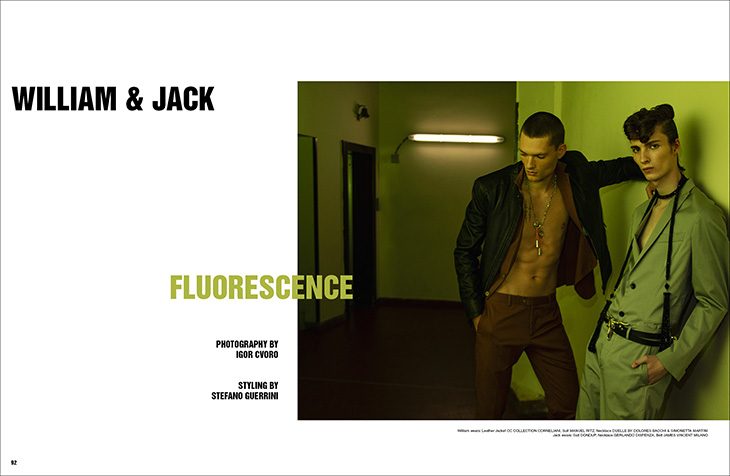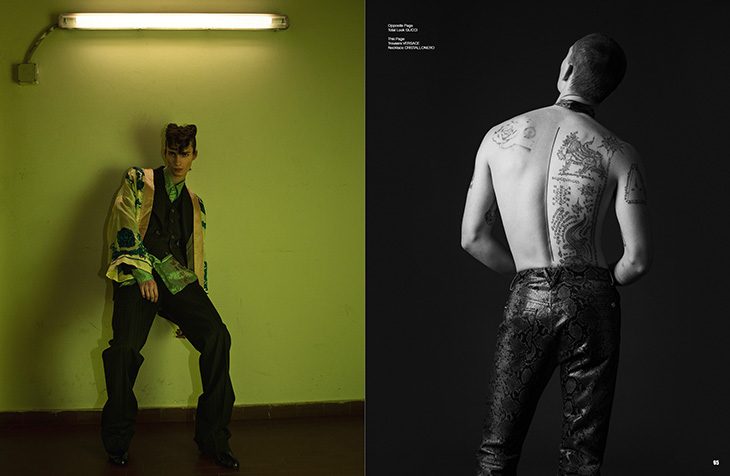 When it comes to fashion, we shaped the issue with editorials captured in New York and Milan by our regular contributors. While for beauty pages we reunite with the talented Takahiro Ogawa who creates our beauty cover story led by Bruna Tenorio and some of the most coveted models in NYC. The summer daze is captured beautifully on film by London based photographer Rhys Frampton.
And so, I hope that you will discover as much to enjoy in the latest issue of DSCENE Magazine as we've had in the voyage of this latest creation.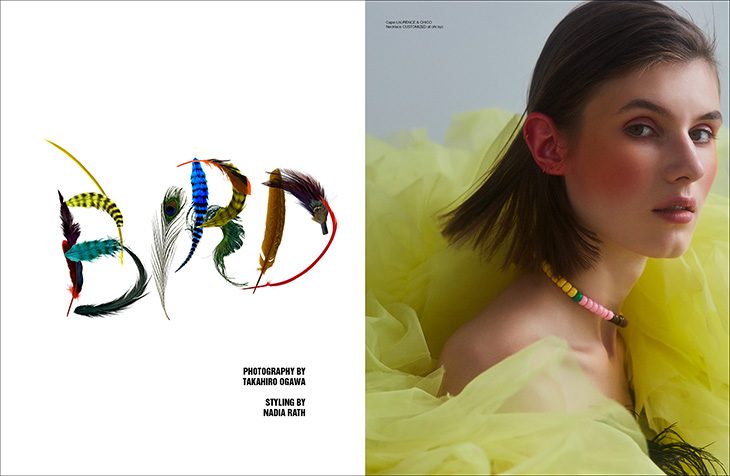 Contributing Photographers
Aaron Cameron Muntz , Adriano Russo, Arale Reartes, Carlyle Routh, Emily Soto, Juankr, Rhys Frampton, Takahiro Ogawa
Contributing Stylists
Alton Hetariki, Marti Arcucci, Nadia Rath, Rachel Gilman, Stefano Guerrini, Tatiana Cinquino
Contributing Writers
Marko Jovanov, Quade Au
Talent
Alecia Rodriguez, Alicia Holtz, Alton Mason, Ana Cristina, Bruna Tenorio, Connor Newall, Georgia Moot, Jack Leggat, Luz Pavon, Milly Shapiro, Ruby Aldridge, William Loos, Zarina Green
Illustrators
Vuk Cuk
GET YOUR COPY IN PRINT $26.60 AND DIGITAL 4.90