Our cover star ESTHER HEESCH sits down with Editor ANA MARKOVIC to talk about getting scouted at 15, her first runway experience with Dior Couture and working with Karl Lagerfeld and Tom Ford.
See more of the cover story + read our interview with Esther below:
How were you discovered?
I was in a shoe shop in Hamburg with my mum, looking for my first pair of high heels when I got scouted. I was only 15 years old.
Your walking debut was at Christian Dior Haute Couture Fall Winter 2012 show – an impressive way to start a career. Tell us about that. Were you nervous?
I was very nervous! It felt like a dream and I will never forget this day my whole life. I got the call for the Dior casting when I was in London, so I jumped into the train to Paris and went to the casting.
Just a few days ago I rewatched the "Dior and I" movie with my family and it brought back all the beautiful memories.
Soon after you starred in campaigns for top brands such as Armani, Valentino, Tom Ford… Did you expect that kind of success?
No, I was definitely blown away. Before I became a model those big names felt unreachable… and then I was suddenly shooting with Tom Ford himself.
You worked with so many great photographers and designers, what are the projects you are most proud of?
I am very grateful and proud of all the experiences and shoots that I had. I got to work with so many creative and interesting people and saw so many beautiful places all over the world. Working with Karl Lagerfeld was such an unforgettable experience.
Do you have any unfulfilled dreams when it comes to modeling?
For many years I was thinking how fun it would be to shoot in the snow. At the end of last year I got booked on a Vogue Spain shoot that was shot in the mountains… so that was fun.
There're still many people that I would love to work with.
How different was real modeling world, from the one you imagine before you started working?
I never actually thought a lot about modelling before I started working. So I didn't really have expectations.
What is your greatest strength as a model?
That I enjoy my job.
How would you define your personal style and has anything caught your eye for the upcoming season?
I am not sure how to define my personal style, buyt I can say I can't wait to wear a leopard-print coat this fall!
How do you stay in shape?
I like doing different workouts, so it doesn't get boring. There are so many options in New York. My favourite workouts are barre classes, on a reformer machine, and running. And I love swimming, especially in the ocean!
So, what is your beauty routine?
I try to keep my beauty routine simple. For me, less is more. My favourite brand is Weleda, I love their Iris cream for the face and Skin Food as a body lotion. I don't wear so much make up, but I love putting on a bit of mascara, i use Nars, and a concealer.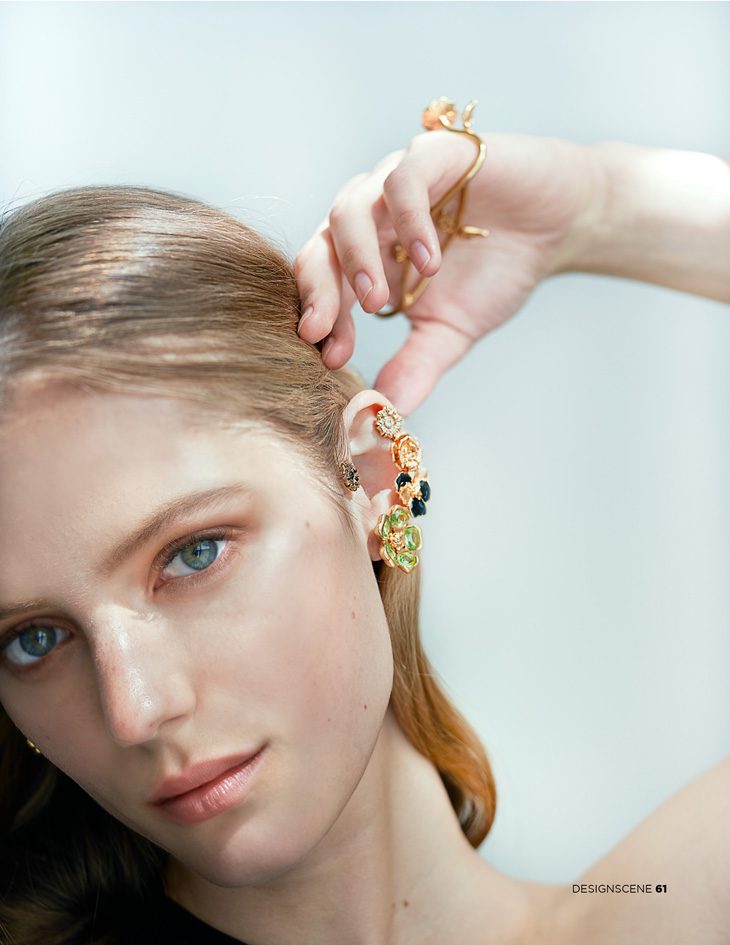 If a movie was made about your life, what genre would it be, and who would play you?
Genre, it would have to be romance. Actress who could play me, hmm Emma Watson, I love her.
Your tip for taking the best photo?
Definitely use the best of the daylight.
When do you feel the most confident?
When I'm wearing heels.
And finally, what makes you happy?
Riding my bicycle.
Keep up with Esther on Instagram @esther_heesch

Photographer KEIICHIRO NAKAJIMA – www.keiphoto.me
Stylist ELISE SANDVIK at Utopia the Agency – www.elisesandvik.com
Makeup Artist SUZY GERSTEIN using Chanel Les Beiges
Hair Stylist TAKUYA YAMAGUCHI using R+CO
Model ESTHER HEESCH at Next Models
Stylist Assistant KAROLINE SPENNING
GET YOUR COPY IN PRINT $22.90 OR DIGITAL $3.90